Dark fantasy and survival RTS come together in Age of Darkness: Final Stand. This brutally challenging game pits you in a world where you must survive by illuminating the dark and building your defenses against a horde of nightmares. During the day, you must prepare for the night where an onslaught of monsters comes for you. Monsters are not the only threat as a dynamic death fog, and terrible curses will also plague your people.
You start the game with a commander, a handful of soldiers and peasants, and a town hall. You must build up your town, managing your resources and population. You will need to explore the world around you as space will quickly become an issue. Age of Darkness: Final Stand features a night and day cycle where nightmares are more dangerous and more numerous during the night.
The day is no safer as you can stumble upon large hordes as you explore. Unique Death Nights will occur in which the stakes are raised drastically, and you will need to utilize all of your wits to survive.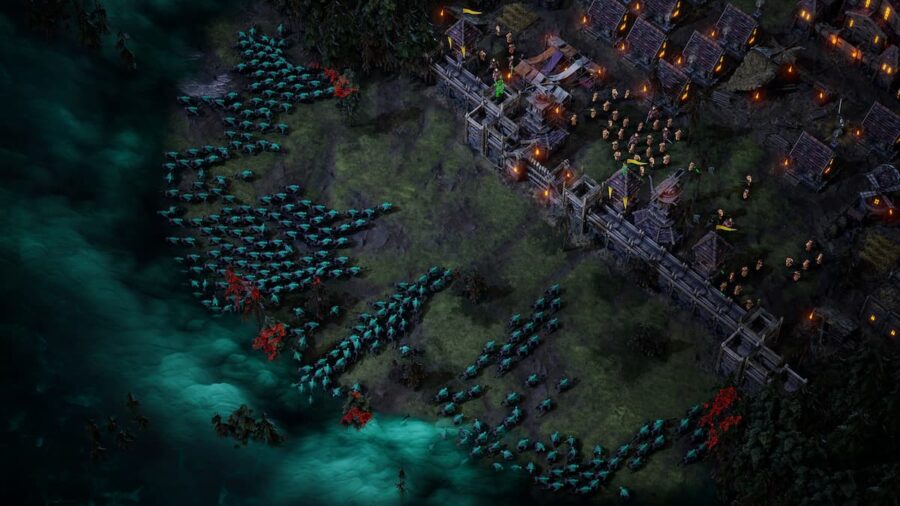 Age of Darkness: Final Stand uses a procedurally generated world so each playthrough is different. Where
Age of Darkness: Final Stand uses a procedurally generated world, so each playthrough is different. Where it shines is the RTS aspects. During the day, you need to manage building, gathering resources, and exploring and clearing out swarms near you. Large swarms will attack you at night, and every fifth day a Death Night occurs.
You can opt to attack an obelisk revealed on the map during the day to stop a massive swarm from attacking that night. These Death Nights afflict your army with malice—a curse with a negative effect. Survive the Death Night, and you will receive a Blessing that provides a beneficial effect to your army.
The game is brutal, and you will see your soldiers, who receive random names, die often, but the challenge is thrilling. Using light to illuminate the world and keep the death fog at bay adds another level of intricacy that enhances the challenge.
Its challenge is a double-edged sword as it is brutal even on easy. Base units are extremely squishy, especially during swarms, and upgrades are far and few between. You will need to rely on your champion to keep them alive and in high morale.
There is only one hero and few regular units in the early access release. Selecting units can be tricky when you have large groups. With its difficulty comes a lot of micromanaging, and you will get numerous notifications but have no way to click on them and jump to that part of the map.
| | |
| --- | --- |
| Pros | Cons |
| Extremely challenging. | Extremely challenging. |
| SwarmTech is impressive. | Not many upgrades. |
| Beautiful graphics. | Only one hero and few soldier units (Early Access). |
| Malice/Blessing system. | A lot of micro-managing and no jumping to a notification. |
| Fast/little to no loading. | Only survival mode (Early Access). |
| Dynamic death fog. | |
Verdict - Yes for fans of RTS or challenging games.
If you are a glutton for punishment and enjoy challenging games, then this is the game for you. RTS fans will also enjoy this game as it requires a lot of focus and strategy. Some quality of life features are missing from Age of Darkness: Final Stand, but it is in early access, and you may see these features on full release.
The game world is beautiful and haunting. It is incredibly impressive how quickly the game loads/runs, especially when it is capable of swarms of 70,000 units being on screen at one time. There is a solid foundation here that can become something great.