Let's take a look at how to catch a Jewel Beetle in Animal Crossing: New Horizons! This is another bug that has a unique set of circumstances surrounding it to get it to spawn, so if you want to fill out your Critterpedia be sure to keep reading.
How to Catch an Jewel Beetle
Let's take a look at the Jewel Beetle's Critterpedia information because it's good to know when you can actually catch this thing.
Northern Hemisphere: April - August
Southern Hemisphere: October - March
Active Hours: All Day
Location: Tree Stump
Price: 2,400 Bells
The key to catching a Jewel Beetle is that you need to chop down some trees on your island and get it to spawn on the stump. It will not spawn anywhere else, so you'll need at least a couple of stumps around to trigger a spawn. These will show up at any time of day, so just run around your island and go back to check the stumps. You can enter a house or store and that should hopefully reset your spawns.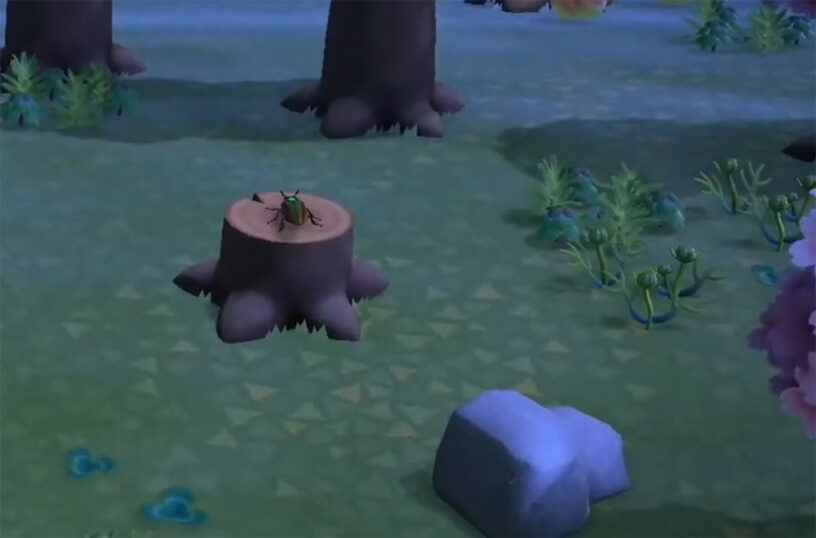 Credit to King Ryrex for the above image, be sure to check out his YouTube for helpful Animal Crossing guides!
Going to a mystery island would be a potentially quicker way to get the Jewel beetle to spawn. What you can do is chop down some trees, and then scare away any other bugs on the island. This should trigger possible spawns elsewhere on the island because bugs and fish show up far more often on mystery islands! This would be the method I would try if you're really wanting to catch this thing quickly.