Tools are very important in the game of Animal Crossing: New Horizons, so being able to access them quickly should be a high priority. This isn't given to you right away, so you will need to collect some currency and save up to obtain this ability. We'll walk you through exactly what you need to do on how to get the tool ring in Animal Crossing: New Horizons.
How to Hotkey Your Tools in New Horizons
To hotkey your tools, you are going to need to obtain the Tool Ring. This can be purchased at Nook Stop, which basically looks like an ATM. Once you're through the initial tutorial part of the game, you can go to big green tent which has Tom Nook and Timmy inside of it.
You will need to have Nook Points+, which can only be obtained after you pay Tom Nook 5,000 Nook Miles for your moving fees. Once you've done that, you will need to take out a loan to create a house. Tom Nook will then give you access to the Nook Points+ application which opens up the Tool Ring!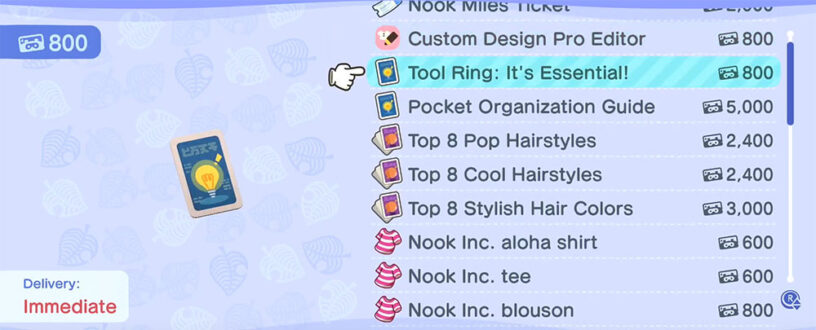 You'll need to obtain 900 Nook Points to purchase this upgrade. These can be obtained by completing various tasks via the Nook Miles application on your phone. You have multiple simple tasks you can complete, which is under the first option in the menu that you can select. If you open this up, you'll find five tasks you can go complete for some quick Nook Points. The rest of the options are a bit more long term, but will track pretty much all the actions you complete which will get you some points along the way. Each time you complete one of these simpler tasks, it will be replaced by another one that you can do!
Now that you have your new Tool Ring, go to your inventory and take a look at the card. This will unlock the ability to hotkey your tools! You can press the up button your arrows keys to access the ring. You can then select which tools you'd like to use very quickly! You can remove or register them by using the X button!
Make sure to continue collecting those Nook Points, because you're going to need to them to expand your inventory! Well, that's everything you need to know about obtaining the tool ring in Animal Crossing: New Horizons.