Let's take a look at Iron Nuggets in Animal Crossing: New Horizons! These are a valuable resource in the game, but can be hard to come by so we're going to go over farming methods and the price you can fetch for these.
How to Get Iron Nuggets
These are pretty easy to get and all you need to do is smack the rocks that spawn around your island. These have a finite amount of times they can be smacked per day, and you can get a maximum amount out of them. There's a kind of cadence you need to do when hitting these or you won't get all eight pieces of loot. The best way to do it is to dig up a few plots behind yourself and then spam the A-button! You won't be knocked away too far and you should get the full amount of loot. Here's how it should look: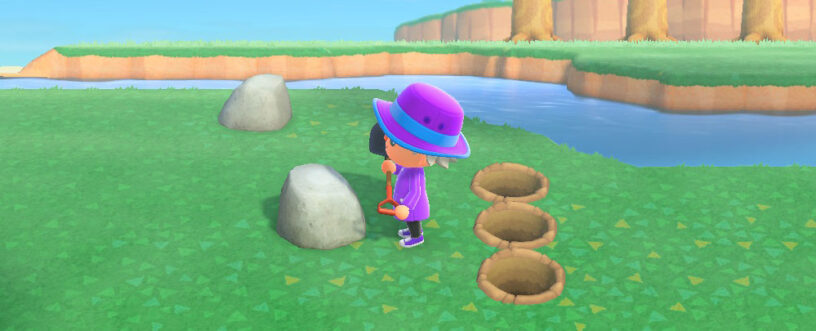 You will get Iron Nuggets from the rock sometimes, but it's a mix of different resources. You can get Clay, Stone, Iron Nuggets, and very rarely Gold Nuggets. Also, at least one rock on your island will have Bells! You can make quite a bit of money by finding this rock everyday and getting the max value out of it.
If you don't like the position of one of the rocks on your island, you can always eat a piece of fruit and break it. The rock will respawn randomly in another spot, hopefully you will like that one better! Unfortunately, you don't have a lot of control over this.
Iron Nuggets Farming
Using the method above with the three holes behind you will yield you quite a bit more iron if you haven't been doing it. That's the major way to do most of your farming of Iron Nuggets. Make sure to exhaust all of the rocks on your island every single day. The way you can get even more iron is to purchase a Nook Miles Ticket from the Nook Stop. It costs you 2,000 Nook Miles and you can fly to a Mystery Island. This new area will sometimes have rare flowers, fruit, bamboo, and even bugs like Tarantulas! What they also feature is additional rocks you can smack for more resources! This should net you quite a bit more iron, so make sure to take a flight or two each day to harvest more of this important resource.
Iron Nugget DIY Recipes
There's quite a few things you can create with Iron Nuggets, but one of the most important is upgrades to your tools! While these aren't the highest grade you can get, you will be likely using these the most since Golden Tools are hard to come by and still break! Here's a look at the tool recipes:
Axe - 1x Flimsy Axe, 3x Wood, 1x Iron Nugget
Fishing Rod - 1x Flimsy Fishing Rod, 1x Iron Nugget
Net - 1x Flimsy Net, 1x Iron Nugget
Shovel - 1x Flimsy Shovel, 1x Iron Nugget
You will also need Iron Nuggets to create DIY Workbenches, and Ironwood furniture which is some of the better looking stuff you can get in the game! One particularly awesome thing you will eventually be able to craft is the Robot Hero! This is a huge robotic statue that could be displayed somewhere prominently on your island. This thing would require you to gather 90 Iron Nuggets! Here's the recipe:
Robot Hero - 1x Rocket, 1x Gold Armor, 30x Rusted Part, 90x Iron Nugget, 10x Gold Nugget
So, if you want to get this large conversation piece on your island, you will need to do some farming.
Iron Nugget Price
I would not sell Iron Nuggets, because there's a lot of different ways to get money in the game. However, if you did sell some Iron Nuggets, you can get 375 Bells for each one you were to sell!
That's everything we know about Iron Nuggets in Animal Crossing: New Horizons! If we come across any additional information, we'll be sure to add it to the guide.