The Apex Legends Threat Level event runs from May 23, 2023, to June 6, 2023, and features new cosmetics to purchase, Control as the dedicated event Mixtape mode, and a free reward track to complete. While Threat Level is more of a store event, players can still collect free rewards by completing daily challenges. Here are all the free rewards in the Threat Level event and how you can get them.
Apex Legends Threat Level Event Reward Track
Like most events in Apex Legends, the free reward track will be available to all players. It can be completed by playing any game mode and completing daily challenges that consist of just playing games, getting kills, getting specific match placement, and more. Each day, challenges will reset, giving you an opportunity to earn more free rewards. Here are the Reward Track tiers and points needed to unlock them.
250 Points: Holospray and Threat Level Badge
500 Points: Charm
750 Points: 3 Battle Pass Stars
1000 Points: Rare Apex Pack
1250 Points: Banner Frame
1500 Points: Holospray
2000 Points: Charm

2500 Points: 25 Crafting Metals
3000 Points: 3 Battle Pass Stars
3500 Points: 25 Crafting Metals
4000 Points: Spitfire Skin
5000 Points: Crypto Skin
Related: Apex Legends stat tracker – How to check your Apex Legends stats
Up to 1,600 points can be earned daily, so players can complete the free reward track in just over three days of completing every daily challenge. During the event, players can jump into Battle Royale to earn points or, alternatively, play the Control game mode to earn points.
Check out the Threat Level event Free Reward Tracker below to see the cosmetics you can earn from May 23 to June 6.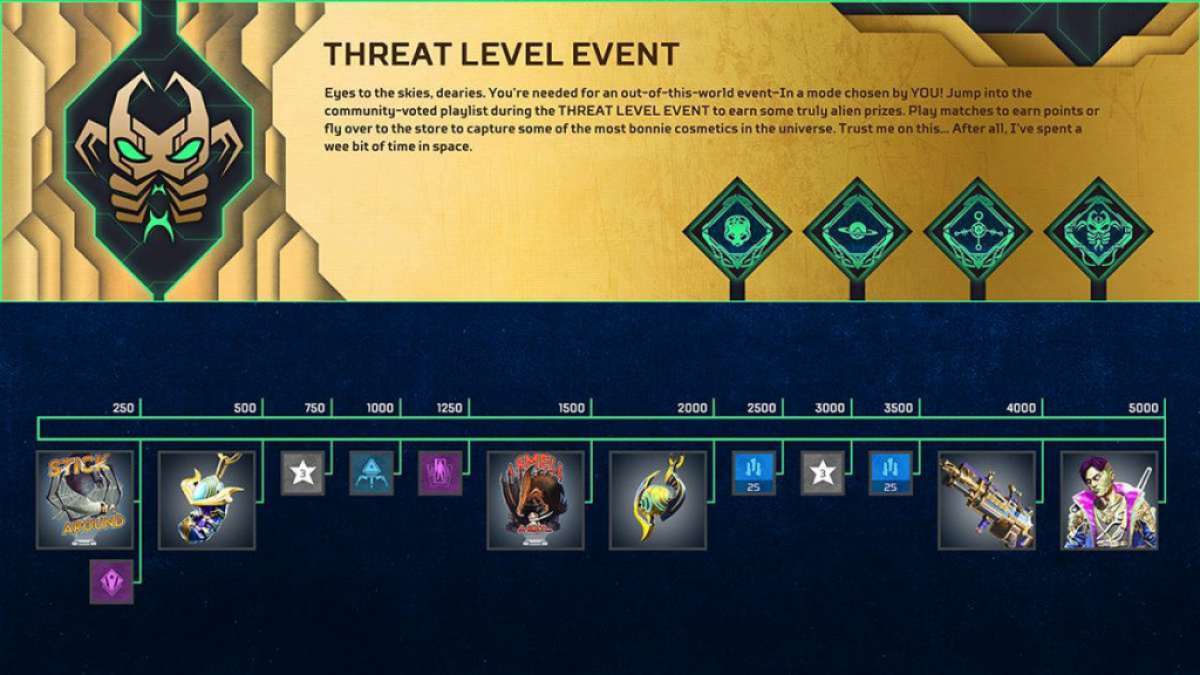 For more on Apex Legends, check out What is the Apex Legends Map Rotation? (Season 17) here on Pro Game Guides.