The Apex Legends Evolution Event features a change to the World's Edge map, a special Rampart version of Arenas, and event cosmetics including Rampart's Heirloom. Rampart's Heirloom the "Problem Solver" resembles a monkey wrench and features a nut bolt charm on the bottom. Rampart's Heirloom set can be unlocked using Heirloom shards or by unlocking all cosmetics in the Evolution Event.
Fortunately for players who really want the heirloom, the Evolution Event cosmetics can be unlocked using either Apex Coins or Crafting Metals. While many players probably do not have enough Crafting Metals to purchase all 24 cosmetics, players can minimize the amount of real money they spend on Apex Coins to unlock all the cosmetics.
The 24 Event cosmetics are impressive even for an Apex Legends event so players will get a lot of cool cosmetics on their quest to unlocking Rampart's Heirloom. Here is the breakdown of how much it will cost in Apex Coins or Crafting Metals to unlock all the Evolution Event cosmetics.
Cost of all 24 Event cosmetics using Crafting Metals — 38,400 Crafting Metals
Cost of all 24 Event cosmetics using Apex Coins — 33,600 Apex Coins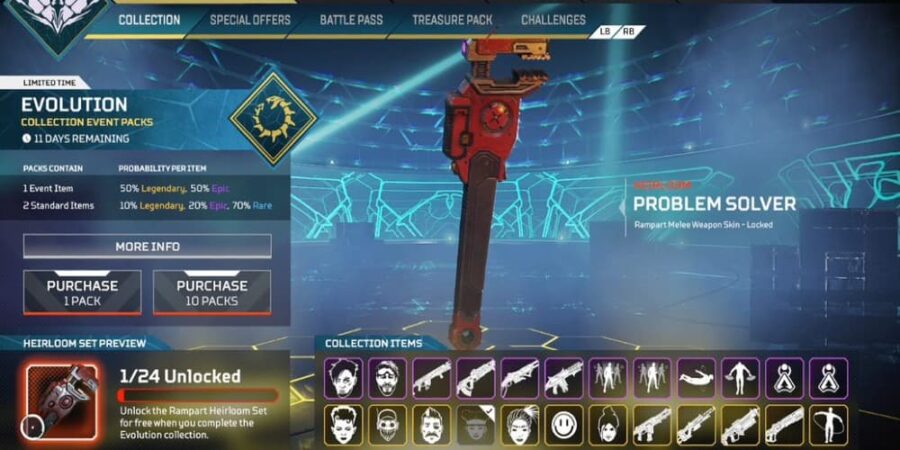 Unfortunately, unlocking Rampart's Heirloom can get pretty costly, but on the bright side, the Event cosmetics include two epic skins, eight legendary skins, four epic weapon skins, four legendary weapon skins, two banner poses, two skydive emotes, two charms, and a dive animation. Players can pick up the Heirloom without Heirloom Shards until September 28th when the event concludes. Rampart's Heirloom set will still be available after the event but will require Heirloom Shards to unlock.
For more Apex Legends guides, check out Best Characters for Arenas in Apex Legends on Pro Game Guides.