Bear and Breakfast fanatics are burning a hole in their pocket trying to build a bed and breakfast empire. While they're doing that, some of these players are not getting paid. What could be causing this? The answer is an annoying glitch plaguing the game. Here's what you can do to try and fix it.
Why are guests not paying their bill in Bed and Breakfast?
It seems that the perplexing scenario where guests in Bear and Breakfast are not paying their bills is a glitch. Players have been consistently reporting this dilemma since launch. This glitch is not affecting all players, but it is a notable amount.
Check how long they are staying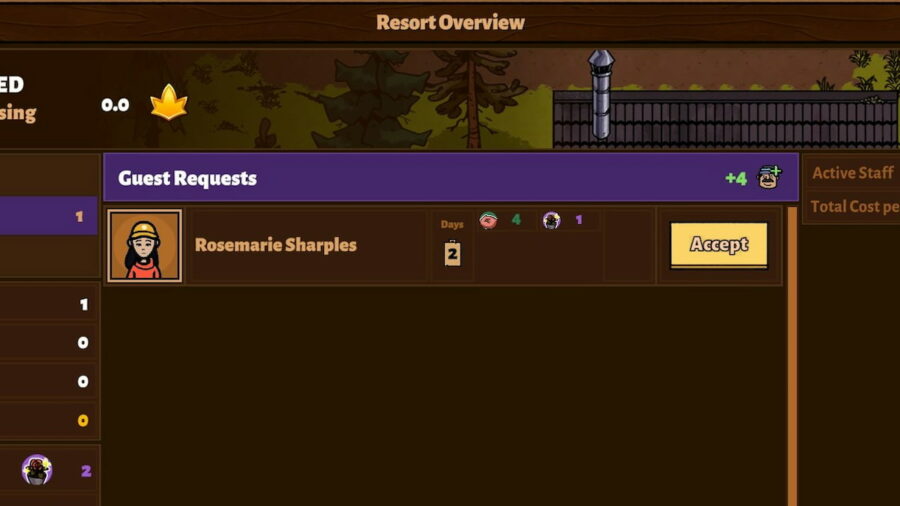 If you have had a guest stay overnight and they have not paid still, you may check how long their stay is. This is because many guests may simply be exploring the nearby woods, even if you think they are gone. Some players have realized there is no glitch for them and the guest is simply staying longer than they initially thought. You can check this by interacting with your front desk.
Related: Where to find the Logger's Tools in Bear and Breakfast
How to fix guests not giving cash in Bear and Breakfast
There is not much that players can do when a glitch occurs in-game. Many of these players want an answer to their frustrations. The best fix is always to wait for developers to address the glitch. We have some things to try if you're hoping to experiment, though.
Unproven Methods
There are three options you have to try and clear the bug from Bear and Breakfast. These are mostly standard protocols for when a game is acting up. We think they are worth noting for players who are ambitious about solving this glitch. Here are a few things you can try to attempt to remedy the issue:
Try sleeping at night a few times to see if this resets the guest commands.
Restart your game and Steam.
Create a new save file.
Have the game patched
The surest way to make sure this glitch is remedied in your game is to wait for the developers to release a patch to fix this issue. This may be unsatisfactory to some players, but there is little to be done outside of the above unproven methods. Developers for Bear and Breakfast have been relatively responsive since the launch of the game, so there is hope that a patch will be released in a week or so after the game launch.
Want to read more about Bear and Breakfast? If so, check out Bear and Breakfast – how to unlock crafting blueprints on Pro Game Guides.