One of my favorite features of BitLife is to live and simulate life as royalty, like a King or Prince. The main reason behind this is that apart from living life as a celebrity since birth, you get access to nearly unlimited power and money, making your life much easier in terms of what you want to achieve. For example, if you wish to start a big trillion-dollar microchip production company, the best way to begin the career path is to be a part of the Royal family and inherit millions of wealth after turning 18 to give your business a headstart.
All Royal Countries in BitLife
Since BitLife mimics the real world, you can only become a member of the royal family from countries that still practice some form of monarchy today, like the Netherlands or Saudi Arabia. You can find the list of all such countries below. Currently, 17 countries in BitLife allow you to become a part of the royal family and obtain royalty status.
Belgium
Denmark
Japan
Jordan
Kuwait
Malaysia
Monaco
Morocco
Netherlands
Norway
Qatar
Saudi Arabia

Spain
Sweden
Thailand
United Arab Emirates
United Kingdom
Related: How to execute someone in BitLife?
Remember, each country has its own set of practices and traditions when it comes to being a royal. For example, a ruler will be called a King in Great Britain while being referred to as Emperor in Japan.
How to Become a Royal in BitLife
There are two ways to become a royal in BitLife.
To be born into a royal family.
How to be born in a royal family
The best and fastest way to become a royal is to be born into a royal family. You can either reroll for such a life or custom-create such a character if you own the God-Mode DLC.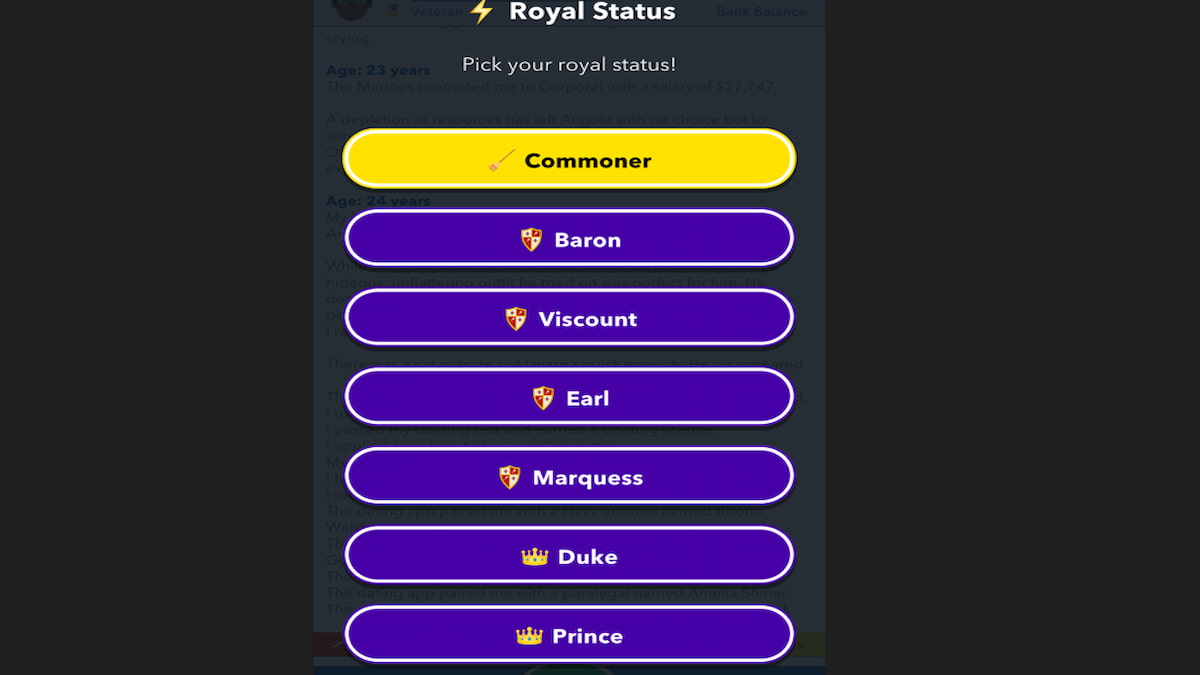 While creating a new life, pick one of the above countries as your birthplace and select a royal status depending on your country. For instance, if you want to be a part of the royal family in Great Britain, you can choose one of the positions from the royalty ladder.
Related: How to execute someone in Bitlife
How to Marry into Royalty in BitLife
The second way to attain royal status is to marry into royalty. Firstly, ensure that you live in one of the above countries that still have royal families. After turning 18, use the Dating Apps from the Love section under the Activities tab to find a suitable royal. In the filter section of the Dating App, select the desired net worth of a person above 1 million to get proper matches. With time and effort, you will find a date with a person from the royal family.
Increase your relationship rating with them by spending time, complementing, and gifting. Once the meter turns completely green, propose to them and get married.
For more on BitLife, check out How to Get Exiled (as royalty) in BitLife or How to become King or Queen in BitLife on Pro Game Guides.