In BitLife, there are several countries in the game that have royal families. Certain regions will have Kings, other emperors, and some will have queens and marquesses.
There are also around 17 countries currently in the game that all have royalty living in them. If players are trying to become king and queen or marry royalty, they will need to create characters in these regions.
That said, the countries with royalty in BitLife are all of the countries listed below:
Belgium
Denmark
Japan
Jordan
Kuwait
Malaysia
Monaco
Morocco
Netherlands
Norway
Qatar
Saudi Arabia
Spain
Sweden
Thailand
United Arab Emirates
United Kingdom
Pick any of those countries, and you will have a chance at being born into the crown. If you don't succeed, you can always attempt to date royalty by going through the Love options.
If you've got a high looks stat, you might even be approached by a royal after going to the gym! An additional option is becoming famous and having someone of royalty seek you out.
Related: How to execute someone in BitLife?
How to become a Royal using Godmode in BitLife?
If you have Godmode in BitLife, you can become a royal using it, as it allows you to select the stats for your character when you create one. Using god mode, you can set your character as a royal by selecting the option to create a character.
You can also select what type of royal title you want and how high up the royalty ladder. View the image below for an example of the options you can choose using Godmode in BitLife.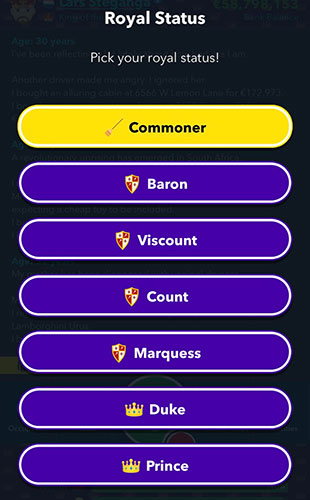 For more on BitLife, Pro Game Guides has you covered with a massive and ever-expanding catalog of guides.