Now that the royal update has been out for a bit, you are likely wondering where you can either be born into royalty or hitch your wagon to a royal significant other. Well, this can only be done in a select amount of countries, so you'll want to know exactly which ones, because becoming royalty will set you up with big cash and allow you to reign over the commoners in style.
If you have God Mode, figuring out the countries is a lot easier. If you weren't aware, God Mod in BitLife allows you to select the stats for your character when you create one, and also gives you the ability to make yourself born into royalty with any of the available titles you want. When you select a country with royalty, an option opens up that allows you to pick your status: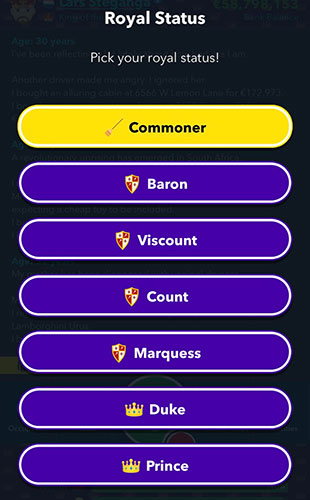 God Mode will unfortunately cost you some money to unlock, so if you don't have it, you're going to have to go the more traditional path to the crown.
The countries with royalty in BitLife are the following:
Belgium
Denmark
Japan
Jordan
Kuwait
Malaysia
Monaco
Morocco
Netherlands
Norway
Qatar
Saudi Arabia
Spain
Sweden
Thailand
United Arab Emirates
United Kingdom
Pick any of those countries and you will have a chance at being born into the crown. If you don't succeed with that, you can always attempt to date royalty by going through the Love options. If you've got a high looks stat, you might even be approached by a royal after going to the gym! An additional option is becoming famous and having someone of royalty seek you out. There's many ways to make yourself apart of a royal family in BitLife, some are just a lot easier than others!