The Borderlands 3 Show Me The Eridium! Event is almost live, so if you've been hoping to collect yourself a boatload of the purple stuff then you will want to take advantage of this Borderlands Anniversary Celebration week. This is the third event so far, we've seen bonus boss loot and rare spawns appearing more often in the previous weeks.
When Does The Show Me The Eridium! Event Start/End?
The exact time is a bit fuzzy, but it's supposed to start before 3:00 PM PDT on Tuesday, October 15. If you're in-game, you will receive a notification when the micro patch goes live. The event ends at some point on October 22nd, likely around the same time it began on the 15th. There will be another event starting on the 22nd called, "Mayhem on Twitch!" We aren't quite sure what that's about, but we'll be covering it once we learn anything about it!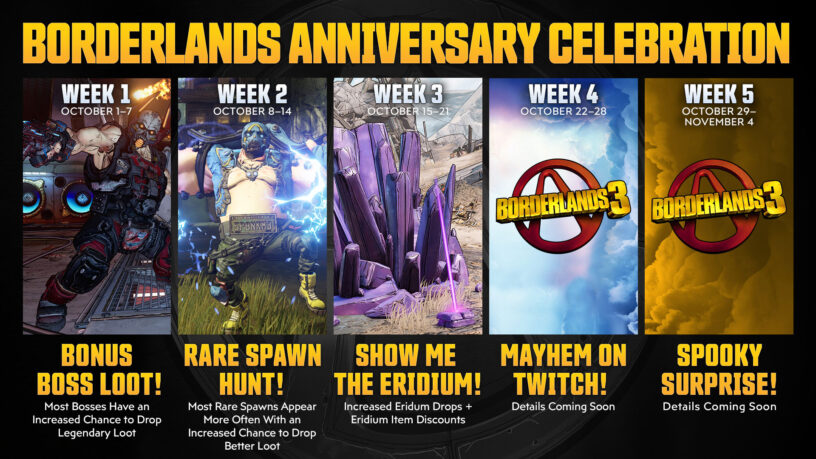 What is The Show Me The Eridium Event?
Well, it's pretty simple actually. You generally only receive Eridium from slaying bosses, but when this event is live you will get drops from standard enemies, and see an increased drop rate in Mayhem Mode. The cost of items that can be purchased with Eridium will be reduced as well. You can use Moxxi's Vault Line slot machine, or get a discount on items from Crazy Earl and his vending machine!
If you haven't bought up all of the cosmetics from Crazy Earl yet, then this will be a great chance to do so. You can get all sorts of cosmetics: Vault Hunter Heads and Skins, Emotes, ECHO themes, Trinkets, Weapon Skins, and Room Decorations. You'll also be able to take advantage of his Veteran Rewards vending machine that can get you some pretty nice Anointed weapons!
If you've already purchased everything you want, you can always burn through your Eridium by using your Eridian Fabricator!