Our Borderlands 3 Zane Leveling Build Guide features a complete step-by-step leveling guide, focusing on action skills and defense, while constantly freezing enemies. Zane is the only vault hunter capable of equipping two action skills at once, but for the price of throwing grenades. As a tech expert, you will be misdirecting enemies with Digi-clone, covering your six with a drone, or creating a barrier to protect your friends.
Although Zane is not as powerful as Moze or Fl4k when it comes to gun damage, he can consistently spread damage throughout the battlefield or focus all gunfire into a single enemy. Zane has a large arsenal of kill skills, granting him faster movement speed, fire rate, and reload speed. Even without the use of grenades, there are skills that utilize grenades in different ways.
Zane Full Build
On the defensive end of this build, you'll be nearly indestructible with skills that provide lifesteal, damage resistance, and regeneration. Cooldowns aren't an issue as long as you're freezing enemies, and many of the skills we've selected bolster cryo. Offensively your damage is heavily reliant on action skills. We'll be utilizing Digi-clone to maneuver around and reduce enemy aggro while SNTNL sends powerful explosives. Fortunately, we have skills that reduces the cooldown of these action skills so we'll be able to use them frequently.
The following is the full build you will end up with, but it isn't how you should level it up initially. We've got a step-by-step guide below that features what skills you should have as you level your character!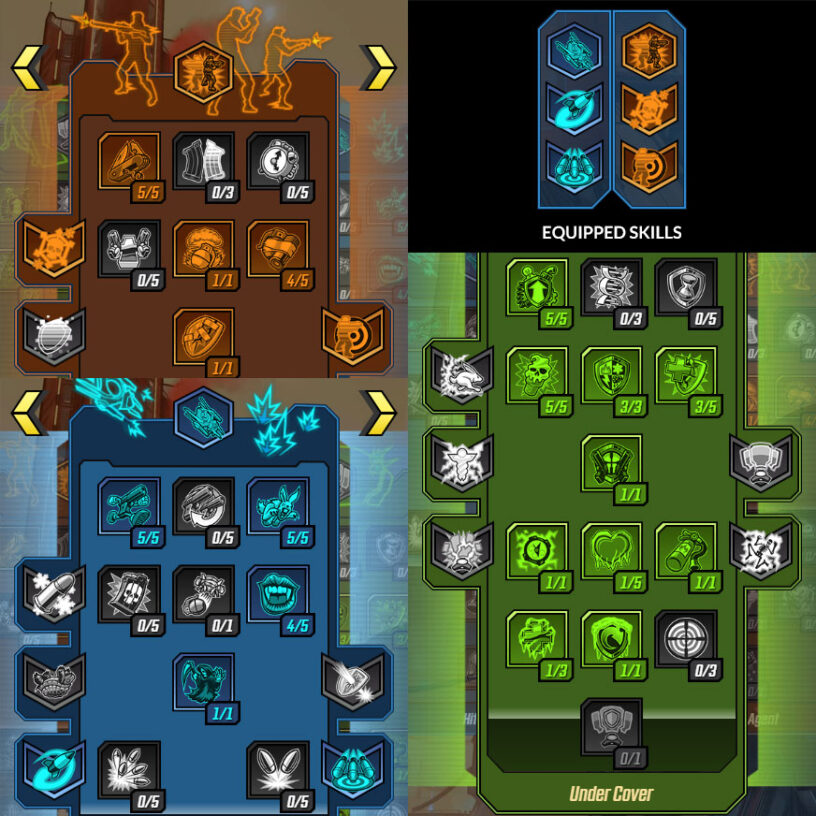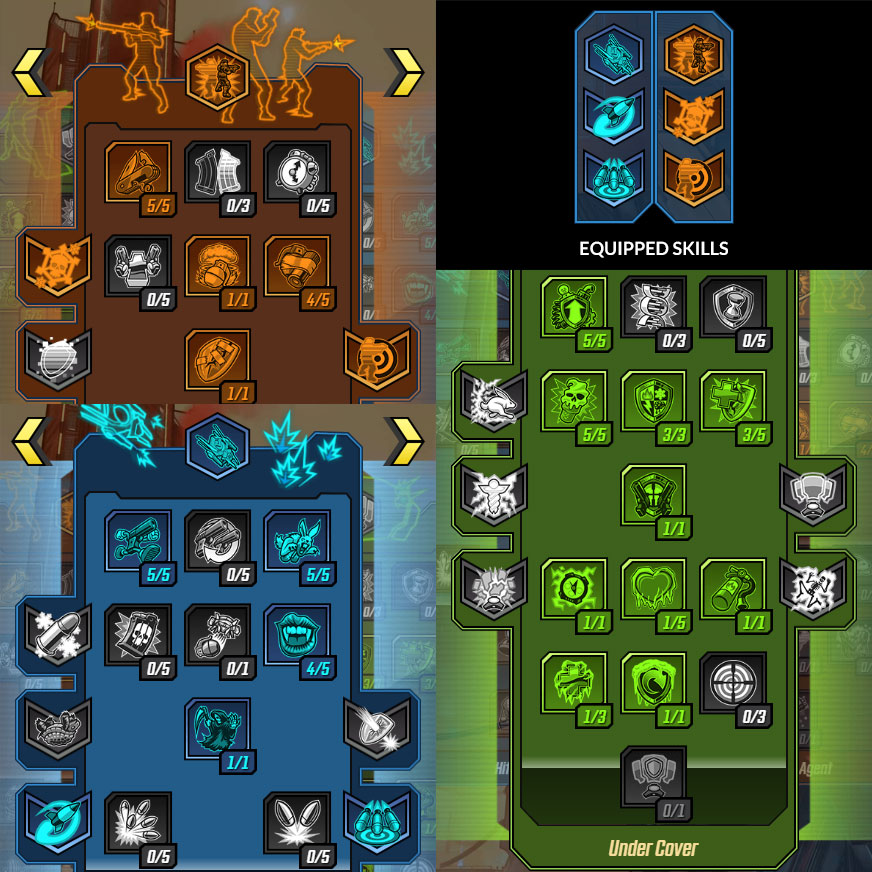 View the Build on the Borderlands Skill Tree Editor
Zane Leveling Build Guide
Hitman Tree - Levels 2 - 7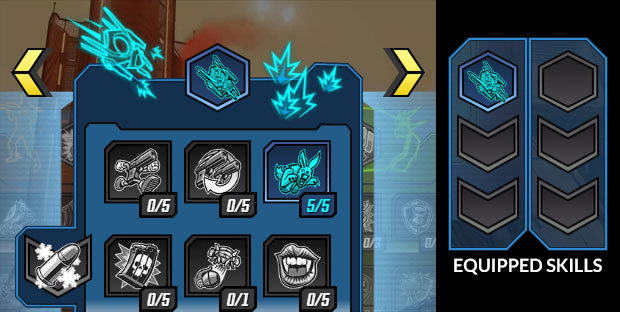 At level 2, equip SNTNL as a single action skill so you'll be able to use grenades. Enemies at the start aren't very powerful yet so you shouldn't need two action skills. After level 3, spend 5 points into Violent Momentum for increased gun damage the faster you move. Many of the skills and augments in the future grant higher movement speed, allowing more damage from Violent Momentum.
Hitman Tree - Levels 8 - 13
Next on 2nd tier, apply the augment Winter's Drone to convert SNTNL's damage into cryo. Although it slightly reduces damage, it gives your drone the chance to freeze enemies. Next, spend 2 points into Salvation for life steal. Back on the 1st tier, spend 3 points into Violent Speed to increase movement speed for synergy with Violent Momentum.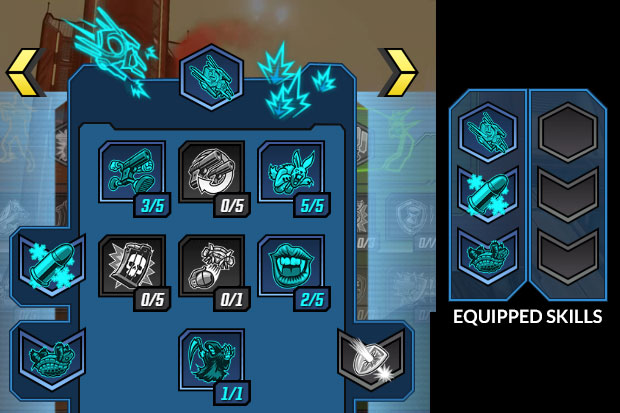 On the 3rd tier, spend a point into Death Follows Close to amplify the effects and duration for all kill skills. Next, apply the augment Bad Dose on your drone for bonus fire rate and movement speed while also radiating your enemies.
Hitman Tree - Levels 14 - 17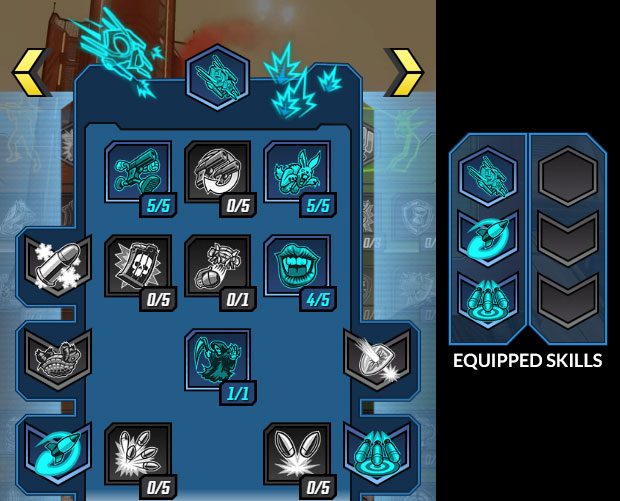 Spend 2 more points into Violent Speed and Salvation. Apply the augment Boomsday to dish out rockets from SNTNL for further damage and AoE. Also add the augment Almighty Ordinance for the ability to send a barrage of missiles, killing an enemy from the barrage will also reset the duration for SNTNL.
Doubled Agent Tree - Levels 18 - 22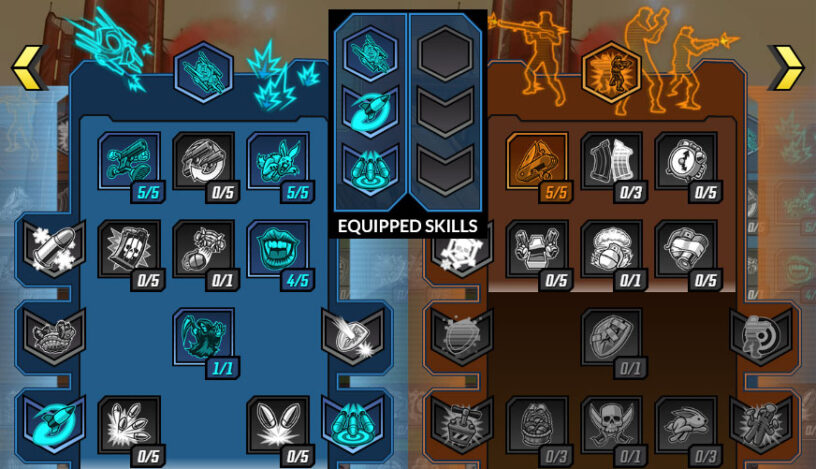 Now that you have your SNTNL upgraded for maximum damage, head over to the Doubled Agent (orange) tree. At level 18, it's time to switch out grenades for the Digi-clone. Spend 5 points into Synchronicity for up to 40% gun damage when using 2 action skills!
Doubled Agent Tree - Levels 23 - 28
Next up on the 2nd tier, apply the augment Binary System for the ability to trigger a cryo nova when swapping places with your clone, potentially freezing enemies. Now for the compensation from missing out on grenades. Spend a point into Fractal Frags, this gives your clone the ability to throw grenades. Next, spend 4 points into Duct Tape Mod for a chance to shoot a grenade from your weapon.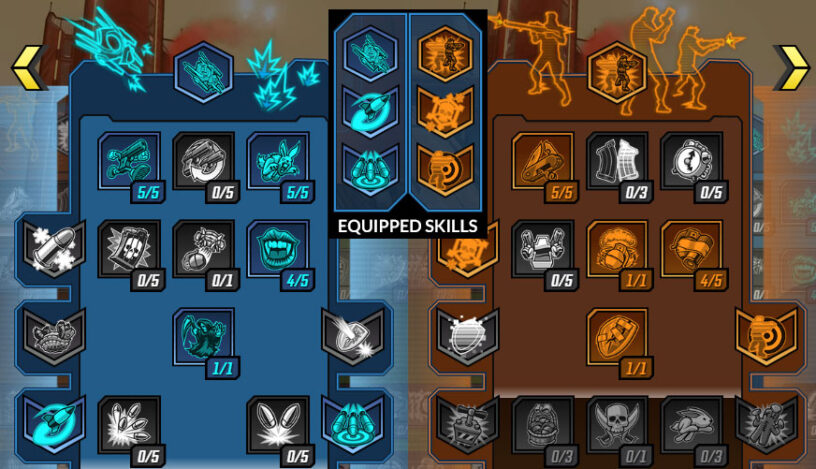 Lastly, spend a point into Quick Breather for immediate shield recharge when swapping with your clone. Apply the augment Which One's Real? to focus all aggro on your clone, allowing yourself time to recover.
Under Cover Tree - Levels 29 - 33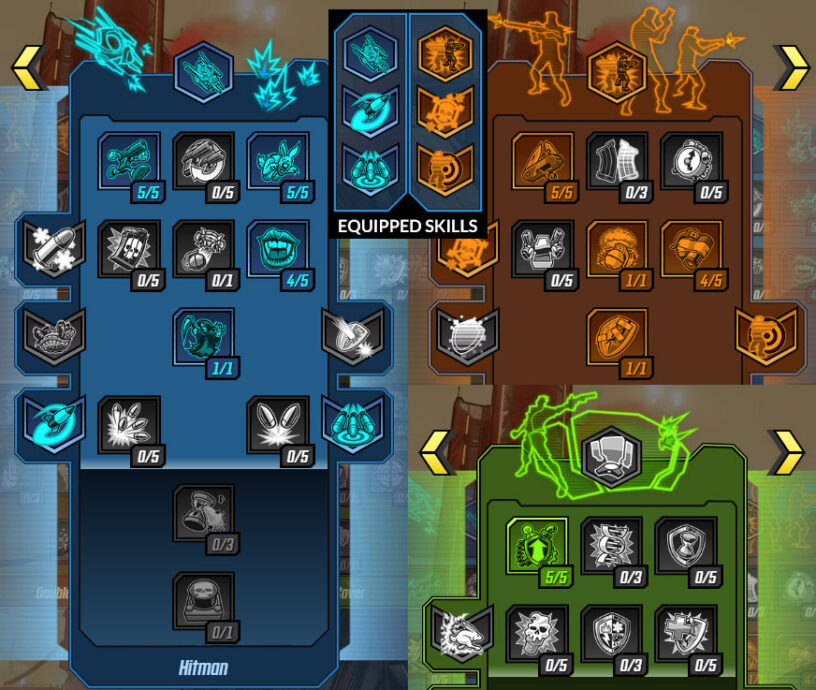 On the Under Cover (green) tree, spend 5 points into Adrenaline for up to 35% cooldown rate on your action skills. By calculations, this decreases Digi-clone's cooldown from 28 to 18 seconds and SNTNL's cooldown from 60 to 39 seconds, enabling both actions skills ready for more fights.
Under Cover Tree - Levels 34 - 43
On the 2nd tier, spend 5 points into Brain Freeze, allowing you to slow and potentially freeze enemies with any type of weapon. Now for the survival skills, spend a point into Confident Competence for up damage and accuracy when your shields are active. Spend 2 points into Stiffer Upper Lip for a damage resistance. Next, spend 2 points into Rise to the Occasion, allowing you to regenerate health whenever your shields deplete.
Borderlands 3 Leveling Guides Coverage
Under Cover Tree - Levels 44 - 48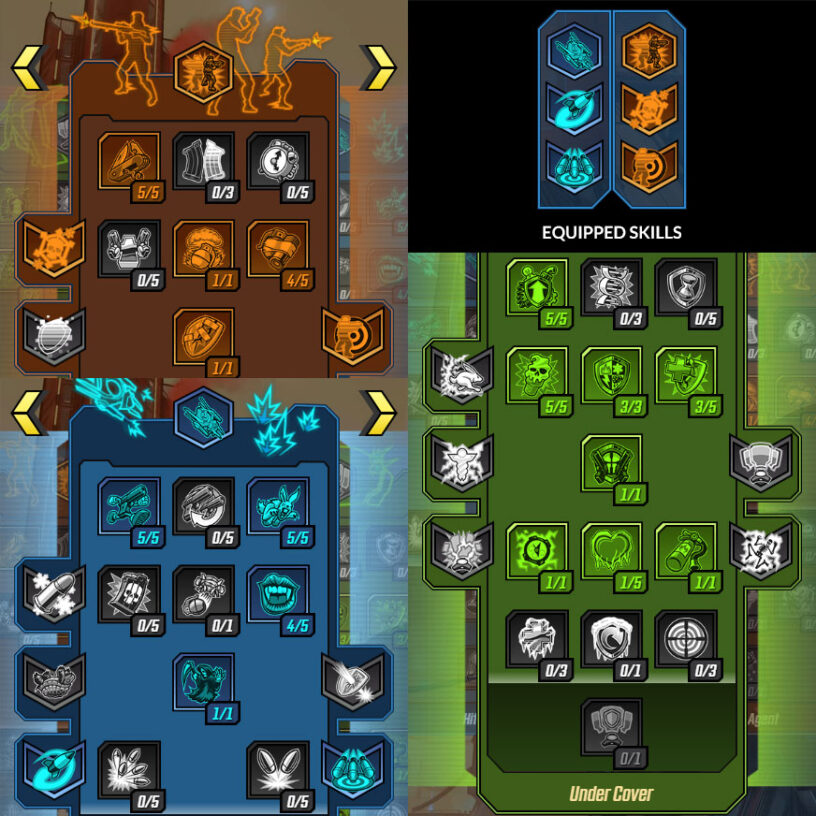 On the 4th tier, spend a point into Best Served Cold for the ability to send out a cryo nova after killing an enemy. Further points into this skill just increases the damage, we want it solely for freezing enemies in an AoE. Next, spend a point into Futility Belt. This converts all damage you take into non-elemental as well as 15% increase to non-elemental damage resistance. Next, spend a point into Really Expensive Jacket for reducing all elemental effect duration on you by half. Lastly on the 2nd tier, spend a point into Stiffer Upper Lip and a point into Rise to the Occasion.
Under Cover Tree - Levels 49 - 50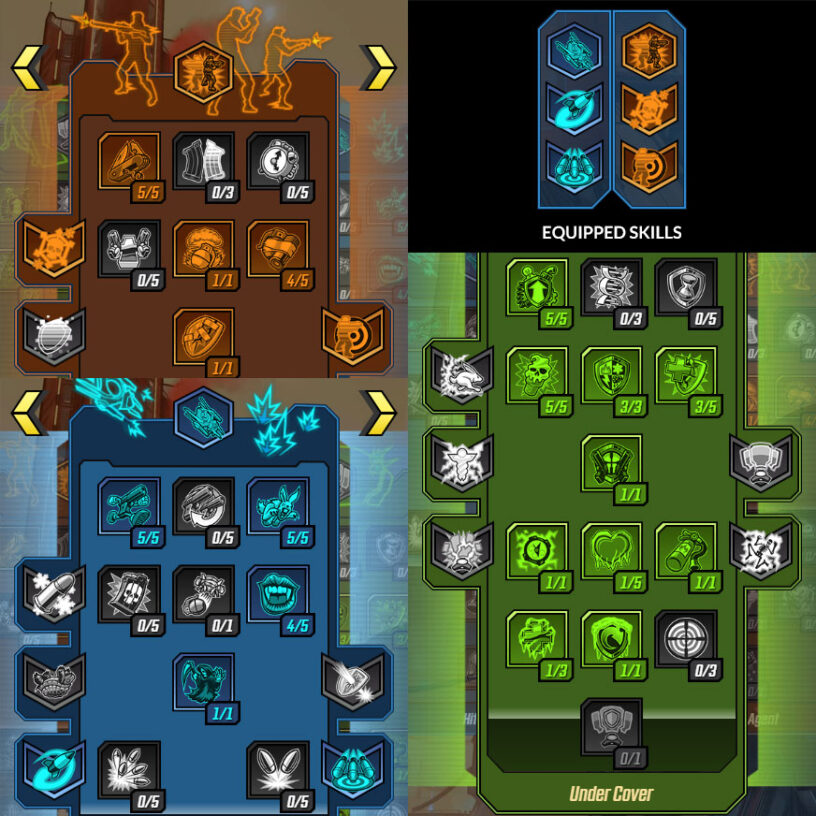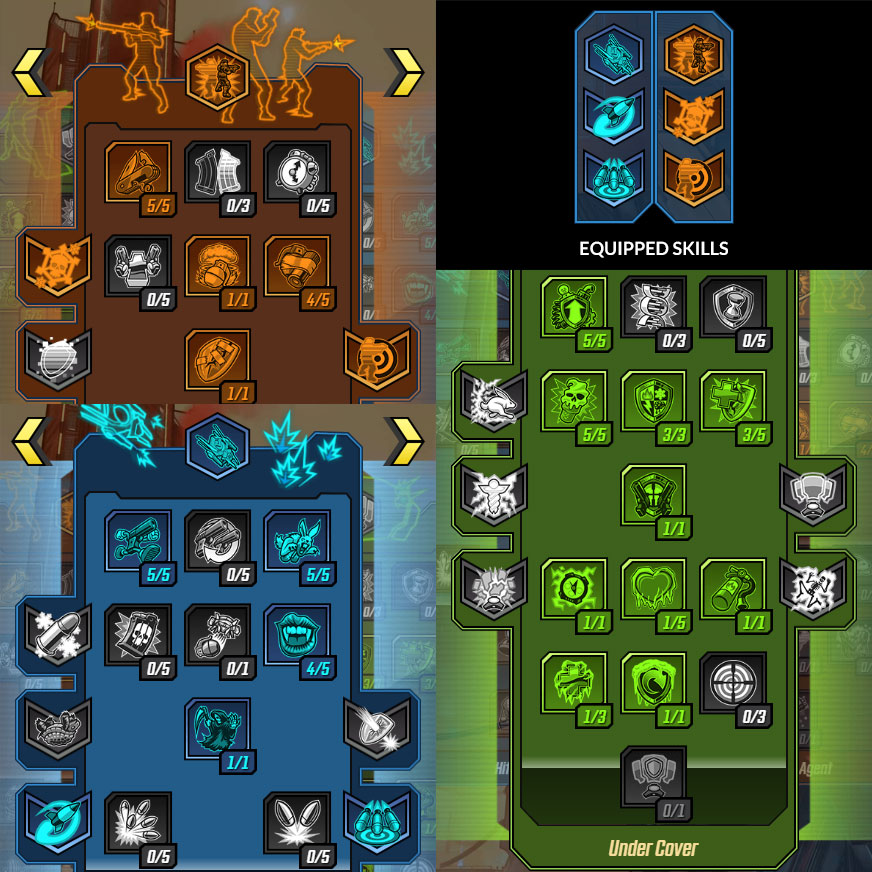 For the finale, spend a point into Calm, Cool, Collected. After killing an enemy, your shields recharge, if shields are full then your health regenerates, and if health is full then your action skill cooldowns and durations are reset! This skill allows you to keep dishing out action skills, regardless of cooldown. Even without a cryo weapon, we have Best Served Cold and Brain Freeze to help freeze enemies as well as the augment Binary System. For shields and health, many of the skills provided on this tree keeps it high.
For the last point, spend it on Refreshment for additional life steal when damaging a frozen enemy.