Borderlands 3 is getting another holiday based event! This time it's called Broken Hearts Day, and to celebrate it there will be some pretty nice rewards you can grab by breaking some hearts. We're taking a look at when this event will be starting, rewards, and all the other information you need to know.
Broken Hearts Day Release Date
Broken Hearts Day is set to release on February 13th, 2020, and the event will be active until February 20th, 2020. You will have a chance to earn new skins, cosmetics, and a couple of Legendary weapons by completing the objectives of the event! Players might remember being slightly annoyed by the previous Halloween event, but don't worry! The patch that brings along this event will come with an option to disable special events. You won't have to worry about ghosts or anything else plaguing your game after they've overstayed their welcome.
Official Event Description
Broken Hearts Day is fast approaching in the Borderlands, and Maurice, Sanctuary III's resident sentient Saurian, is hoping you'll assist with his ongoing study of the human condition as he turns his attention to our species' courting rituals. You'll be well rewarded for completing Maurice's challenges during this new seasonal event revealed on episode five of The Borderlands Show, and don't worry, you're not being asked to do anything inappropriate. Simply shoot down the floating hearts that are swirling around enemies across the galaxy as you go about your regular Vault Hunter business.

The hearts take several forms and break in different ways: some will fall to the ground with a fiery explosion, while others might drop loot or briefly turn enemies into allies, for example.
Event Tasks
The event sounds simple enough, all you need to do is break some hearts. These will float near enemies randomly as you play the game normally. These hearts can make your life a bit more easier, because they will sometimes drop to the ground and cause a fiery explosion, drop loot, or turn your enemies into allies for a short time! Popping these bubbles will add to a total, and you will be mailed rewards from Maurice when you reach certain milestones: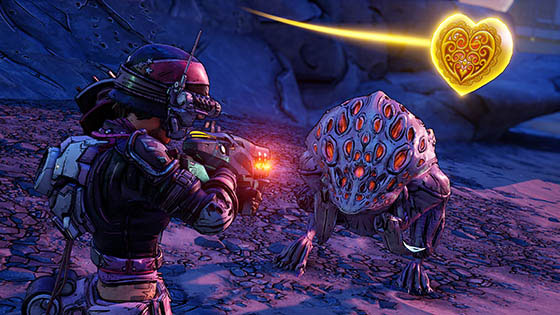 10 – "ECHOcardiogram" ECHO Skin
25 – "Cosmic Romance" Weapon Trinket
50 – "Terminal Polyaimorous" Legendary Maliwan SMG
75 – "Heartbreaker" Vault Hunter Skin
100 – "Wedding Invitation" Legendary Jakobs Sniper Rifle
Broken Hearts Day Rewards
If you're curious what the rewards are going to look like from the event, then here's an official image provided by Gearbox. I believe you'll get the "Heartbreaker" Vault Hunter Skin for either all of the characters or the one you are currently playing as!
To retrieve your rewards, go into your inventory menu and scroll to the right to find the Events tab. You should be able to click on the chests to unlock each of the rewards once you've reached a particular milestone!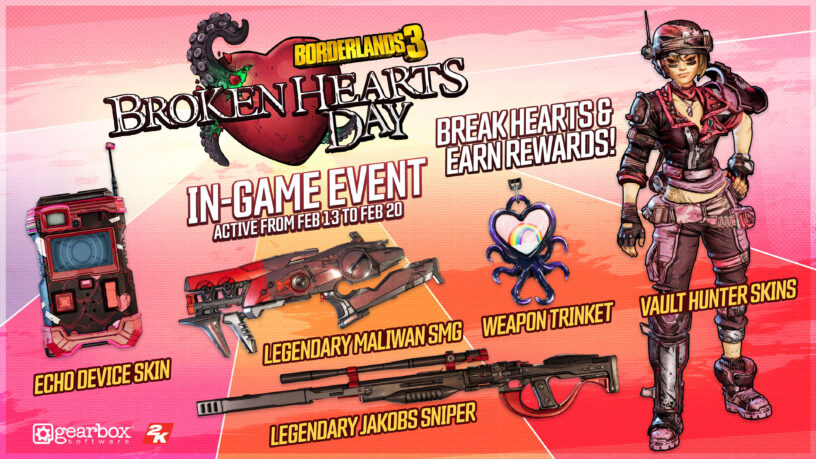 Heartbreaker Skins
Credit to DPJ