We're taking a look at the Borderlands 3 Doom Shotgun Easter Egg called the Hellwalker! This is a powerful shotgun and has a unique sound to it when fired that will allow you to just about create the Doom theme song if you can shoot it fast enough!
Borderlands 3 Hellwalker Shotgun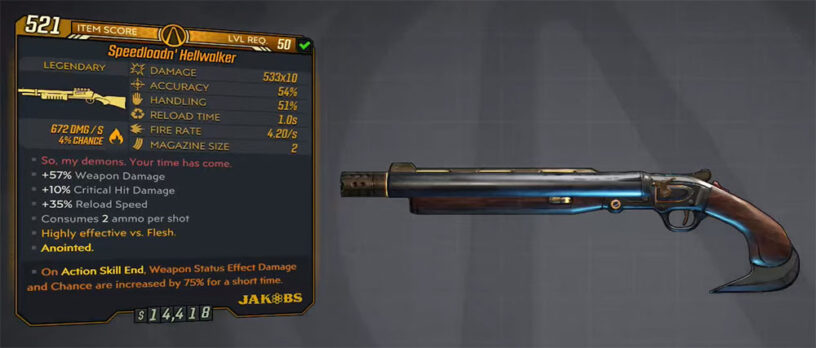 So, my demons. Your time has come.
This is a very high damage shotgun, so if you can land consistent critical hits then you are going to deal a ton of damage. That means that this is a pretty strong option for FL4K if you're running the standard critical strike build that's been popular. As far as I can tell, each one of these will have an Anointed ability on them, which gives you some additional utility when using this gun.
How-to Get It
Unfortunately, there's no guaranteed way to get it. This is a world drop Legendary which means you can't specifically farm for it. However, there are some farming methods that are effective for this sort of thing.
Chupacabratch & Captain Traunt Farming
Believe it or not, this is still one of the better Legendary farming spots. This spot was nerfed, but if you've beaten the story mode of Borderlands 3 and crank it up to Mayhem 3 you will pretty much be guaranteed to get a Legendary each time you dispatch the Chupacabratch. The unfortunate part about it is that you'll sometimes be stuck getting Chupa's Organ, which is a Legendary that can only drop off of Chupacabratch.
Captain Traunt is also nearby and can be a good spot to grind for Legendaries. If you can dispatch of him quickly, he has a good chance to drop items, but you can also get Legendaries from the chests that can be opened in the room that is unlocked right after he goes down! There's three chests in there and each has a possibility of something good popping out.
You can go back and forth between these two bosses. You'll start with one, then run to the other. Then you start with that one and you go back to the first one. Repeat until you've obtained the Legendaries you were hoping to get!
Offline Mode Farming
The easy Legendary farming that was available prior to the patch is still available to you if you want it! You can disconnect your internet and jump into the game and you should get back those same drops you were having prior to the patch. Here's how it's done:
Kill the Boss you want to farm.
Disconnect from the internet (PC just quit out of the game and then disconnect).

Xbox: System > Settings > Network > Network Settings > Go Offline
PlayStation: Settings > Network > Uncheck Connect to Internet
PC: Disable WiFi or unplug your Ethernet cable. There's likely other ways to do this, you just need to disconnect your PC from the internet.

Quite Game & Close the App
Open the Game
Farm again!
Doing this allow you to farm Graveward again or even go after the Loot/Hoarder Tink that was a guaranteed spawn on Eden-6. You can read all about these methods on our Legendary farming guide right here.