Vanguard Sniper Rifles have yet to prove their dominance over their competitors in Call of Duty: Warzone. Although these Snipers aren't the best, they are really powerful and hard-hitting. The 3-Line Rifle has its own perks and is a great option for those who prefer an accurate, long-range weapon.
Best 3-Line Rifle Loadout Warzone - Maximum Range
Muzzle: Mercury Silencer
Barrel: Kovalevskaya 820mm R1M
Stock: MN Custom
Underbarrel: M1930 Strife Angled
Magazine: .30-06 20 Round Mags
Ammo Type: Lengthened
Rear Grip: Leather Grip
Perk 1: Shrouded / Silent Focus
Perk 2: Deep Breath
These are the best 3-Line Rifle attachments for a build with great range, bullet velocity, accuracy, and stability. The main highlight of this loadout is the massive 20 Round magazine attachment, which allows you to take follow-up shots like no other Sniper Rifle in the game.
This particular build also has high flinch resistance and control, which makes it easier to hit your opponents while they are shooting at you. However, these pros come at the cost of reduced mobility and aim-down-sight (ADS) speed.
For the Perk 1 slot, there are two great options that you can choose from. While Shrouded reduces the Sniper's scope-glint visibility, Silent Focus reduces idle sway and adds aiming stability.
Related: Best Gracey Auto Loadout and Class in Call of Duty: Warzone
Best 3-Line Rifle Quickscoping Loadout Warzone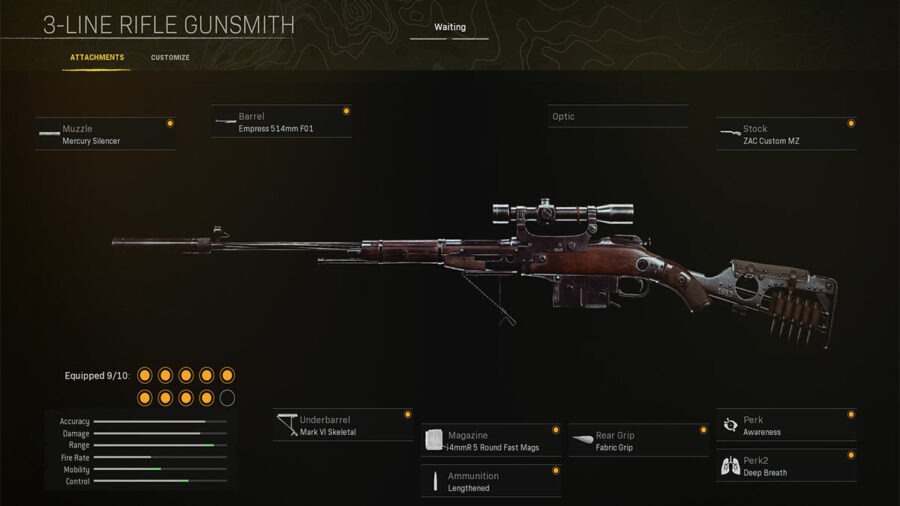 Muzzle: Mercury Silencer
Barrel: Empress 514mm F01 / 270mm Voz Carbine
Stock: ZAC Custom MZ
Underbarrel: Mark VI Skeletal
Magazine: 7.62x54mmR 5 Round Fast Mags
Ammo Type: Lengthened
Rear Grip: Fabric Grip
Perk 1: Awareness
Perk 2: Deep Breath
Unlike the previous loadout, this 3-Line Rifle Sniper build focuses on improving the weapon's ADS speed and sprint-to-fire time. If you want an absolute quickscope class for this gun, go with the 270mm Voz Carbine barrel. It hurts the bullet velocity, but it makes the Sniper perfect for aggressive players.
Instead, you can use the Empress 514mm F01 barrel for a balance between range and mobility stats. It also gives the 3-Line Rifle a zero-damage drop-off at range. For Perk 1, we've used Awareness, here, as it boosts the much-needed sprint-to-fire time.
Best 3-Line Rifle Class Warzone
Primary Weapon - Type 100 / Owen Gun / Cooper Carbine
Secondary Weapon - 3-Line Rifle
Lethal - Frag Grenade
Tactical - Stim
Perk 1 - Cold Blooded
Perk 2 - Overkill / High Alert
Perk 3 - Amped
Stay tuned to Pro Game Guides for more Call of Duty content. In the meantime, head over to our article on – What does Redeploy mean in Call of Duty: Warzone?