Automaton is the easiest to use Vanguard Assault Rifle in Call of Duty: Warzone Pacific. The fast fire rate, close to zero recoil, and excellent accuracy make it a popular weapon choice, similar to the Grau 5.56. This guide showcases two of the best Automaton class setups in Warzone Pacific for different scenarios.
Best Automaton Loadout Warzone Pacific
The best Automaton attachments for a long-range, highly accurate build are: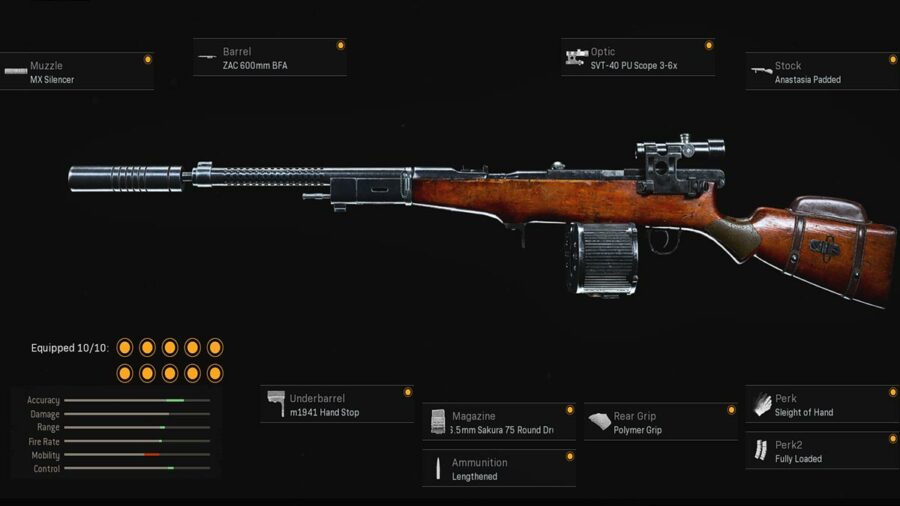 Muzzle: MX Silencer
Barrel: ZAC 600mm BFA
Optic: SVT-40 PU Scope 3-6x
Stock: Anastasia Padded
Underbarrel: m1941 Hand Stop
Magazine: 6.5mm Sakura 75 Round Drums
Ammo Type: Lengthened
Rear Grip: Polymer Grip
Proficiency: Sleight of Hand
Kit: Fully Loaded
The majority of the attachments used here focus on improving the accuracy of the Automaton, which is crucial for long-range engagements. For this, we use the MX Silencer, ZAC 600mm barrel, Padded stock, m1941 underbarrel, SVT-40 Scope, and Polymer Grip.
The Polymer Grip and Anastasia Padded stock also help with flinch resistance significantly. Furthermore, the Lengthened ammo type is essential for any long-range weapon, improving bullet velocity.
For an Automaton sniper support class, use the following loadout instead: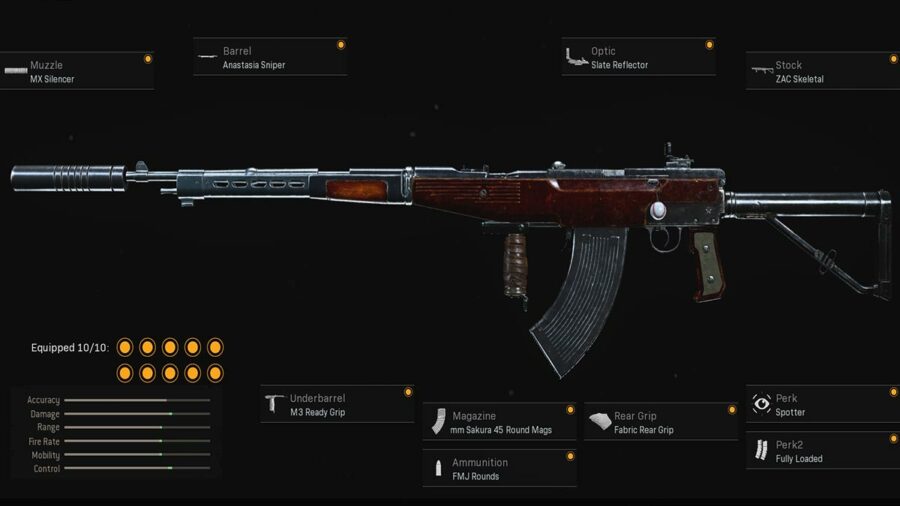 Muzzle: MX Silencer
Barrel: Anastasia Sniper
Optic: Slate Reflector
Stock: ZAC Skeletal
Underbarrel: M3 Ready Grip
Magazine: 6.5mm Sakura 45 Round Mags
Ammo Type: FMJ Rounds
Rear Grip: Fabric Rear Grip
Proficiency: Spotter
Kit: Fully Loaded
These attachments improve the range and mobility of the AR while keeping it extremely accurate. For mobility features such as sprint-to-fire, aim-down-sight (ADS), and ADS movement speeds, we use the Skeletal stock, M3 Grip, and Fabric Rear Grip.
On the other hand, Anastasia barrel, Spotter proficiency, and MX Silencer jointly improve the accuracy, bullet velocity, and damage range of the Vanguard Automaton. You can change the attachments from the list to the ones you prefer for a more personalized gun build.
Best Automaton Class Setup Warzone
Primary Weapon - Automaton
Lethal - Throwing Knife
Tactical - Stim
Perk 1 - Cold Blooded
Perk 2 - Overkill / Ghost
Perk 3 - Combat Scout
Stay tuned to Pro Game Guides for more Call of Duty content. In the meantime, head over to our article on – Why are my COD Points not showing up?