There was a time when Kilo 141 was the most powerful weapon in Call of Duty: Warzone. The developers nerfed the gun heavily to introduce the Black Ops Cold War Assault Rifles into the meta. However, with the Season 4 Reloaded update weapon adjustment patch, the gun's early second damage dropoff was completely removed.
This change, along with increased minimum damage, now makes the Kilo a top-tier gun for Caldera, Rebirth Island, and Fortune's Keep. Here's a guide to the best Kilo 141 attachments and class to use in Warzone Pacific.
Best Kilo 141 Loadout Warzone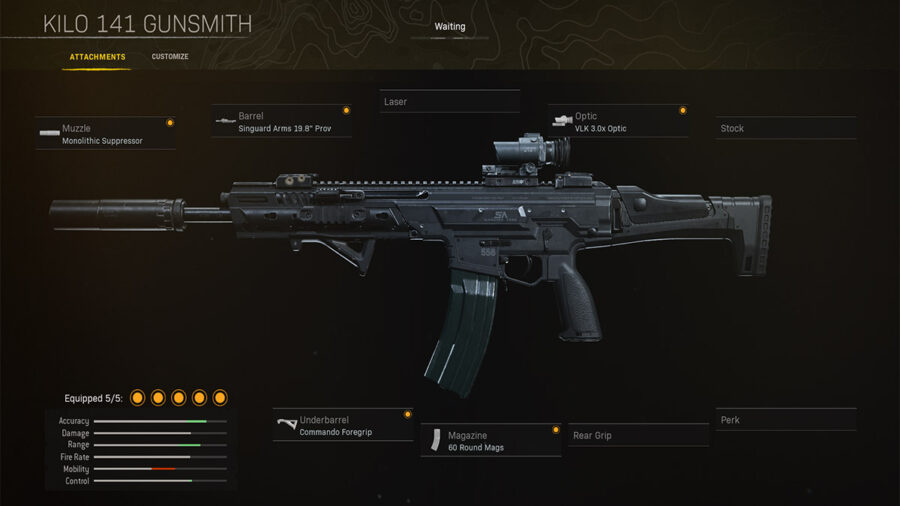 Muzzle: Monolithic Suppressor
Barrel: Singuard Arms 19.8" Prowler
Optic: VLK 3.0x Optic
Underbarrel: Commando Foregrip
Magazine: 60 Round Mags
The aforementioned Kilo 141 attachments are perfect for a long-range build. The muzzle and barrel jointly boost the gun's damage range and bullet velocity while hurting its mobility features, which is acceptable for a long-range focused AR build.
The VLK Optic is the go-to scope for most Modern Warfare weapons in Warzone. It helps tone down the recoil and adds magnification. Similarly, equip the Commando Foregrip underbarrel for maximum recoil stabilization and accuracy.
Related: Best FARA 83 Loadout and Attachments in Call of Duty Warzone
Best Kilo SMG Loadout Warzone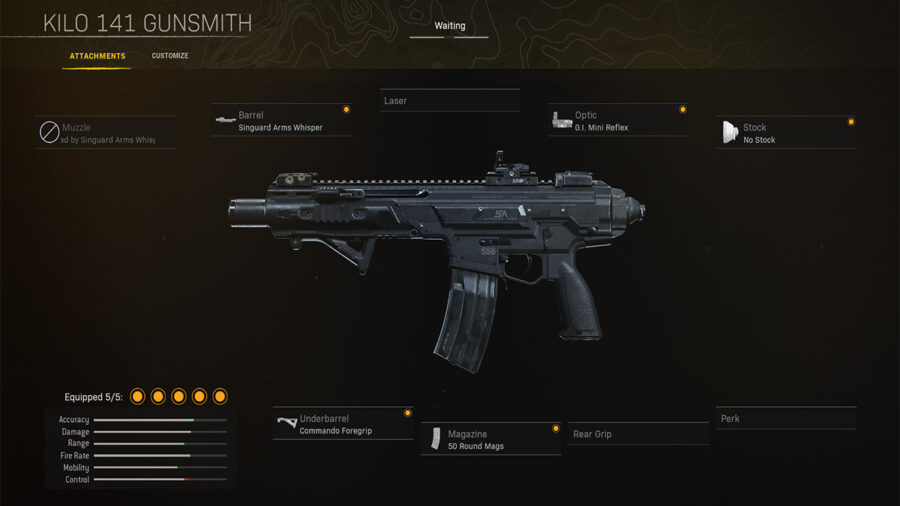 Barrel: Singuard Arms Whisper
Optic: G.I. Mini Reflex
Stock: No Stock
Underbarrel: Commando Foregrip
Magazine: 50 Round Mags
This specific Kilo build has improved mobility, which comes at the cost of range and accuracy. The barrel used here comes with an integrated suppressor and eliminates the need for a muzzle attachment, which gives you a free slot to add any other mod of choice.
The 50 Round ammunition is perfect for close-range fights, and it doesn't hurt the movement and ADS speeds as much as the 60 Round Mags. Moreover, No Stock massively buffs the movement and ADS speeds, but it comes at the cost of reduced accuracy and control.
Best Kilo 141 Class Setup Warzone
Primary Weapon - Kilo 141
Lethal - Throwing Knife
Tactical - Stim
Perk 1 - Serpentine
Perk 2 - Overkill
Perk 3 - Amped / Combat Scout
For more Call of Duty loadouts, check out Best Grav Loadout and Class Setup in Call of Duty: Warzone – Long Range on Pro Game Guides.