Marksman Rifles are good for fast-killing weapons in Call of Duty: Vanguard. Although M1 Garand isn't as powerful as a Sniper, it has better handling and mobility. Follow this guide on building the best M1 Garand class in CoD: Vanguard.
Best M1 Garand Loadout Vanguard
Muzzle - MX Silencer
Barrel - Cooper 21" Shrouded
Optic - ZF4 3.5x Rifle Scope
Underbarrel - SMLE Pistol Grip
Magazine - .30-06 16 Round Drums
Ammo Type - FMJ Rounds
Rear Grip - Fabric Grip
Proficiency - Vital
Kit - Fully Loaded
Related: Best SVT-40 Loadout and Class in Call of Duty: Vanguard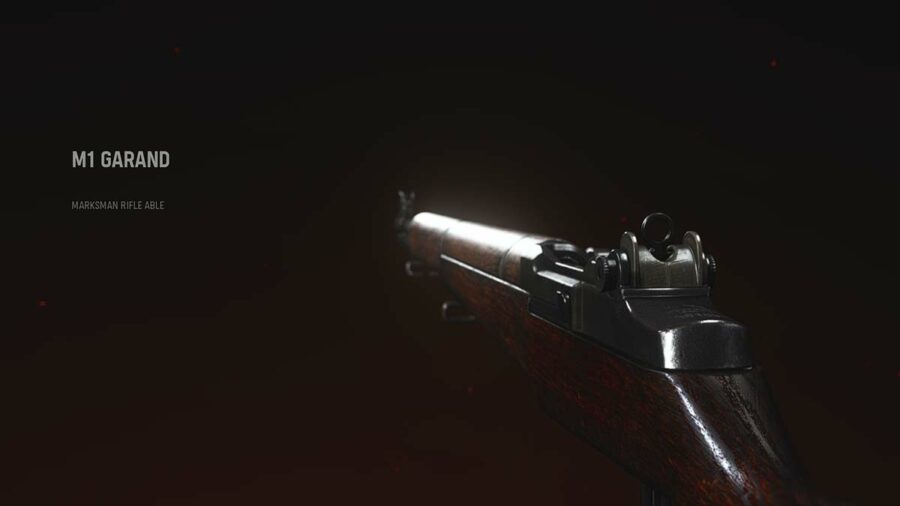 The best M1 Garand attachments boost the accuracy and range without hurting mobility by much. The MX Silencer is equipped for better accuracy and sound suppression. But if you don't want concealment, you can use the L Brake muzzle for extra accuracy.
The Cooper 21" barrel ensures that the M1 Garand has a long damage range and fast bullet velocity. Other barrel options aren't recommended as they improve accuracy but hurt mobility by a lot. For similar reasons, we have not used any stock on the weapon.
The optic, ammo type, and kit attachments are subjective, and you can modify them to your preference. Vital proficiency is crucial as it increases the effective body area for headshot damage. Fabric Grip provides bonus aim-down-sight (ADS) and sprint-to-fire speeds which jointly enhance the mobility stats of M1 Garand.
.30-06 16 Round magazine increases ammo capacity while taking away some of the ADS and movement speeds. You can swap this for the .303 British 8 Round Clips for better fire rate, recoil control, and mobility. However, it will hurt bullet velocity, damage, and bullet penetration stats.
Therefore, British magazine should be preferred for a mid-range build. Remember to pair this ammunition with the Lengthened ammo type to compensate for the reduced bullet velocity.
Stay tuned to Pro Game Guides for more Call of Duty: Vanguard content. In the meantime, head over to our article on – When does Call of Duty Vanguard Season 1 start?