In Call of Duty Modern Warfare 2, players can unlock weapons from several categories, and Shotguns are one of them. There are four Shotguns in MW2, and the Bryson 800 is unlocked by default when you start the game. You can start leveling up the Bryson 800 to unlock several attachments that can be used by other Shotguns as well. Here's the best class and loadout setup for the Bryson 800 Shotgun in Call of Duty Modern Warfare 2.
Best Bryson 800 class setup Modern Warfare 2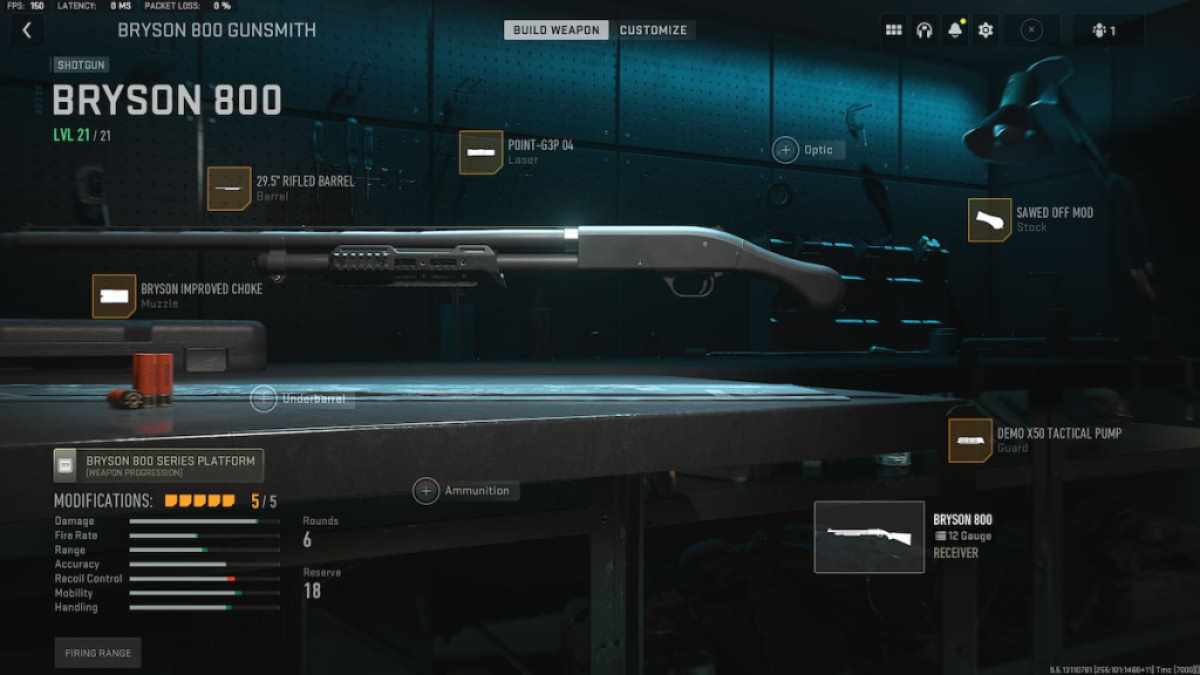 The Bryson 800 is a versatile pump-action Shotgun with good Recoil Control and Accuracy. This weapon has eight rounds in the magazine at one time. The Bryson 800 has brilliant iron sights, so you won't need to equip an Optic attachment for better vision. This Shotgun lacks in Handling, Range, and Fire Rate, which makes it one of the weakest weapons in its category. However, with the right attachments, players can build a one-shot class setup for the Bryson 800.
Barrel: 29.5″ Rifled Barrel
Underbarrel: Cronen Grooveshot Grip
Muzzle: Bryson Improvised Choke
Guard: Sawed Off Mod or Stockless Pistol Grip
Stock: Demo X50 Tactical Pump or Demo Dropzone Pump
This class setup for the Bryson 800 aims at increasing Mobility, Handling, and Aim Down Sight speed. Hip-firing with Shotguns is a good option when the opponent is close to you. However, it wouldn't fetch the same results when the enemy is 15 to 30 meters away. This is why players need to tune the attachments to improve Aim Down Sight speed and Sprint to Fire delay.
Best Bryson 800 loadout Modern Warfare 2
To build a proper loadout for the Bryson 800, you need to equip all five attachments to the Bryson 800, and select different equipment. Since this is a Shotgun, you must run a full-auto Secondary weapon to get quick eliminations. Players also need to equip Perks, Lethal, Tactical, Field Upgrades, and Killstreaks to complete the loadout. We recommend carrying an SMG or an Assault Rifle along with the Bryson 800 Shotgun.
Primary: Bryson 800
Tactical: Heartbeat Sensor
Lethal: Semtex
Perk Package

Basic Perks: Overkill and Double Time

Bonus Perk: Spotter
Ultimate Perk: Bird's Eye

Field Upgrade: Dead Silence or Battle Rage or DDOS
Wondering what else is coming to Modern Warfare 2? Check out All 6v6 Modes in Modern Warfare 2 and How to get the Oni Operator in Modern Warfare 2 on Pro Game Guides.