In Call of Duty Modern Warfare 2, players unlock various SMGs, and these weapons are the best ones to build a run-and-gun class. The MX9 is one of the SMGs you'll unlock late in the game, and it's quite efficient for an assault setup. If you are looking for a weapon that dominates at close-quarters combat, then the MX9 is the best choice. Here's the best loadout and class setup for the MX9 SMG in Call of Duty Modern Warfare 2.
Modern Warfare 2 best MX9 class build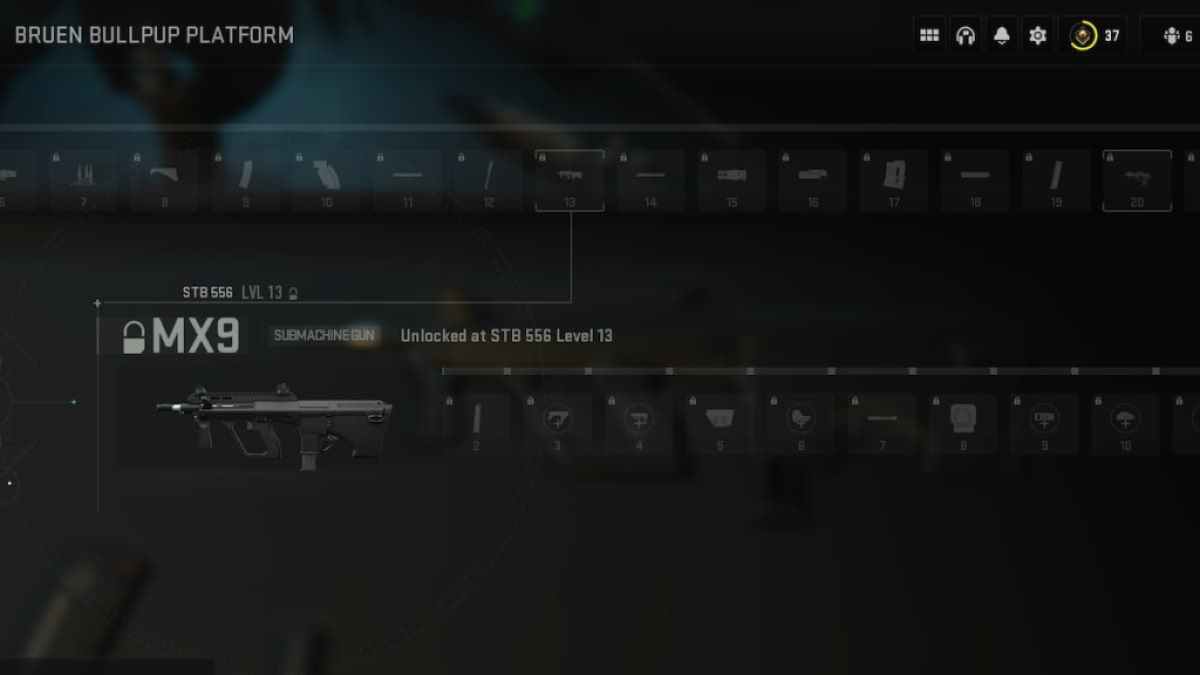 The MX9 is one of the weapons in the Bruen Bullpup Platform, this means it shares attachments with other Bruen weapons. Unlike other SMGs, players can unlock the MX9 by leveling up the STB 556 Assault Rifle, which itself unlocks at Level 41. The MX9 has 17 levels of progression, and we recommend players rank up quickly to get this gun's Weapon Tuning. Each magazine has 25 bullets, but you can increase this with attachments. The MX9 has high Mobility, Handling, and Damage, but its Range, Fire Rate, and Recoil Control are poor. Here are the best attachments to run with the MX9.
Barrel: 16.5" Bruen S901
Muzzle: Forge DX90-F or Singuard MKV
Laser: VLK LZR 7MW
Comb: FTAC C11 Riser
Rear Grip: Bruen Q900
The above attachments are intended to make up for Recoil Control and Range. The Muzzle choice is crucial, and we recommend players choose between the Forge DX90-F or the Singuard MKV. You can put an optic on this weapon, although it's ideal for attaching the Comb and Rear Grip instead of sight. Similarly, you can go for the 32-Round Magazine, making it easier to take on multiple opponents without running out of bullets.
Modern Warfare 2 best MX9 loadout
Once you have set up all five attachments, players need to complete the loadout by choosing various other elements of this build. If you want to make a run and gun class loadout, then focus on the Perks. The MX9 is an SMG, and we recommend carrying an Assault Rifle or a Shotgun as a Secondary. Select a Secondary weapon, and equip various Killstreaks, Lethal, Tactical, Field Upgrades, and Perks.
Primary: MX9
Secondary: M4 or Kastov 762
Tactical: Flashbang Grenade
Lethal: Frag Grenade
Perk Package

Basic Perks: Overkill and Battle Hardened

Bonus Perk: Fast Hands
Ultimate Perk: Ghost or High Alert

Field Upgrade: Battle Rage
Having trouble logging in to Modern Warfare 2? Check out How to fix MW2 'keeps crashing on PC, PS5, & Xbox' issue on Pro Game Guides.