OTs 9 has been one of the most potent weapons in Call of Duty: Warzone since its launch. There's no match for the perfectly balanced fire rate, mobility, and damage that the Submachine Gun features. All of these stats are desired and expected in a close-range weapon.
This guide showcases the best OTs 9 attachments for two different weapon builds i.e., mobility and hipfire builds.
Best OTs 9 Loadout Warzone for Mobility
Muzzle: GRU Suppressor
Barrel: 8.1" Task Force
Stock: KGB Skeletal Stock
Magazine: VDV 40 Rnd Fast Mag
Rear Grip: Serpent Wrap
This OTs 9 build can be a long-range AR companion or a sniper support class. The attachments used here improve the SMG's mobility while also boosting the range. We equip the muzzle and barrel mods for damage range, bullet velocity, and strafe speed.
The barrel does hurt recoil control, but not drastically. If you're feeling uncomfortable with the recoil pattern, you can shrink it down by switching the rear grip for the Spetsnaz Grip underbarrel. However, the Serpent Wrap grip is crucial as it speed up aim-down-sight (ADS) time.
For maximum mobility, we equip the KGB stock. Some players prefer the Spetsnaz Stock for firing movement speed instead of sprint-to-fire time. Finally, the 40 round magazine gives us enough bullets to stay in the fight longer.
Best OTs 9 Hipfire Class Warzone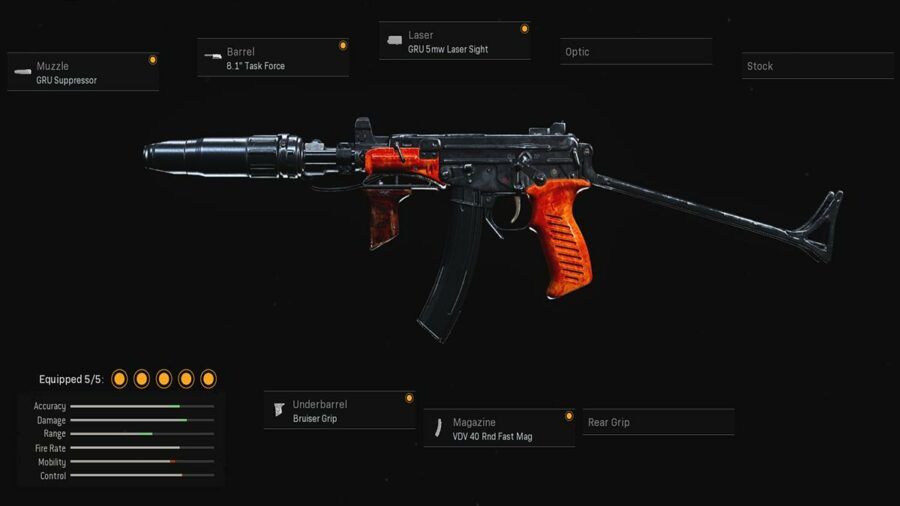 Muzzle: GRU Suppressor
Barrel: 8.1" Task Force
Laser: GRU 5mW Laser Sight
Underbarrel: Bruiser Grip
Magazine: VDV 40 Rnd Fast Mag
While keeping the muzzle, barrel, and magazine attachments from the previous loadout, we swap the other two mods for a laser and an underbarrel. These two attachments specifically help tighten the hipfire spread of the OTs 9, turning it into a run and gun weapon.
Best OTs 9 Class Setup Warzone
Secondary Weapon - OTs 9
Lethal - Throwing Knife
Tactical - Stim
Perk 1 - Cold Blooded
Perk 2 - Overkill
Perk 3 - Combat Scout
Stay tuned to Pro Game Guides for more Call of Duty content. In the meantime, head over to our article on – How to appear offline in Call of Duty: Warzone.