In Call of Duty Warzone 2, players need to build proper loadouts from various weapon categories. The TAQ-V is a Battle Rifle, one of the best guns to use in battle royale. Most of the action you'll face on Al Mazrah is a mid-to-long range, where Battle Rifles become most effective. Here are the best attachments for the TAQ-V Battle Rifle in Call of Duty Warzone 2.
Best TAQ-V Loadout Warzone 2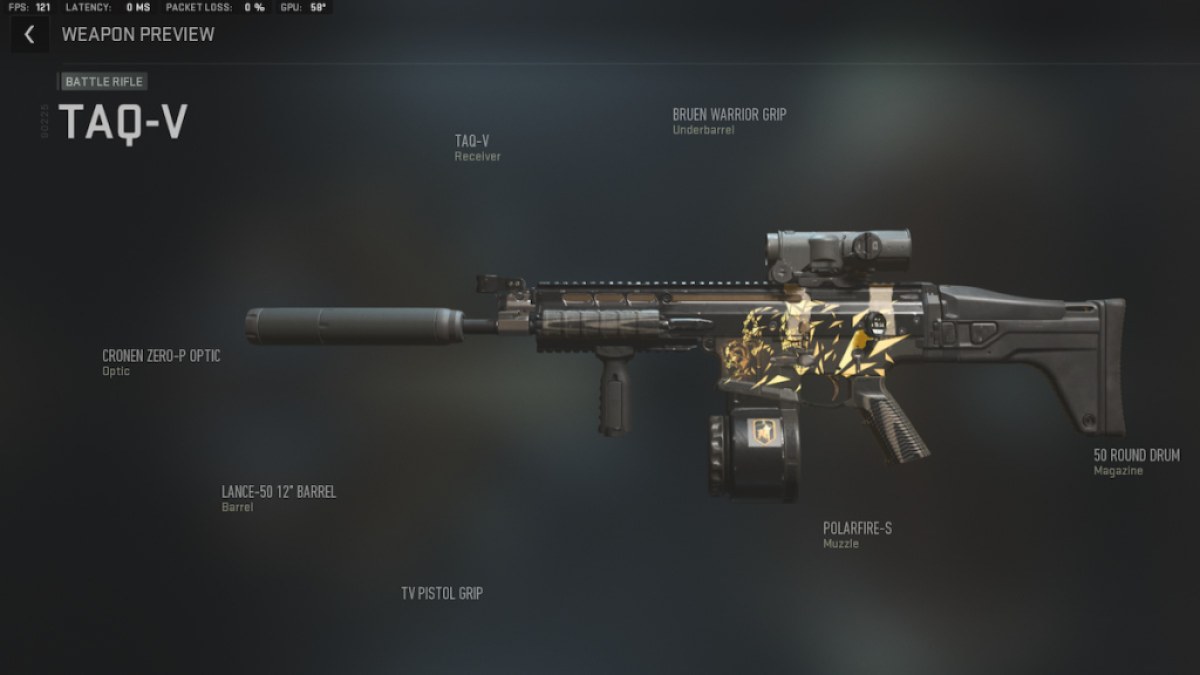 The TAQ-V is Battle Rifle with auto-fire and single-fire modes. The TAQ-V can be unlocked by progressing TAQ-56 AR to Level 11. This weapon has 21 levels of progression, and we recommend unlocking it quickly and leveling it up by playing various Multiplayer modes like Hardpoint, Team Deathmatch, Free-For-All, and Domination. Each magazine has 20 bullets, and this gun has high Damage, Range, and Accuracy. However, the TAQ-V lacks Mobility and Recoil Control, which you can improve with attachments. Equip these attachments and test them in the Firing Range before heading into battle royale.
Barrel: 18" Precision-6 Barrel
Muzzle: Polarfire-S

Tune Muzzle for maximum Aim Down Sight speed and Bullet Velocity

Rear Grip: Demo Cleanshot Grip

Tune Rear Grip for maximum Aim Down Sight speed, and Sprint to Fire speed

Optic: Cronen Zero-P Optic

Tune Optic for maximum Far eyesight, and Aim Down Sight speed

Magazine: 50-Round Drum
Related: Best Sakin MG38 loadout and attachments in Warzone 2
Best TAQ-V Perk and Equipment Setup for Warzone 2
With the 50-Round Drum Magazine, the TAQ-V gets enough bullets to spray on enemies at mid-to-long range. However, you must pair it with a close-range weapon of your choice, preferably a Sub Machine Gun. Once that's done, select the appropriate Perk Package and Lethal and Tactical equipment.
Tactical: Stim
Lethal: Drill Charge
Perk Package: Weapon Specialist Perk (for two primary weapons)
Wondering what else is coming to Modern Warfare 2? Check out All 6v6 Modes in Modern Warfare 2 and How to get the Oni Operator in Modern Warfare 2 on Pro Game Guides.