The Vargo-S Assault Rifle in Call of Duty: Warzone is a highly accurate weapon coupled with fast fire rate and mobility. After analyzing the stats for the gun and using it for a while, you will notice that the gun cannot easily outperform its counterparts. That being said, if you want to try it out for yourself, here's a guide to the best Vargo-S attachments and class to use in Warzone Pacific.
Best Vargo-S Loadout Warzone as Sniper Support
Muzzle: Recoil Booster
Barrel: Gabrielyan LW 298mm
Optic: Slate Reflector
Stock: Nazaryan Padded SL
Underbarrel: Mark VI Skeletal
Magazine: 7.62x54mmR 60 Round Drums
Ammunition: Subsonic
Rear Grip: Leather Grip
Perk 1: Hardscope / Steady
Perk 2: On-hand
The best way you can use the Vargo-S AR is as a close to mid-range weapon, preferably as a sniper support build. The attachments we've used here focus on improving the gun's fire rate and mobility features, such as aim-down-sight (ADS), movement, and aim-walking speeds.
Depending on your needs and preferences, feel free to swap some of the attachments (for instance, the Gabrielyan LW barrel with the Mirzoyan 414mm Custom barrel). While the former adds mobility and reduces recoil control, the latter improves recoil control at the cost of range and fire rate.
Similarly, you can choose between the Nazaryan Padded stock and Removed Stock attachment. For the Perk 1 slot, we recommend using Steady for better aim-walking speed. Alternatively, you can equip Hardscope if you find it difficult to control the gun's recoil.
Related: Best Kilo 141 Loadout and Attachments in Call of Duty Warzone
Best Vargo-S Loadout Warzone for Long Range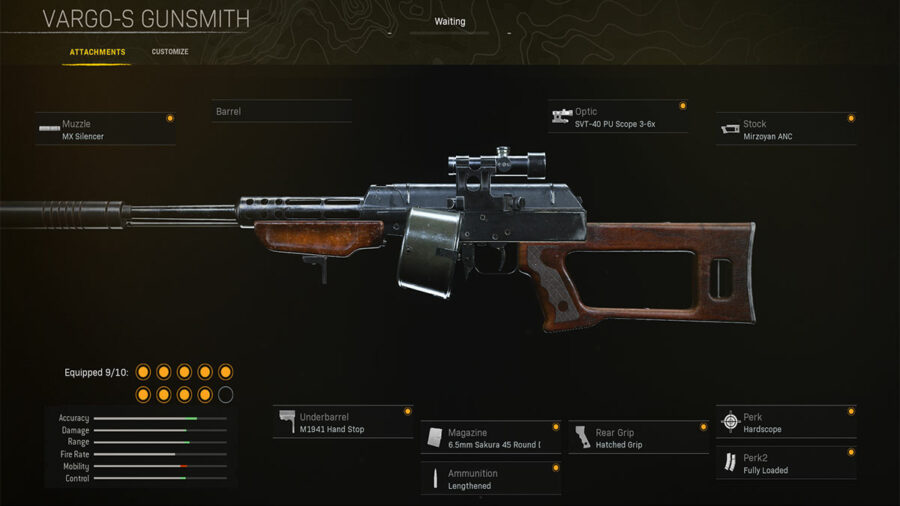 Muzzle: MX Silencer
Optic: SVT-40 PU Scope 3-6x
Stock: Mirzoyan ANC
Underbarrel: M1941 Hand Stop
Magazine: 6.5mm Sakura 45 Round Drums
Ammunition: Lengthened
Rear Grip: Hatched Grip
Perk 1: Hardscope
Perk 2: Fully Loaded
The long-range build for the Vargo-S is an underperformer and cannot easily compete with the meta ARs in Call of Duty: Warzone Pacific. Regardless, you can use the aforementioned weapon build if you want to try out a different gun than usual. This build improves the accuracy, control, and range of the Vargo-S. One thing to note here is that the weapon doesn't have a good long-range barrel attachment, so we've skipped it altogether.
Best Vargo-S Class Setup Warzone
Primary Weapon - Vargo-S
Secondary Weapon - AX-50 / 3-Line Rifle / Uzi / Marco 5
Lethal - Throwing Knife
Tactical - Stim
Perk 1 - E.O.D.
Perk 2 - Overkill
Perk 3 - Amped
Stay tuned to Pro Game Guides for more Call of Duty content. In the meantime, head over to our article on Warzone Titanium Trials Endurance Event – All Challenges & Rewards.