For keyboard and mouse players, the Field of View (FOV) slider can be one of the best features of Call of Duty. In general, it enlarges a player's viewpoint to see more of the sides and the surrounding area. Console players have rarely had access to this method of increasing the player's view, and it is one of the advantages for keyboard and mouse players.
Why is there no FOV slider for the console in Call of Duty: Warzone?
Although Call of Duty: Vanguard added the FOV slider to consoles, Call of Duty: Warzone will not add an FOV slider for consoles. As they stated in a tweet, it "creates major performance impacts for old-gen console players," but the fairness is debatable.
In layman's terms, the PS4 and Xbox One aren't as good as the PS5 and Xbox Series X. The larger screens require more RAM and memory, which results in lower frames-per-second (FPS) on older consoles. For newer consoles, this is not an issue.
What is FOV in Call of Duty?
The following is a visual representation of FOV. Suppose everyone had the smallest square by default. PC players can bring up the slider and see from the larger squares. The higher the slider, the bigger the square, which doesn't feel right when you're stuck with the smallest square.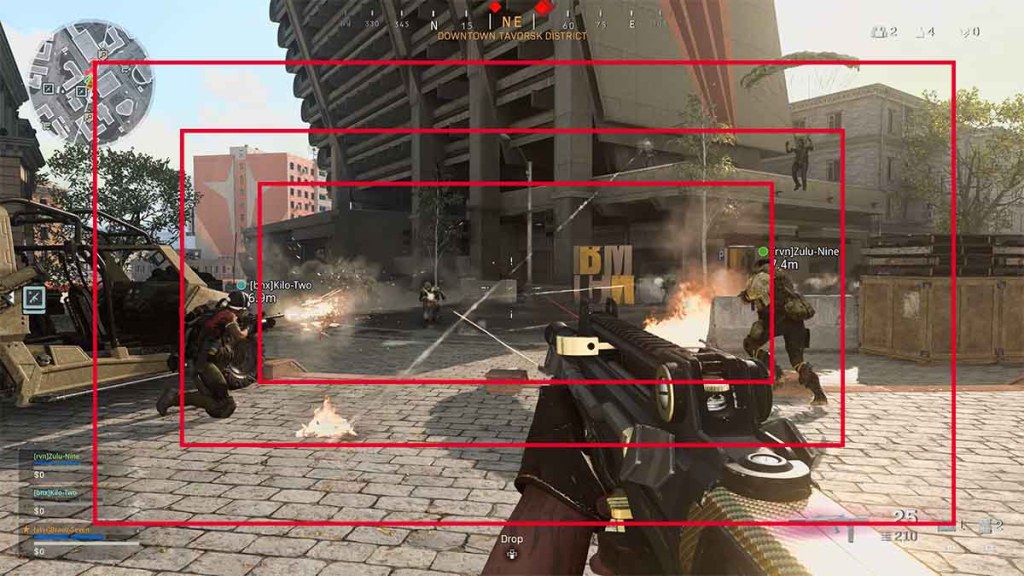 Are consoles ever getting an FOV slider in Call of Duty: Warzone?
As long as a majority of Warzone players aren't playing on next-gen consoles, which is basically current-gen at this point, the FOV slider won't return. As the builds on consoles may be incredibly similar, Raven Software might not be able to remove it from one and not the other. Therefore, it will be a few years before consoles get their FOV sliders.
There won't be any loss of FOV for PC players, which is a significant advantage over controllers in the keyboard and mouse debate. It is unlikely that the FOV slider will ever leave PC since it has been a setting on PC for some time, while it only just arrived on consoles.
For more Call of Duty content, stay on Pro Game Guides, and if you need a boost in Warzone, check out Best OTs 9 Loadout and Class in Call of Duty: Warzone.