Call of Duty: Vanguard and Warzone Season 4 introduce four new weapons to the game. The Mercenaries of Fortune update includes the Push Dagger melee weapon. Here's a guide on how to unlock the melee for Vanguard and Warzone Pacific via the Multiplayer and Zombies modes.
Weapon description: A blade with a T-shaped grip that allows for increased push power. Easily concealable and deadly in CQC.
How to get the Push Dagger in Vanguard and Warzone
Unlock challenge for Multiplayer: Get five melee kills with a primary weapon in 15 different matches.
Unlock challenge for Zombies: Get 100 kills with a melee weapon while shrouded by your Aether Shroud artifact.
Related: How to unlock Skal Crusher Melee in Call of Duty: Vanguard & Warzone
For Vanguard Multiplayer, you need to get five kills in a match 15 times by gunbutting enemies using your primary. To complete this challenge, you can equip the Bayonet underbarrel and Fast Melee perk on your preferred gun. Also, remember that the progress only counts if you complete your matches.
As for Vanguard Zombies, the Push Dagger unlock challenge is pretty straightforward. The best way to fully utilize your Aether Shroud and maximize your kills is to make sure that you use the artifact in a compact area and when there are many Zombies around you.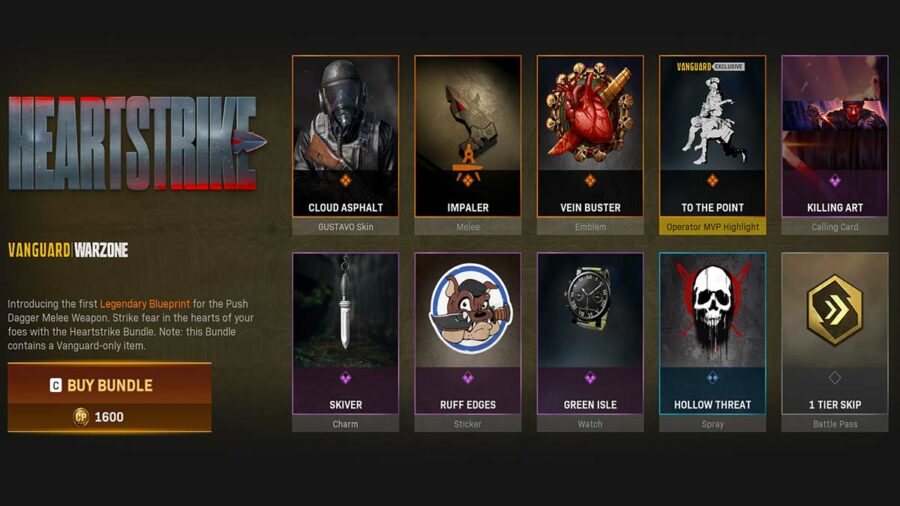 If you want to unlock the Push Dagger melee way faster, you can buy a bundle containing its blueprint from the CoD Store. The "Heartstrike" bundle is currently available for purchase. This method will cost you money, but you'll unlock the weapon instantly.
Stay tuned to Pro Game Guides for more Call of Duty content. In the meantime, head over to our articles on Best Light Machine Gun in Call of Duty Warzone and Do I need Xbox Live to play Warzone?