Cookie Clicker is considered by many to be one of the classic web-based games from an era before mobile gaming became a part of our everyday lives. It gained popularity in 2013 as a nonsensical grinding game where your only goal is exactly as the title implies: you must click cookies. As a game you play in your browser, it didn't take long for tech-savvy players to hack the game and manipulate it to get you all those achievements that seem impossible to reach.
How to hack Cookie Clicker
Modifying Cookie Clicker requires you to go into the game's code and run specific commands. This may seem intimidating for those who aren't familiar with coding, but it's much faster than getting resources in Cookie Clicker the normal way. Here is how you hack Cookie Clicker for all web browsers.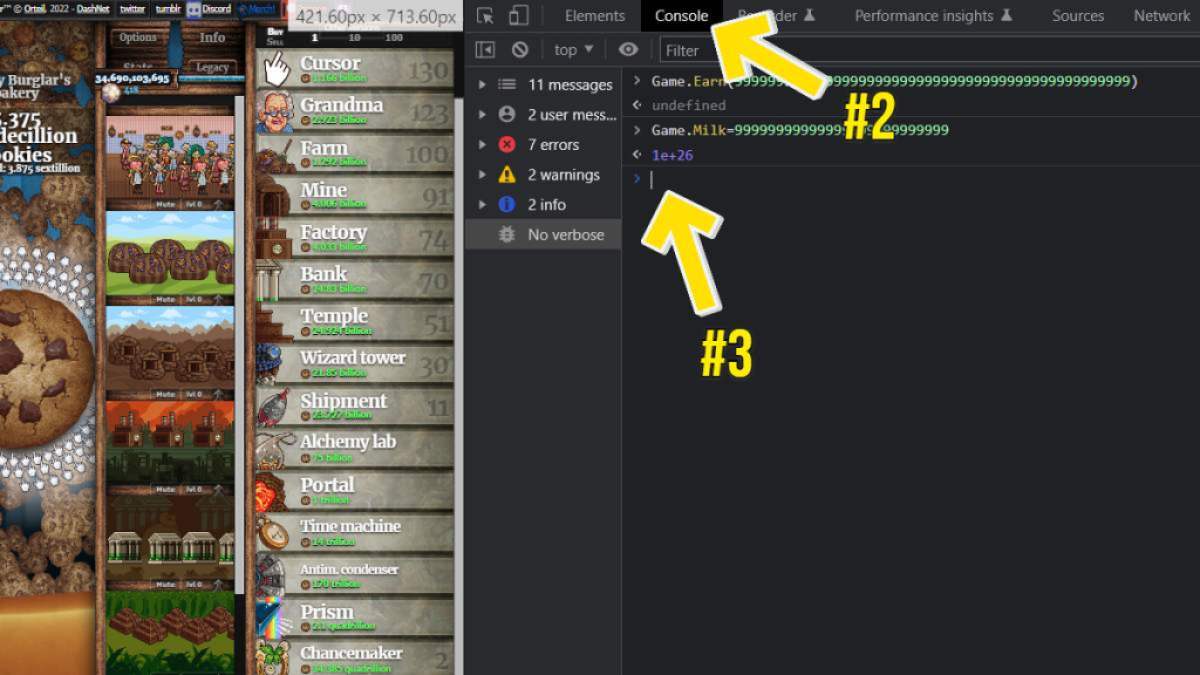 Open Cookie Clicker in your browser.
With the Cookie Clicker tab open, open the browser Console with the keystrokes below.

Microsoft Edge: F12
Firefox: Ctrl + Shift/Option + K
Chrome: Ctrl + Shift/Option + J
IE: F12
Safari: Command + Option + C

Navigate to the first open command line on the Console tab. This is where you will type in the codes listed below.
Related: Grounded Cheats & Console Commands
All Cookie Clicker Cheats and Codes
Here is the full syntax of the codes and what they do in the game.
Most popular commands
Game.cookies=#—Sets your Cookie count to the number you specify.
Game.cookiesPs=#—Sets your Cookies Per Second rate to the number you specify.
Game.Earn(#)—Adds the amount of cookies you specify.
Game.Win('<AchievementName>')—Instantly grants the achievement you specify in AchievementName.
All commands
Game.Ascend(1)—Forces you to Ascend and changes your Cookies into Heavenly Chips and Prestige.
Game.AscendTimer=TIME—Changes your Ascend Timer to the time you specify.
Game.bakeryName="<NAME>"—Sets the name of your bakery to the name you choose.
Game.bakeryNameRefresh()—Refreshes your bakery name to the name you specify.
Game.BuildAscendTree()—Builds the Ascend Tree.
Game.buyBulk=#—Changes the amount of items you buy at one time.
Game.CalculateGains()—Calculates the gains you've made.
Game.computedMouseCps—Computes your mouse click cookies per second.
Game.computedMouseCps=#—Changes your mouse click cookies per second to the amount you specify.
Game.DebuggingPrestige=false—Disables or enables the debugging feature for your Prestige.
Game.debugTimersOn=#—Turns the debug timers on or off (0 is on, 1 is off).Game.DebugUpgradeCpS()—Debugs your Upgrade clicks per second.
Game.dragonLevel=#—Sets your dragon level to the level you specify.
Game.gainLumps(#)—Adds the number of Lumps you specify to your total.
Game.GetAllDebugs()—Access all debugging.
Game.Has('<Achievement Name>')—Checks if you have the achievement with the name you specify.
Game.HardReset(2)—Completes a hard reset on your game.
Game.killShimmers()—Removes all shimmers.
Game.LoadSave()—Loads your current save file.
Game.MaxSpecials()—Gives you the max number of specials.
Game.Milk=#—Changes your milk amount to the number you specify.
Game.milkProgress=#—Changes your milk progress to the number you specify.
Game.mousePointer=#—Changes your mouse pointer to the one you specify.
Game.particlesUpdate()—Updates the game particles.
Game.popups=0—Disables the game notifications.
Game.RuinTheFun(1)—Unlocks everything in the game.
Game.santaLevel=#—Changes your Santa level to the number you specify.
Game.sesame=0/1—Changes sesame to on our off (0 is off, 1 is on).
Game.SesameReset()—Completely resets your game.
Game.SetAllAchievs(1)—Unlocks all achievements in the game.
Game.SetAllUpgrade(1)—Unlocks all upgrades in the game.
Timer.track('milk')—Allows you to track the Milk timer.
That's all you need to know about how to hack and modify Cookie Clicker!
Want to complete the game the normal way? Check out our guides on how to get Lumps, Wrinklers, and Golden Cookies in Cookie Clicker!