The Cookie Run: Kingdom Squirrel Shop event runs until January 5, 2023, and features a limited-time exchange system where you can trade Crunchy Acorns and Golden Acorns for amazing rewards. This event has two facets: the Acorn Market and the Acorn Gacha.
You can get limited holiday decor, Crystals, Rainbow Cubes, Radiant Shards, and more by maximizing your daily exchanges.
How to get Crunchy Acorns in the CRK Squirrel Shop
Head to the event menu, click on Squirrel Shop on the lefthand corner, then enter the Squirrel Shop to find the event page. Crunchy Acorns are used to purchase the Squirrel's Special Goods and draw from the Acorn Gacha. You can get them from the Acorn Market. Click on the Exchange button to enter the interface.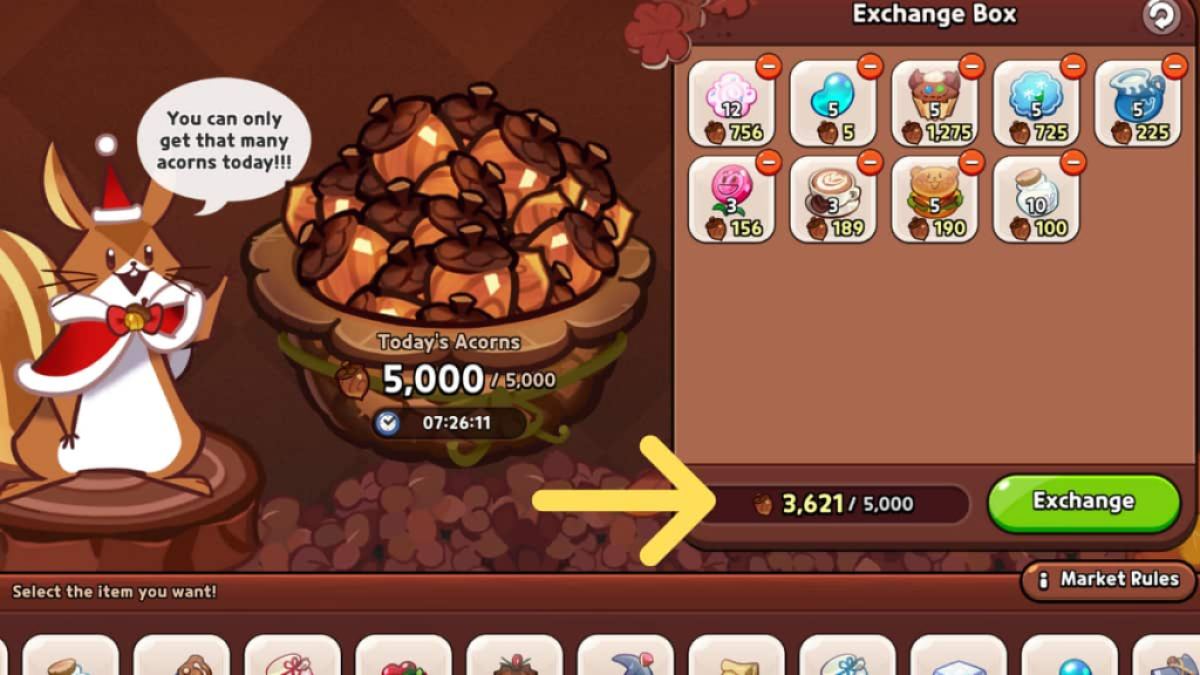 Here, you can trade in common production materials for Crunchy Acorns. The harder a material is to produce, the more Crunchy Acorns you'll get in return. For example, x1 Roll Cake Wood can be exchanged for x1 Crunchy Acorn, while x1 Spooky Muffin can be exchanged for x255 Crunchy Acorns. You can only exchange a maximum of 5,000 Crunchy Acorns per day.
Related: Best Black Pearl Cookie Toppings build in Cookie Run Kingdom
How to get Golden Acorns in the CRK Squirrel Shop
Golden Acorns can only be obtained when you get lucky in the Acorn Gacha. It costs 500 Crunchy Acorns per draw, meaning you can only attempt 10 times daily. The Golden Acorn draw rates are as follows:
x200 Golden Acorns - 4.301 percent
x150 Golden Acorns - 7.742 percent
x100 Golden Acorns - 8.602 percent
Golden Acorns can be used to purchase rare items from Squirrel's Special Goods at the bottom of the event page. It refreshes once a day with new goods, including the event-limited Kingdom decors that you can snag if you cannot from the gacha.
Check out our Best Pinecone Cookie Toppings build in Cookie Run Kingdom here on Pro Game Guides to build this adorable holiday Cookie.