Cult of the Lamb follows a sacrificial lamb who is spared from death and put into the service of the One Who Waits, an ancient deity imprisoned by his siblings. You are tasked with defeating the Bishops of the Old Faith while also maintaining your cult's faith and happiness. This journey is filled with humorous characters, challenges, and more, setting Cult of the Lamb up to be a stellar entry in the roguelike genre.
Talk about Cult of Personality
Cult of the Lamb is a roguelike and simulator bundled together to create a delightful experience. Throughout the course of this title, you fight varying waves of enemies with an arsenal of weapons, Curses, tarot cards, and more. This gives Cult of the Lamb an expansive amount of replayability as you try out different builds for each run. These weapons and abilities level up with you, increasing your power as the challenge rises.
To make this better, Cult of the Lamb's world is thoroughly enjoyable, never taking itself too seriously and showcasing a lot of humor. Few games allow you to sacrifice a naysayer and then feed that Follower to another member of your cult or give you a request to feed poop to a Follower. This humor is joined by an incredible art style and soundtrack, which makes building up your cult camp and maintaining faith a joy.
Cults aren't baaad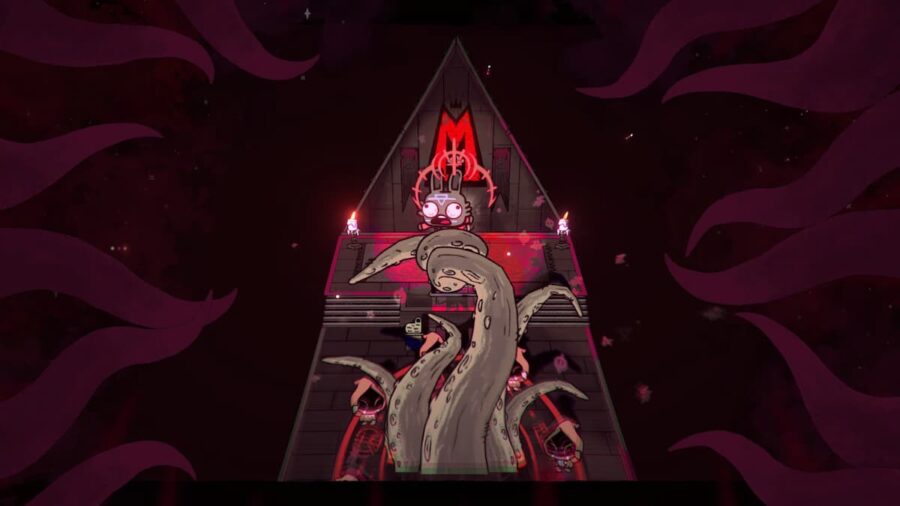 Cult of the Lamb does stumble in one or two areas, but these are largely inconsequential to the overall experience. This roguelike title offers a delightful world full of humorous and interesting characters but sadly does not use it to its full extent. The story is fairly weak and easily predictable, which is something of a letdown as Cult of the Lamb does many things so well.
Cult of the Lamb does suffer in its Follower traits—there aren't all that many, and they don't have that much effect on your gameplay. In addition, there are many negative traits, and they appear more frequently than positive ones. Finally, weapon diversity is something that could be expanded as there are five main weapons, and they don't feel all that different. Offering more options or playstyles through weapons would go a long way to improving Cult of the Lamb's already fun combat.
Pros and Cons of Cult of the Lamb
| | |
| --- | --- |
| Pros | Cons |
| Engaging gameplay. | Weak/predictable story. |
| Humourous. | Negative Follower traits are common. |
| Fantastic art and music. | Weapon diversity is lacking. |
| A lot of replayability. | |
| Building/maintaining your cult is a delight. | |
Verdict – We recommend
We highly recommend Cult of the Lamb, especially to those who enjoy roguelikes and life simulators. Developer Massive Monster has created an addicting gameplay loop of slaughtering heretics on Crusades before returning home to tend to your flock. It quickly becomes easy to lose track of time, in-game and out, as you maintain a balance of improving cult life and battling the Old Faith. Cult of the Lamb ticks many boxes and creates a unique experience that becomes addicting in the best way.
For more information on Cult of the Lamb, check out Cult of the Lamb – Is it on Xbox Game Pass? and Cult of the Lamb reveals and explains Knucklebones, an in-game minigame on Pro Game Guides.