Dead By Daylight Mobile is an asymmetrical survival horror PvP game created for mobile platforms akin to the original Dead By Daylight, available for PC and consoles. Take the role of one of the Survivors and try to make it out alive with your buddies against the Killer chasing you. Alternatively, you can pick the weapon of your choice and try to hunt down Survivors in this thrill-inducing ride!
The codes for Dead By Daylight Mobile will grant players Bloodpoints, Iridescent Shards, Bloody Party Streamers, in-game characters, and other valuable in-game content that will be very useful, especially for new players just getting into the game. If you are a true survival horror fan like us, look at Dragon Ball: The Breakers Item Codes.
All Dead By Daylight Mobile Codes List
Dead By Daylight Mobile Codes (Working)
These are all the working Dead By Daylight Mobile codes.
QMBM8733283903—Redeem for 10,000 Bloodpoints (New)
Dead By Daylight Mobile Codes (Expired)
These are expired codes for Dead By Daylight Mobile.
SHHH—Redeem for 100 Iridescent Shards, 5 Bloody Party Streamers
BOOP—Redeem for Boop The Snoot Mask
Related: What is The Dredge in Dead By Daylight? New Killer perks, abilities, & release date!
How to redeem Codes in Dead By Daylight Mobile
Follow the instructions below to redeem codes in Dead By Daylight Mobile:
Launch Dead By Daylight on your device.
Once you're in the main menu, tap on the Store icon on the left-hand side of the screen.
Tap the Bundle Code Button to open the Redeem Bundle Code text box.
Enter the working code into the text box.
Tap on the Redeem code button to claim your free reward.
How can you get more Dead By Daylight Mobile Codes?
The best way to ensure you always get the newest Dead By Daylight Mobile Codes is to follow the game's developers on their Twitter page @DbDMobile, Facebook page @dbdmobileofficial, and Instagram page dbdmobile, and Dead by Daylight Discord Channel. Make sure to press Ctrl+D to bookmark this page because we at Pro Game Guides always keep our articles up to date.
Why are my Dead By Daylight Mobile codes not working?
There could be several reasons why your Dead By Daylight Mobile codes might not be working. The codes could be expired. Developers sometimes release codes during certain events or upon reaching particular milestones. Such codes usually have a limited time and only last for a while. Be sure always to claim active codes as soon as possible and never again miss another freebie! The codes could also be mistyped or have missing punctuation. Sometimes codes can be case-sensitive as well. The best way to ensure you're entering codes properly is to copy them from the code list on the website and paste them directly into the game.
Other ways to get free rewards in Dead By Daylight Mobile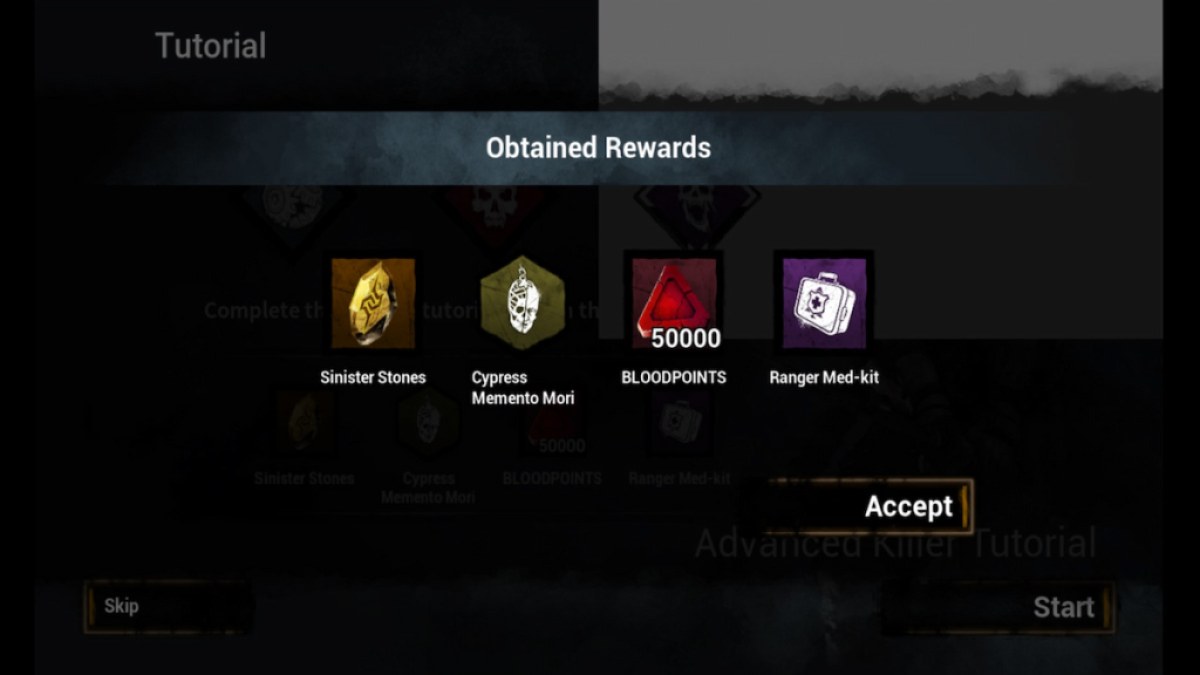 You can get more freebies in Dead By Daylight Mobile by playing tutorial levels offered by the game. Upon finishing a tutorial level introducing you to the game mechanics, you will be awarded the following items:
Sinister Stones
Cypress Memento Mori
50,000 Bloodpoints
Ranger Med-kit
What is Dead By Daylight Mobile?
Dead By Daylight Mobile is a multiplayer survival-horror game that pits four Survivors in an arena against a single Killer that hunts them. Inspired by cult classic slasher films, the game offers players to either take the role of Survivors that need to accomplish a series of objectives to get out of the arena alive or a Killer aiming to hunt them all down before they manage to get away.
If you're looking for codes for other games, we have a ton of them in our Roblox Game Codes post! You can also get a bunch of free stuff via our Roblox Promo Codes page. And in the meantime, take a look at the latest news to stay up-to-date on all things entertainment.