The introduction of Void 3.0 into Destiny 2 with the launch of The Witch Queen, has brought the Aspect and Fragment system to all Void subclasses. Players now have flexibility in the way they build their subclass just as it is with Stasis. However, it's not very clear how you can access these various Void Aspects and Fragments. Here is how you can unlock and use these Aspects and Fragments in Destiny 2.
If your guardian existed before the release of The Witch Queen, you will be able to obtain these different Aspects and Fragments after completing the first Witch Queen mission, The Arrival. New Guardians created after the launch of The Witch Queen expansion, will need to complete the New Light questline in order to gain access to the Tower. Once players have done this, they will be able to acquire these from Ikora.
Related: How to unlock the Suppressor Grenade in Destiny 2: The Witch Queen
Ikora is the NPC in charge of distributing everything that has to do with Void 3.0, and you can locate her at her usual place in the Bazaar at the Tower. For various prices of Glimmer, she will give you Void Aspects, Fragments, Movement Abilities, and Grenades. She will sell three different class-specific Aspects that cost 5,000 Glimmer each. She will also sell various Fragments that cost a jaw-dropping 25,000 Glimmer each.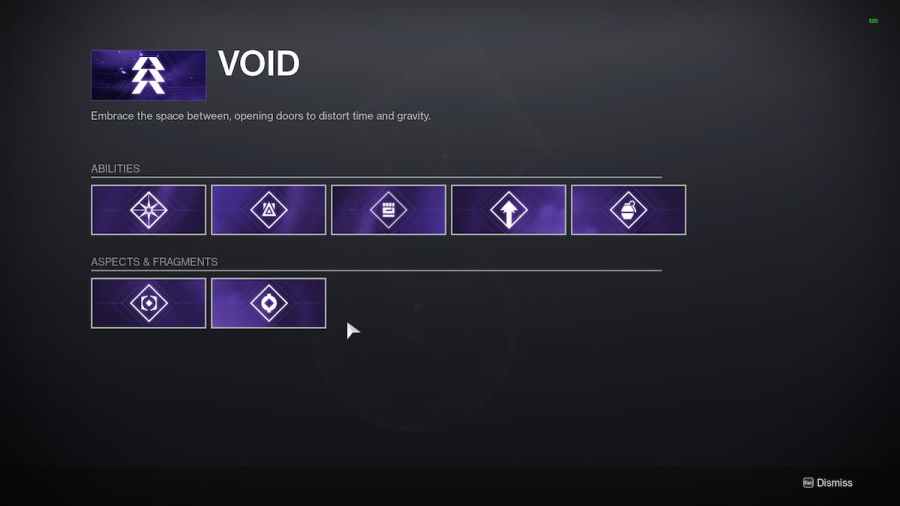 After you have purchased the Aspects and Fragments that you wanted, you will need to Meditate in order to receive them. You can do this at the Astrolabe located to the right of Ikora. After a short meditation, you will then be able to equip everything that you purchased. You can visit Ikora as often as you like or at any time in the future, so do not feel like you must purchase everything at once.
So there you have it, that is how you can unlock the Void Aspects and Fragments in Destiny 2. The Aspect and Fragment system allows for much more subclass flexibility and oftentimes results in unique and powerful builds.
For more Destiny guides, check out Where to find Neutral Element in Destiny 2 right here on Pro Game Guides.