We're taking a look at the Exit Strategy, which is one of Destiny 2's new Ritual Weapons that can be obtained in the Shadowkeep expansion! You'll need to complete a small quest to obtain this Submachine Gun.
Ritual Weapons have replaced the old Pinnacle Weapons that were popular among collectors. These new weapons will no longer have special perks and will instead feature curated rolls. This seems to be a way to keep things more fair across the board, and will make it easier to balance in the future.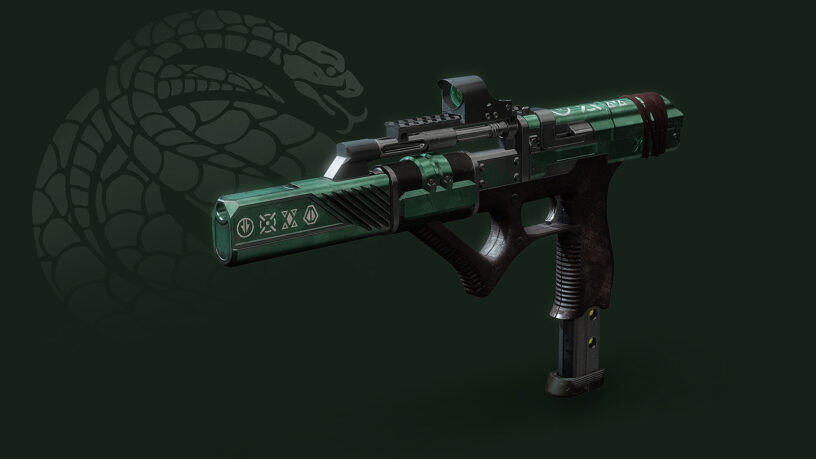 "If you don't got one, it's time to make one." —The Drifter
Exit Strategy Perks List
Adaptive Frame - A well-rounded grip, reliable and sturdy.
Arrowhead Brake - Lightly vented barrel. Greatly controls recoil, increases handling speed.
Ricochet Rounds - Rounds ricochet off hard surfaces. Increases stability, slightly increases range.
Underdog - This weapon gains a boost to reload speed as your health gets lower.
Threat Detector - Increases reload, stability, and handling when enemies are in close proximity.
Swashbuckler - This weapon gains increased damage from melee kills and kills with this weapon.
Surrounded - This weapon gains bonus damage when three or more enemies are in close proximity.
You get to choose from either Underdog or Threat Detector, and you then choose from Swashbuckler or Surrounded.
Exit Strategy Quest Steps
If you want to earn the Exit Strategy Submachine Gun, you'll need to head on over to The Drifter and receive the Ghosting quest:
Complete the following objectives in Gambit matches to earn the "Exit Strategy" Kinetic Submachine Gun. Defeat enemies and send Blockers to earn points.

"Get in, get it done, and get gone. You think you need to show your face to be infamous? Nothing spreads faster than a rumor." —The Drifter
You'll need to complete the following objectives to complete this quest:
Points Earned: 5,400
Medals Earned: 125
[SMG] Multikills: 150
Once you've completed those objectives, you'll just need to return to The Drifter at the Tower and receive your reward!