Combat Rating is essential in Diablo Immortal. It gives you a rough estimate of how much damage you deal (the higher, the better). You can also compare it to the game's difficulty levels and see if you can cope with the difficulty increase. Here's where you can see your Combat Rating while playing Diablo Immortal.
How to check your Combat Rating in Diablo Immortal
To find your Combat Rating, open up your inventory in the top right-hand corner and click on the icon of a human in the bottom-left hand corner, just above the E in Equipment. It'll open up a new window displaying all of your stats. At the bottom, press More Attributes, and at the very top, under Secondary Attributes, is your Diablo Immortal Combat Rating.
Related: How to farm Crests and Legendary Crests in Diablo Immortal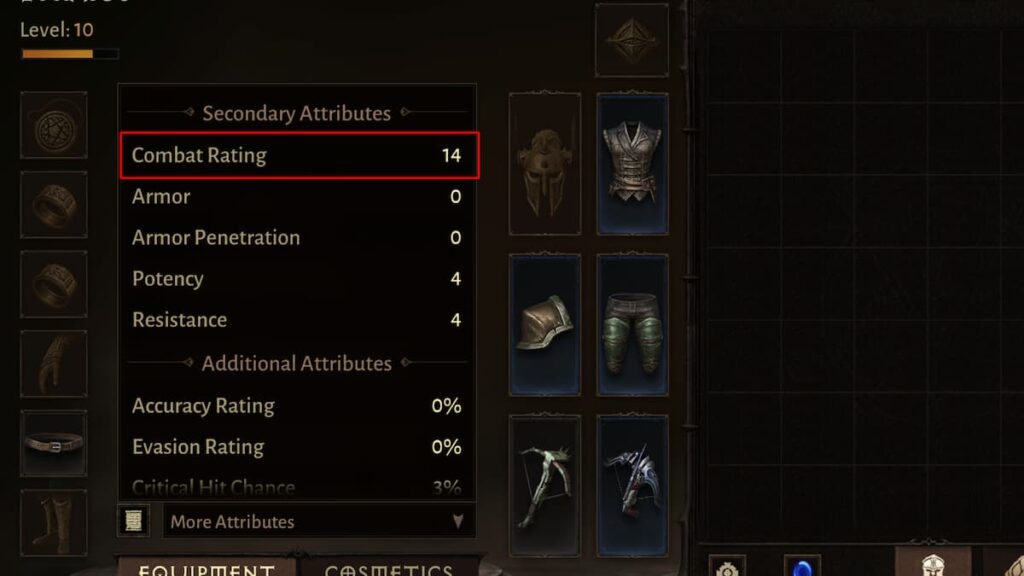 What is Combat Rating in Diablo Immortal?
Combat Rating is essentialy your power level, and this number will increase when you level up and equip new gear and gems. In the early game, Combat Rating doesn't mean much. But when you unlock the Helliquary and hit level 60 to unlock the Hell difficulties, CR truly matters. You'll start seeing CR recommendations when browsing through the game. For any challenges that have these recommendations, it's best to be at the cusp or higher, or you will find it particularly difficult.
How to raise your Combat Rating in Diablo Immortal
There are many ways to increase your CR in Diablo Immortal (or more importantly, your ORDR, which stands for Offensive Rating Defense Rating). Here is a quick summary:
Acquire better gear
Upgrade gear
Use gems and Legendary gems
Upgrade the Helliquary
Complete side quests
What does Combat Rating too Low mean in Diablo Immortal?
If you see the message Combat Rating too Low in Diablo Immortal, your Combat Rating is too low to join a raid. Raids in Diablo Immortal have a base cap on what your CR should be to join, which is 420. To participate in a raid, your CR must be 420 or higher. If it is below, that message will always appear.
For more Diablo Immortal guides, check out How to farm Crests and Legendary Crests in Diablo Immortal or How to leave a Clan in Diablo Immortal On Pro Game Guides.