In Disney Dreamlight Valley, players will meet several iconic NPCs who become companions in the village. Players can improve Friendship Levels with these characters, and each NPC has a series of quests you need to complete. The Remembering is a part of Moana's questline, and you will get this mission after completing the Peacemakers quest in Disney Dreamlight Valley. The Remembering revolves around Moana recollecting events from her past about her pet pig. Here's how to complete The Remembering quest in Disney Dreamlight Valley.
How to complete Moana's The Remembering quest in Disney Dreamlight Valley?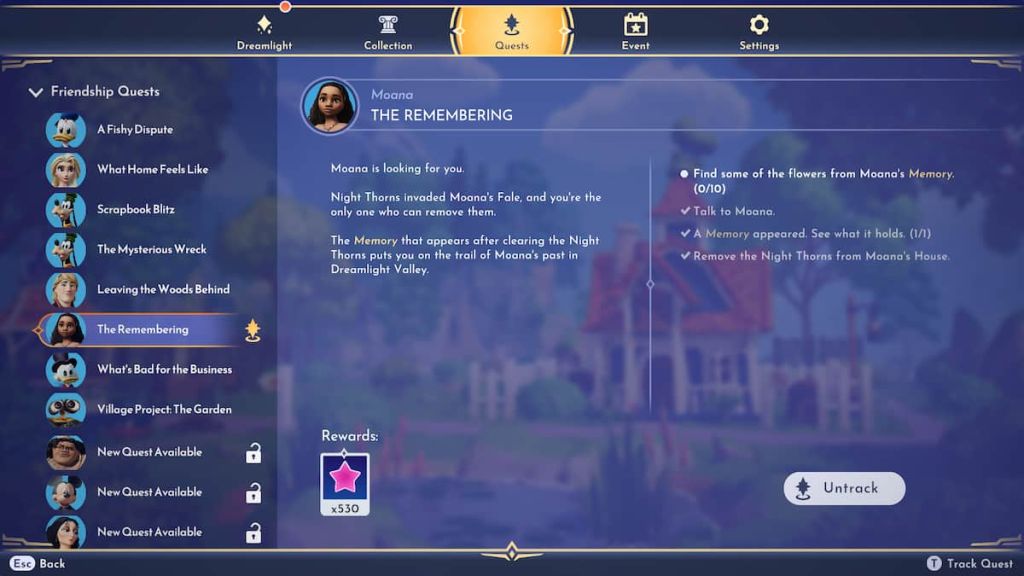 During the Peacemakers quest, players must cook different recipes like the Seafood Platter, Seafood Salad, and Fruit Salad for Maui. Once the quest is completed, find Moana and interact with her. She informs players about the Night Thorns at her house and asks for assistance. Visit Moana's house, and start removing the Night Thorns. You will find a Memory with part of an image that shows Moana and a few flowers. The flora in the image is White Bell Flower, which can be found in the Forest of Valor biome. These flowers have a bright white drooping head and are easy to identify.
Related: How to complete The Secret Door in Disney Dreamlight Valley
Collect 10 White Bell Flowers from the Forest of Valor and present them to Moana. You will see another Memory appearing, investigate it, and it will show Maui mining gems. Interact with Maui and speak to him about the Memory. Once that's done, another piece of Moana's Memory will appear. You need to return to the Forest of Valor, collect six Blueberries, and bring them to Moana. The fourth piece of Moana's Memory drops once you collect all six fruits, and this shows a complete image of her pet.
Moana then asks players to get three Coconuts to lure in her pet Pua. You can either Fast Travel to Moana's realm to collect Coconuts or visit Dazzle Beach to find the Coconut Tree after completing the Burying the Eel quest from Maui. Gather three Coconuts and return to Moana and give them to her. A Leader Shard will drop, pick it up and give it to Moana to complete The Remembering quest in Disney Dreamlight Valley.
Wondering how to get some of the unique ingredients? Check out How often do Mushrooms Spawn in Dreamlight Valley? and How to find Garlic in Disney Dreamlight Valley at Pro Game Guides.