While Dredge is billed as a fishing RPG, there are definitely a few ARPG elements you'll need to get on top of if you want to succeed. This includes when you have to fish in some of the more dangerous areas of the map, especially at night, when you can find yourself hunted by all manner of Lovecraftian beasties. The best way to get out of a scrape is with a fast boat. Below, we talk about the best engine build setups in Dredge.
Dredge: Fastest engine setup Summary
If you use the Floating Dock to reach the maximum possible Engine Spaces, you'll have a total of 10 Engine slots to play with. If you fully research all possible Engine Technologies, you'll have engines raising in size from the single-space Jet Drive Engine to the massive six-slot Engine Stack.
As these are the two engine types at the end of the engine tech tree, it won't be a surprise that a combination of the two will be best for outright speed. But it isn't quite as simple as that. Damage is a key element while sailing in Dredge, and one unlucky swipe from a tentacle can see you hobbling back to shore. And in addition, you may not want to go all-out on the research and floating docks elements, meaning something a little smaller and lower tech will suit you just fine.
Dredge: Best Engine Setup with Engine Stack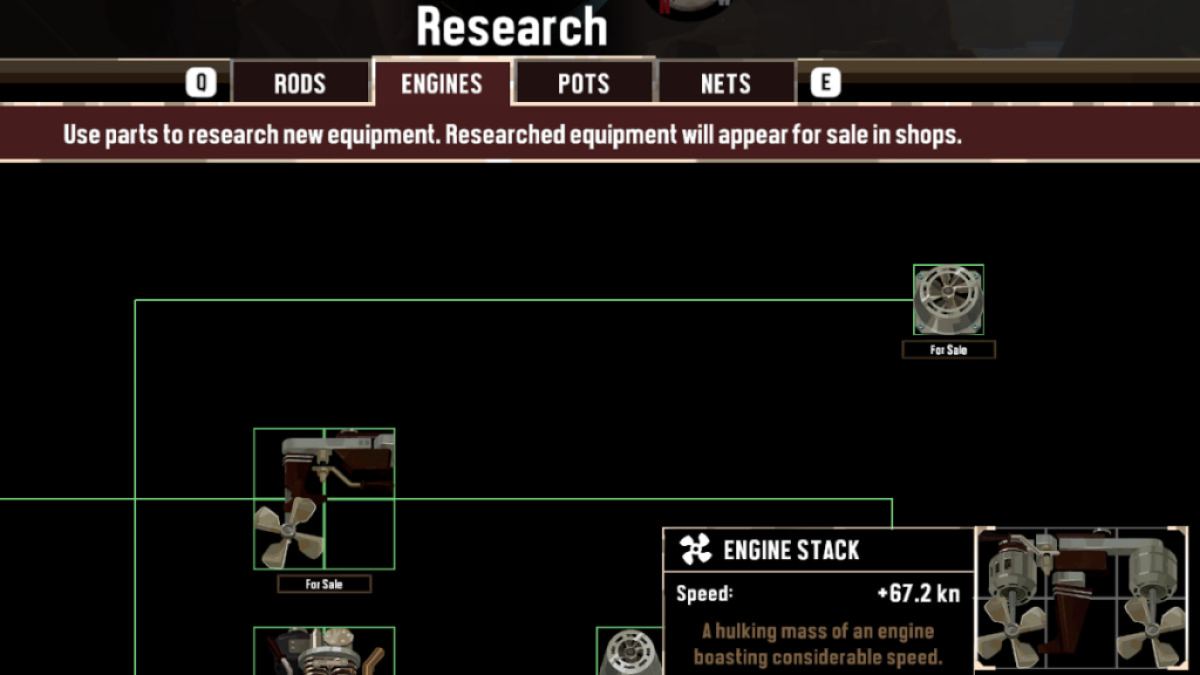 The absolute king of set-ups for speed in Dredge is an Engine Stack with four Jet Drive Engines filling in the spaces around it. To do this you'll need to max out all three tech tree paths for engines.
Speed
The full Engine Stack setup will give you the following base speed:
Engine Stack: 67.2kn

4x Jet Drive Engine: 38kn
Total: 105.2kn
This is the base speed, not adding any other bonuses.
Scalability
Using an Engine Stack is clunking up six spaces of your boat in a 3x2 lump that can't be edited or oriented. It's also a big old chunk to drop into your storage if you do want to remove it for a while, so if you go down this route, you're also slightly compromising flexibility for top-end speed.
Damage
One potential issue with this strategy is that most of your speed is put into the Engine Stack, so if it gets knocked out of commission, you're relying on a few Jet Drives to get you to shore. A speed of close to 40 knots is still pretty quick, but another option may be preferable if you want a more reliable if slightly slower top speed.
Research Parts
To do this, you'll need to use 20 Research Parts. If you're struggling to find enough Research Parts, make sure you've completed the Catch Rare Fish pursuits for the Travelling Merchant, as each of the rare fish you find for them gets you two Research Parts. Also, remember that the Travelling Merchant often sells Research Parts in the Miscellaneous tab of the Shipyard at any of the four Pontoons.
Dredge: Best Engine Setup with Jet Drive Engines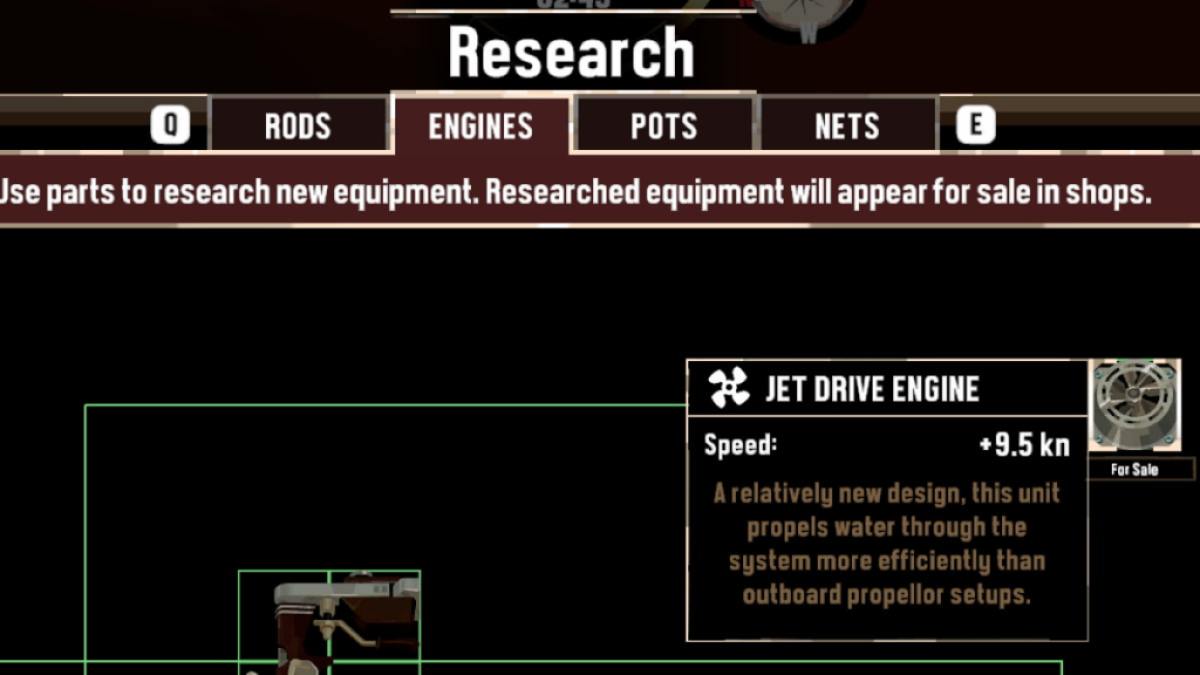 Going down a purely Jet Drive route has some distinct advantages over the Engine Stack option. Before we get to the positives, one negative is price. You'll have to pay $300 per Jet Drive, which is an eye-watering $3,000 for a full 10-space set-up. However, you can work up to this over time and spread the payments while you do other things.
Related: Dredge Research Assistant Samples: How to get Giant Amphipod, Anglerfish, Loosejaw & Snailfish
Speed
Once you have a full set of 10 Jet Drive Engines, you be enjoying a top speed of 90 knots. This is still one of the fastest engine set-ups in the game and will comfortably get you from any corner of the map back to The Marrows before sundown.
Scalability
This is where the Jet Drive Engines setup really shines, as every engine just takes up a single space. Need to pick up some extra cargo? Not a problem. Just pop a could of engines into storage until you have the room to refit them later.
Damage
Another advantage of this setup is that any damage you take to your engines is only going to take out a single engine. This means that your speed shouldn't really be compromised even if you lose a few engines to hits, although again money may be an issue as the repair bills could mount up.
Research Parts
This is probably the biggest advantage of all, as you only need to research Improved Outboard Engine before the Jet Drive Engine becomes researchable. This means that rather than needing 20 Research Parts you'll only need six. It's a huge difference, giving you all that extra capital to put into the rods, nets, and pots you'll need to find those rare and exotic fish.
Dredge: Fastest Engine Setup with no Engine Stack
While the above set-ups are the two extremes, it is very possible to complete the game without using either of these options. These options also offer very high speeds while mixing up the cash versus Research Parts breakdown.
Related: What is the Leviathan in Dredge & can you catch it?
Twin Jet Drive Engine
The Twin Jet Drive Engine saves you five Research Parts by not maxing out the engine's tech tree, but it still gives you 50 knots from five spaces. Even without maxing out your engine space via the Floating Dock, you can get a base speed of 77 knots (see achievement below) from this and three Jet Drive Engines, or 95 knots with five.
Refined Outboards doubled-up
The final option we'll give you is cheap on cash and Research Parts, while still giving you solid speeds. You can fix two Refine Outboard engines for just $600 which will give you 50 knots of speed across six engine spaces for just three Research Parts. You can then add Improved Outboard engines in the four remaining spaces if you max them out via the Floating Dock, giving a top speed of 80 knots for very little outlay. Or spend five more Research Parts to up that to 86 knots with four Jet Drive Engines.
Dredge Achievement: No Time to Linger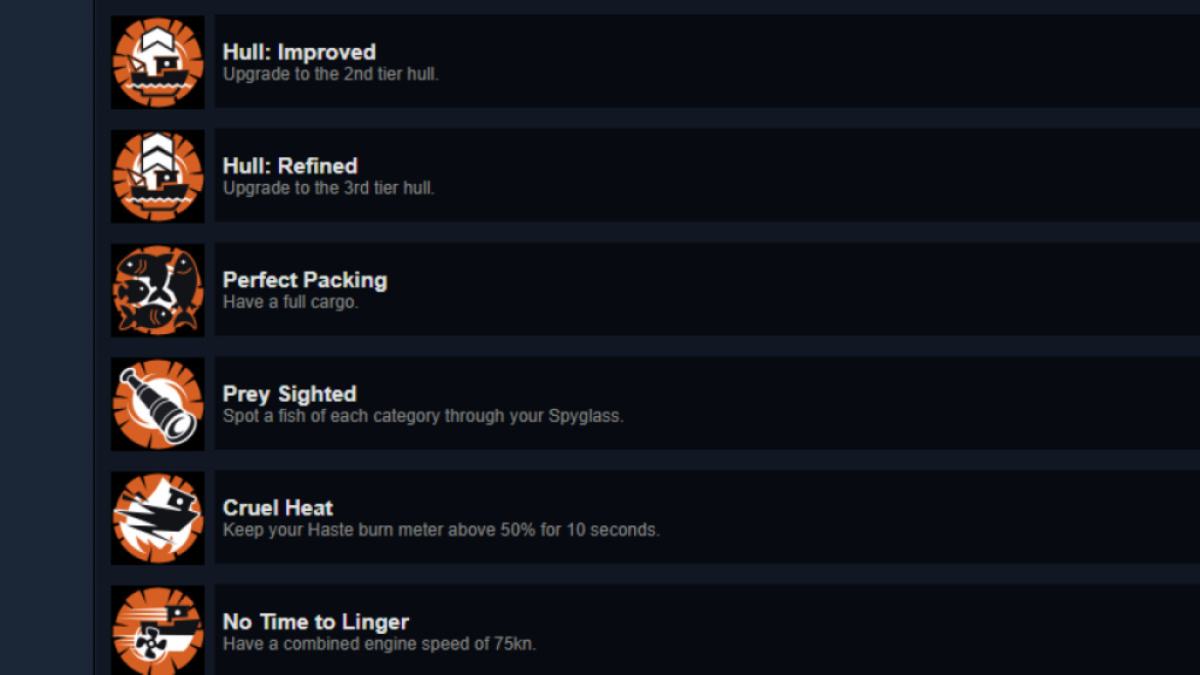 Ultimately, how much you feel the need for speed is going to depend on your particular playstyle in Dredge. There is no particular reason to hit particular speeds unless you are going for all the achievements. If that's the case you'll need to equip your boar with engines that have a combined speed of 75 knots to get the No Time to Linger achievement.
For more on Dredge, check out Dredge Humming Stones, Explained, and How to make money fast in Dredge here at Pro Game Guides!