The Carnage Hall Tournament is the center point of the Bloody Ties DLC for Dying Light 2. You can take on various side quests in the Carnage Hall and complete multiple arena challenges. But before you can even reach the Tournament at the Carnage Hall, you must complete the quests: Madmen from Villedor and First Bood. After completing these quests, you will find yourself at the Carnage Hall. You will be introduced to arena challenges and the Tournament Rank System at the Carnage Hall.
What are the arena challenges in Dying Light 2 Bloody Ties DLC?
Arena challenges are akin to mini-games, where players must complete various timed objectives. There are four arena challenges that players can take at Carnage Hall. Here are all four arena challenges explained below:
Spectacle: The Spectacle arena challenge is a mini-game that tasks players with completing various objectives with a unique theme. The objectives vary from killing certain marked enemies or turning on generators and setting up traps.
Rush: The Rush Arena is a challenging mini-game that requires players to race against the clock to meet various checkpoints or checkmarks across several obstacles.
Carnage: This challenge arena is simple as it only requires players to kill marked infected before the timer runs out.
Freak Fight: The Freak Fight arena is a boss battle mini-game where players must fight one tough Freak Infected.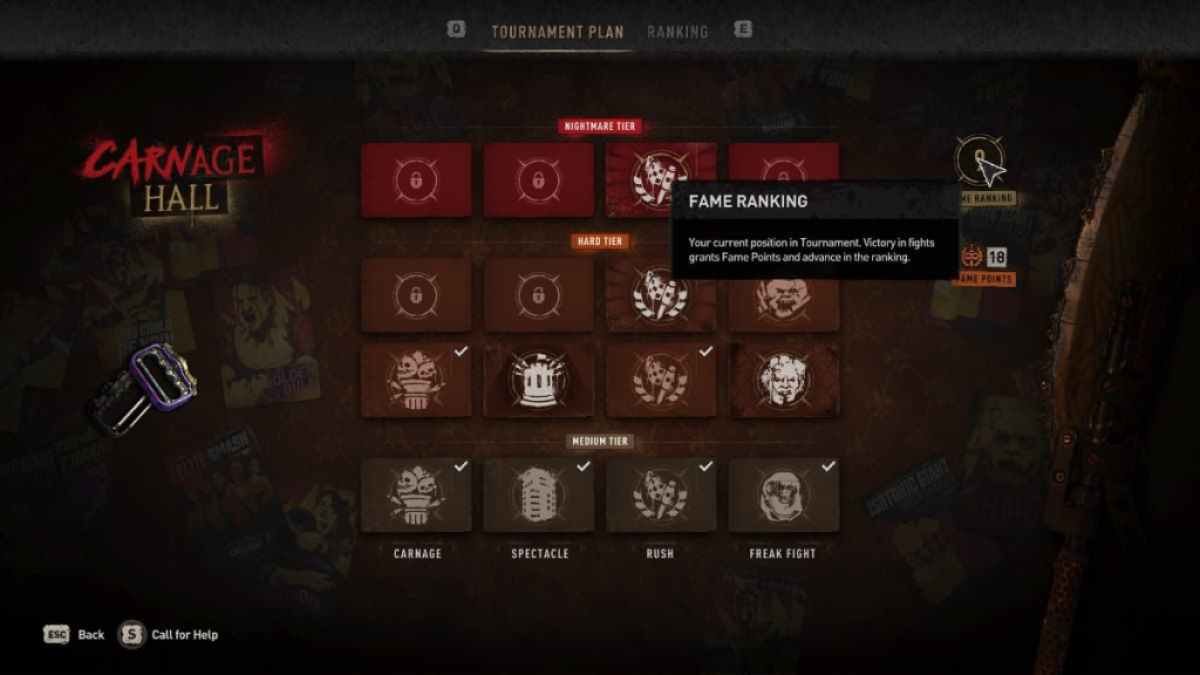 All of the arena challenges listed above will also have several variants. Each variant goes up in difficulty on a tier system. The max difficulty arena challenges can have extreme difficulty, but you will only be at that level when you first get to Carnage Hall. In short, you must complete arena challenges until you eventually work up in Tournament Rank or Fame Rank. As you complete arenas and rank up, you will unlock more arenas at higher difficulties, tournament skins, and weapons/items.
How does Fame Rank work in Dying Light 2 Bloody Ties?
Fame Rank or Tournament Rank is the roadblock to progress in Dying Light 2's Bloody Ties DLC. You must increase your rank by completing arena challenges and side quests occasionally. As you complete arena challenges, your Tournament Rank will increase, opening up more arenas to complete side and Main story content. Sometimes, you must find certain story content before you can go back and complete arena challenges.
Related: Dying Light 2 Bloody Summer Event is Live – How to earn Seasonal Rewards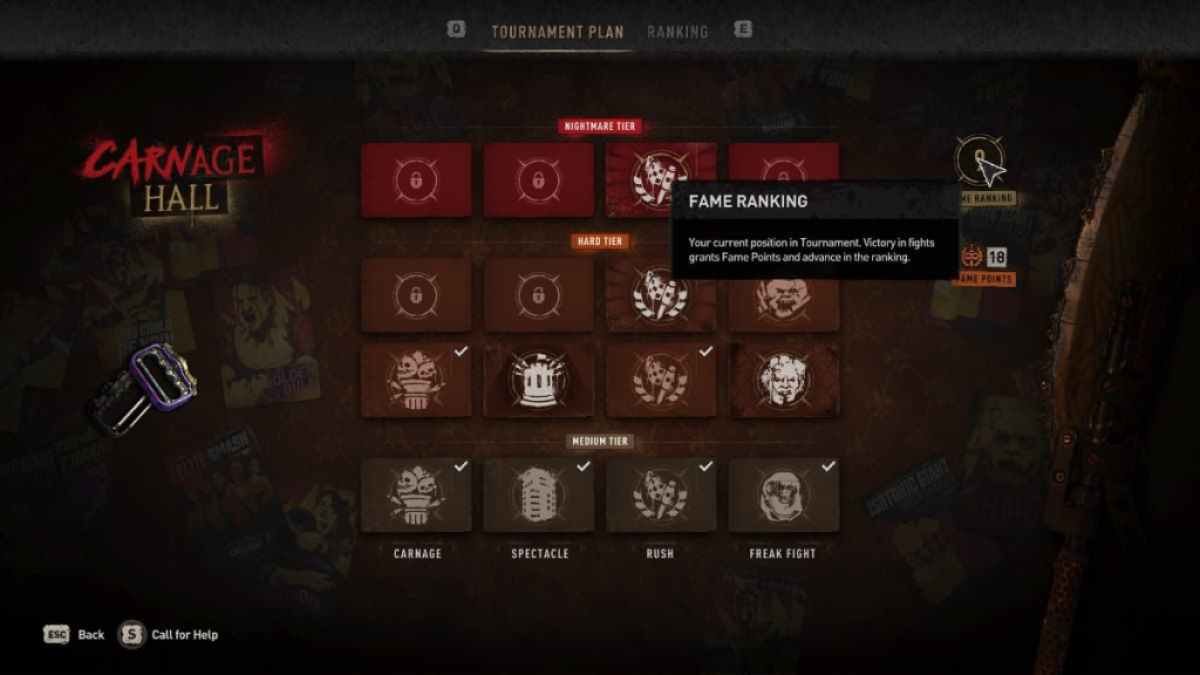 Eventually, you will get the goal of reaching the top Tournament so that you can fight the Skull Face, the champion of Carnage Hall. However, that is not everything to the Tournament Rank system in Dying Light 2. While you complete arenas and compete in the Tournament, you can also unlock unique weapons and outfits by redeeming them at the Cranage Hall rewards NPC.
What are Carnage Rewards in Dying Light 2 Bloody Ties DLC?
While completing arena challenges, players will earn Rank points and Opera Tokens. Opera Tokens are special currency players can use to unlock vanity items such as Outfits, Head pieces, etc. Players can redeem these Opera Tokens by heading down to the entrance hall and looking for the following NPC shown below:
The Hall Vender Pappy will offer various Challenge Rewards, such as weapons for any mutation samples you might have on you. You can earn mutation samples by slaying Special Infected, Hag Tracks, and Plaugebears.
For more on Dying Light 2, we at Pro Game Guides have you covered with guides like Where to find all Crafting Parts in Dying Light 2 and Best Weapons in Dying Light 2.