Final Fantasy Brave Exvius is a turn-based role-playing mobile game. It has a gacha mechanic and your goal is to gather heroic characters and upgrade them. As the name suggests, this is a Final Fantasy spinoff, so expect a lot of characters from this franchise. Let us introduce you to them in our Final Fantasy Brave Exvius character tier list.
All Characters in Final Fantasy Brave Exvius ranked
Tier
Characters
SS
Awakened Warrior of Light, Alphonse Elric, Angel of Death Kuja, Healing Avatar Lid, Hallowed Aegis Charlotte, Lucas, Lunafreya, Nichol of the Epsilon Star, Paladin Cecil, Rena, Rikku (FF X-2), Seeker of Freedom Vaan, Lightning (FF XIII-2), Sacred Shield Charlotte, Warrior of Dawn Galuf, Warrior of Light Lenna, White Knight Noel
S
2B, Adventurer Locke, Aerith, Benevolent Beauty Rem, Chow, Dancing Heart Penelo, Daughter of Destiny Vanille, Doctor Aiden, Elephim, Emperor Foo, Flame of Rebirth Jake, Folka, Garland (FF IX), I. Katty, Ignis, Kitone, Kryla, Maritime Strategist Nichol, Myra, Noel,
Olberic, Qin, Regis, Rico Rodriguez, Sakura & Ayaka, Sieghard, Sieghard & Ignacio, Sterne, Leonis, Summer Fina & Lid, Sweet Luka, Sylvando, Sylvie, Umbral Dragon Dark Fina, War Hero Raegen, Wildcard Ace, Yuraisha, Zenaida
A
Adam Jensen, Auron, Awakened Rain, Beryl, Dark Spirit Sol, Edward Elric, Gilgamesh (WOTV), Infernal Fire Rain, Kimahri, Kimono Fina, King Bradley, Lezard Valeth, Lilisette, Lilith, Loren, Machina, Mercenary Ramza, Mont Leonis, Mystical Ice Laswell, Mystina, Quistis, Rakish Thief Zidane, Seaside Nichol, Selphie, Serah, Serena, Sol, Strange Gourmand Quina, Supreme Deva Akstar, Tifa (FF VII: AC), Untamed Wolf Edel, Wilhelm, Xuan Wu & Qing Long, Yuna, Zeno of the Beta Star
B
Agent Olive, Assassin Shadow, Aurora Fryevia, Ayaka, Bart, Basch, Beowulf, Black Mage, Vivi, Blue Mage Fina, Blue Sky Belle Fran, Cloud (FF VII: AC), Crimson, Demon Rain, Elena, Elly, Erik, Four Winds Physalis, Irvine, Knight of Pluto Zidane, Lone Lion Squall, Madam Edel, Nagi, Neverending Hope, Primrose, Reberta, Rivera, Seifer, Star Player Tidus, Tifa, White Lily Dark Fina, White Mage Rosa, Wizardess Shantotto
C
Ardyn, Awakened Onion Knight, Beatrix, Dragon Knight Freya, Eiko, Esther, Fina & Dark Fina, Flammie, Gladiolus, Graceful Champion Fang, Hess King Lasswell, Jasper Unbound, Jecht, Kadaj, King Edgar of Figaro, Kurasame, Levinson, Lovely Katy, Morgana, Operative Zyrus, Palom & Porom, Physalis, Prompto, Rab, Radiant Lightning, Rem, Sweet Nichol, Warrior of Light Bartz, Yego, Yun, Yuna (FF X-2), Yunalesca, Zargabaath
Related: 10 Best Final Fantasy Games, Ranked
There are a lot of Final Fantasy Brave Exvius characters, but only a few of them can be the best of the best. Check out the list of the best FFBE heroes by class.
Best Tank Characters in Final Fantasy Brave Exvius
Hallowed Aegis Charlotte
Charlotte is a tank but also one of the most all-around heroes. She has an outstanding balance between attack and defense abilities like Attract Wall and Divine Fortress. She is also suitable as support with Healing glory ability.
Sieghard
Sieghard may look like a romantic soul, but he's one of the strongest characters in the game. He combines his love for poetry and war for efficient buffs and debuffs like Beautiful Offense, Dangerous Rose, and Sweet Charm.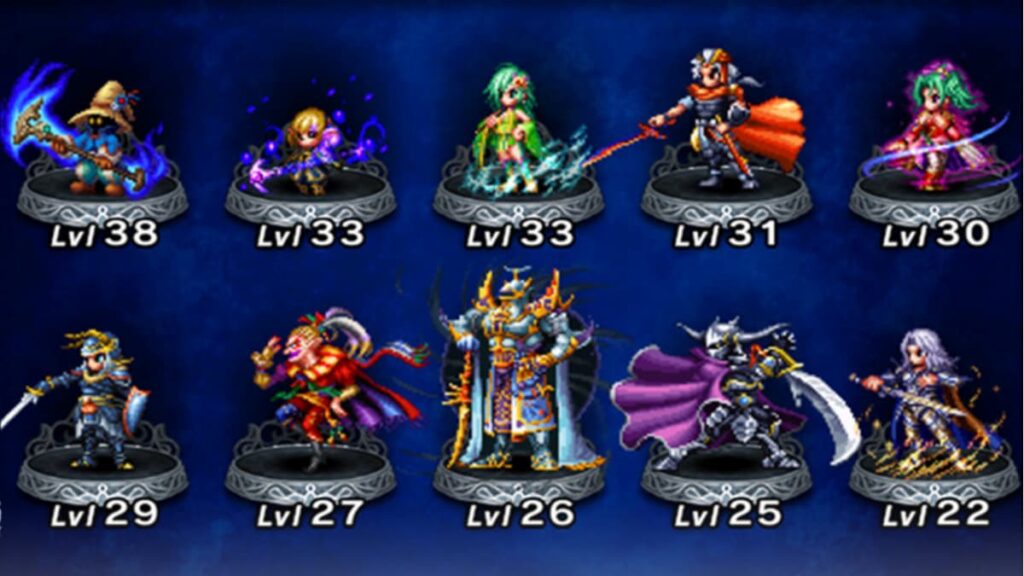 Best Support Characters in Final Fantasy Brave Exvius
Lunafreya
Lunafreya is an Oracle who speaks with gods, which has helped her become one of the best support characters in the game. She has remarkable abilities like Light of Order, Benevolence of the Gods, and Curing the Starscourge.
Paladin Cecil
Paladin Cecil had a rough journey from serving a cruel king to becoming a sacred warrior. He will always try to help his allies with Paladin's Protection and Sacred Aura but also debuff enemies with Shadowbringer and Saint Breaker abilities.
Best Healer Characters in Final Fantasy Brave Exvius
Lucas
Lucas is a robot, but only in appearance because he will go a great distance to help his allies. He has some of the best healing abilities like Noble Sacrifice, Absolution, and Mythical Sanctuary.
Rena
Rena is born with tremendous healing powers, making her an ideal member of every party. She will fiercely defend and heal her allies with abilities like Raise Dead, Cure All, and Mother's Protection.
If you like Final Fantasy games, we have many guides like How to get Noble Grapes in Final Fantasy XIV, How to get Flying Mounts in Final Fantasy XIV Online, and How to get the Manusya Armor Set in FFXIV Endwalker.