In Final Fantasy XIV, one of the cool things you can do with your Island Sanctuary is invite other players to enjoy your peaceful island for themselves. This can be done with Free Company Members, those on your Friends List, or even those who are just in a party with you. Here's how to allow others to visit your Island Sanctuary in Final Fantasy XIV.
Giving permission to join your Island Sanctuary in FFXIV
The permissions settings for the Island Sanctuary are located in the Sanctuary Settings of the Islekeeper's Index. Simply click the small cog item to bring up the menu and select from Friends, Free Company Member, and Party Members to allow onto your Island.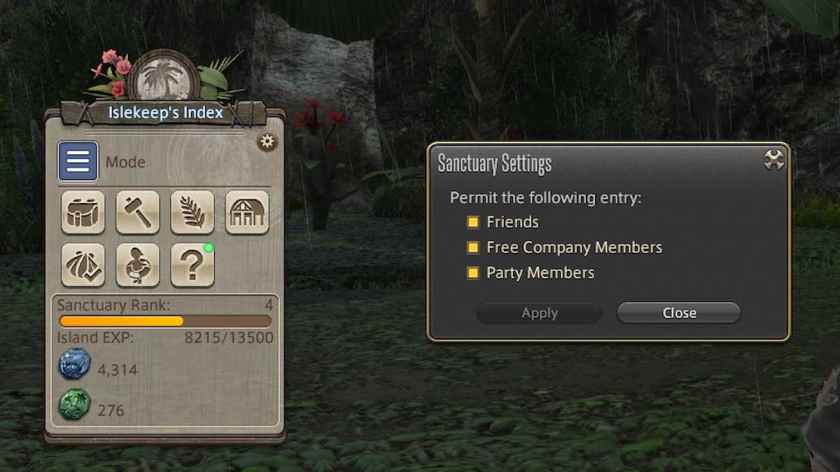 Related: How to get the Isle Eggplant Knight Mount in Final Fantasy XIV
What prerequisites are there to visit other people's islands?
There's actually very few restrictions on what players need to have done to visit your island. A player must be level 50 and have completed the Main Scenario Quest "The Ultimate Weapon." This is the final quest of A Realm Reborn.
Then they can visit your island by speaking to Baldin in Lower La Noscea (X: 24.9 Y: 34.8). When selecting a destination, a glowing icon will indicate which islands you may visit. Up to 16 players may experience an Island Sanctuary at the same time. Enjoy exploring your friends' islands together!
For more Final Fantasy XIV guides and info, check out Final Fantasy XIV celebrates its ninth anniversary with a collection of short stories on Pro Game Guides.