Some of the most frustrating errors in games happen before you've even loaded into one. That's certainly the case with the Final Fantasy XIV "a technical issue has occurred" error, which appears when you try to log in and link your Steam Account to your Square Enix Account. Here's how to fix the "a technical issue has occurred" error.
What is the Final Fantasy XIV 'a technical issue has occurred' error?
The error message "A technical issue has occurred" will appear in the Final Fantasy XIV launcher if you haven't linked your Steam Account to your Square Enix account. In limited cases, it happens even if you have completed this process. The bug is seemingly related to files left over from the FFXIV Free Trial, but it has also been linked to non-alphanumeric characters in Steam Names and corruption when installing newer versions of the game. The main fixes are outlined below.
Related: Final Fantasy XIV Endwalker Patch Schedule – 6.18 Release Date
Change your Steam Name
Changing your Steam Name to something simple, and without non-alphanumeric characters, can sometimes solve this issue. That means no symbols and just Latin characters and numbers. This is because the launcher will sometimes not be able to read these characters.
Uninstall and Reinstall Final Fantasy XIV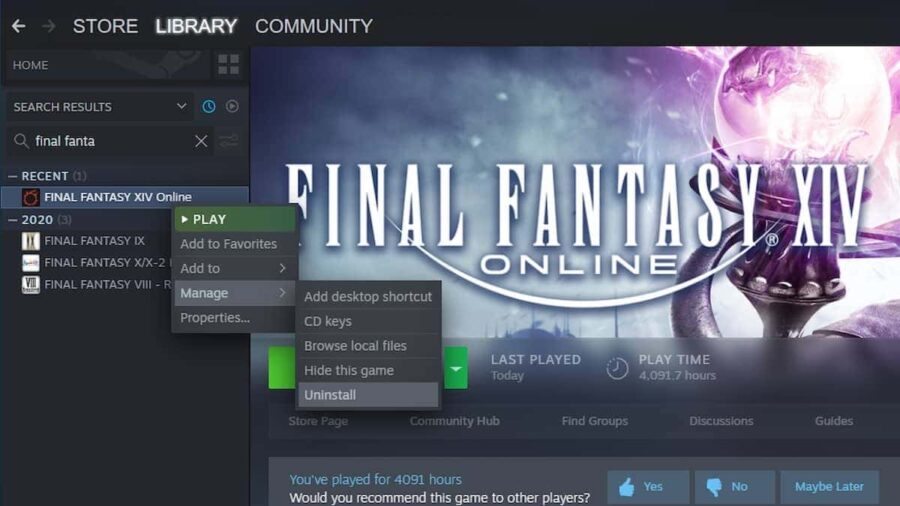 From the Steam Library, right-click your copy of Final Fantasy XIV and click Uninstall. Once the uninstallation is complete, reinstall the game once more. This should remove any corruption or unneeded files that are causing the error.
Delete the ECT folder
Data remaining from a folder called ECT in your Final Fantasy XIV directory can cause this error. Search the director for a folder called ECT and delete it. It should be less than a kilobyte in size. Once this file is deleted, the error should be gone. If all of the above fails, your best option is to contact Square Enix support, as you may have a more serious issue.
For more Final Fantasy XIV tips and tricks, check out How to get Noble Grapes in Final Fantasy XIV – Gathering, crafting, harvesting method on Pro Game Guides.