Final Fantasy XIV's Furnishing Design Contest 2022 finally has its winners, and there are some incredible designs that have been selected. After an extended period of judging, Square Enix announced the winners of the Furnishing Design Contest 2022 an March 5, in a post on their official website and Twitter.
But with 153 winners selected, quite literally hundreds of different designs, it can be hard to find your favorites. So we've boiled down the 153 designs into what we think are 12 of the very best, that we would love to see in the game.
12 best FFXIV Furnishing Design Contest 2022 Winners
As mentioned on the contest page, "If an entry is deemed to be excellent, Square Enix may decide to implement it into the game in the future." This means that not all winners will end up in the game, but here's 12 winners we definitely do want to see added fo FFXIV:
Oden Stand by ミライル
This traditional Oden noodle stand would be perfect sitting next to any Kugane mansion. There's also perfect roleplay opportunities, and the general feel and atmosphere of the piece is incredible. Honestly, we're getting hungry just looking at this.
Day Bed by Sapph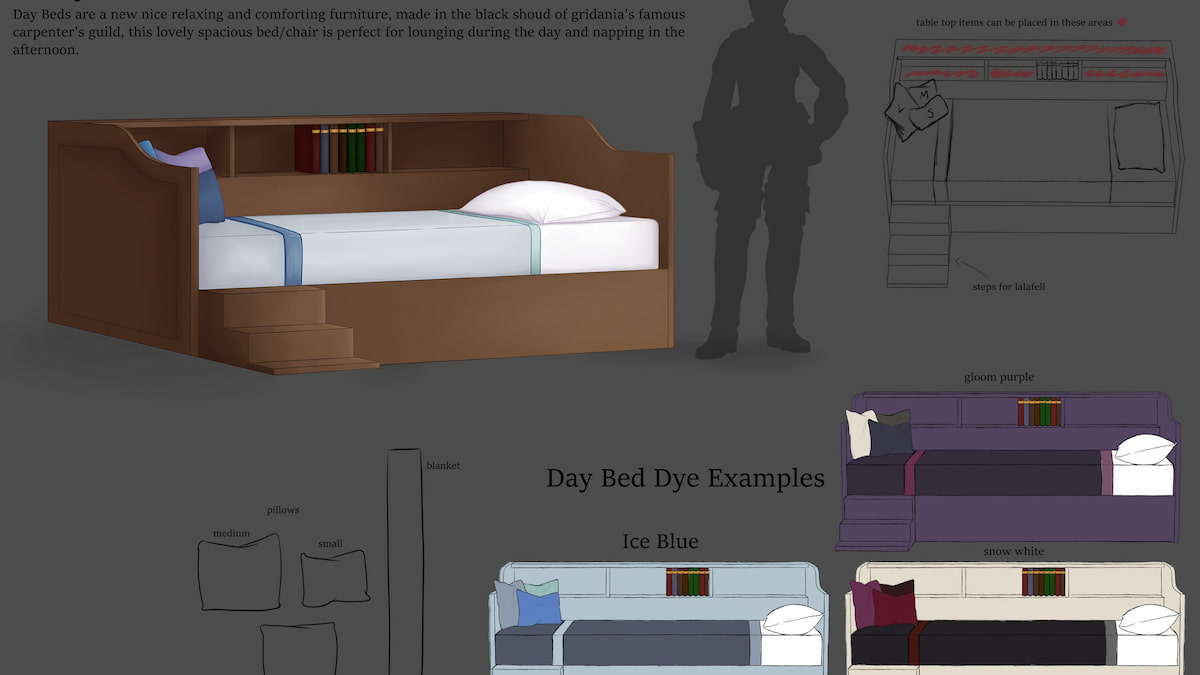 The Day Bed is a great space saving solution in the real world, but for Warriors of Light living the apartment life, it could be the perfect way to bring to life your sometimes small-feeling space, with proper accommodation. We love how this piece feels modern, but is simple enough to fit into FFXIV's world.
Tower Bookshelf by シロハイド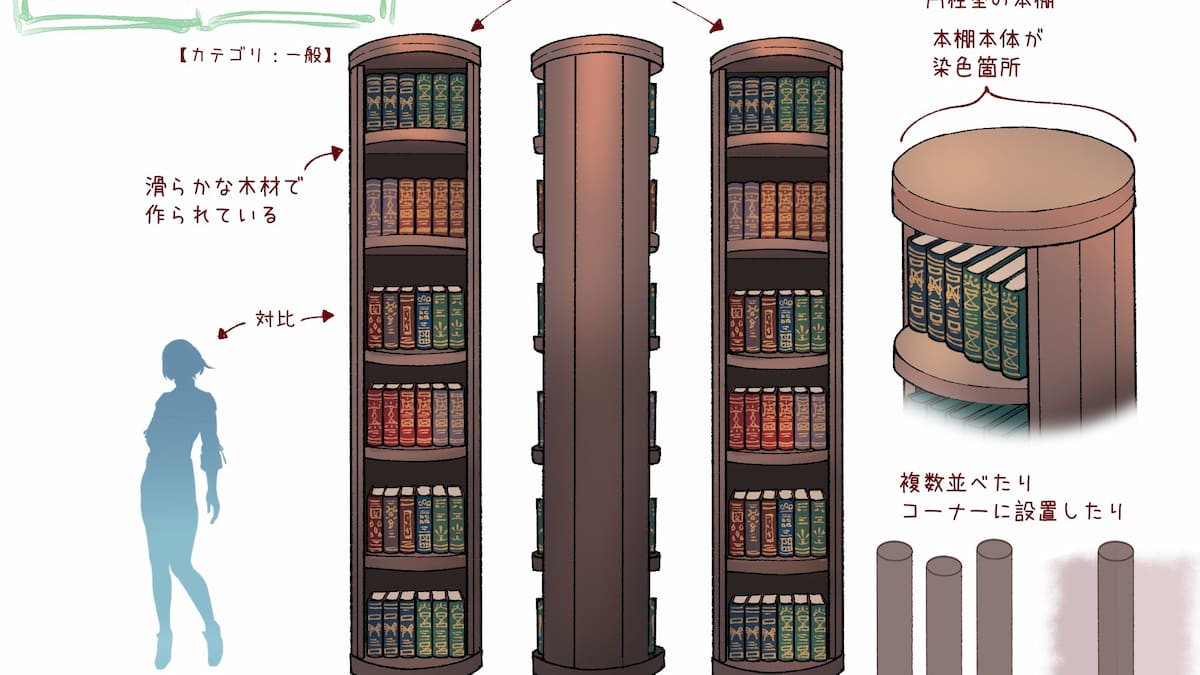 As we've already covered our entire Free Company house with bookshelves, the option for one more brings excessive amounts of joy to us. This piece can also act as a pillar, or be intersected into a wall partition, giving it some great versatility.
Alpine Kitchen Shelf by Teeth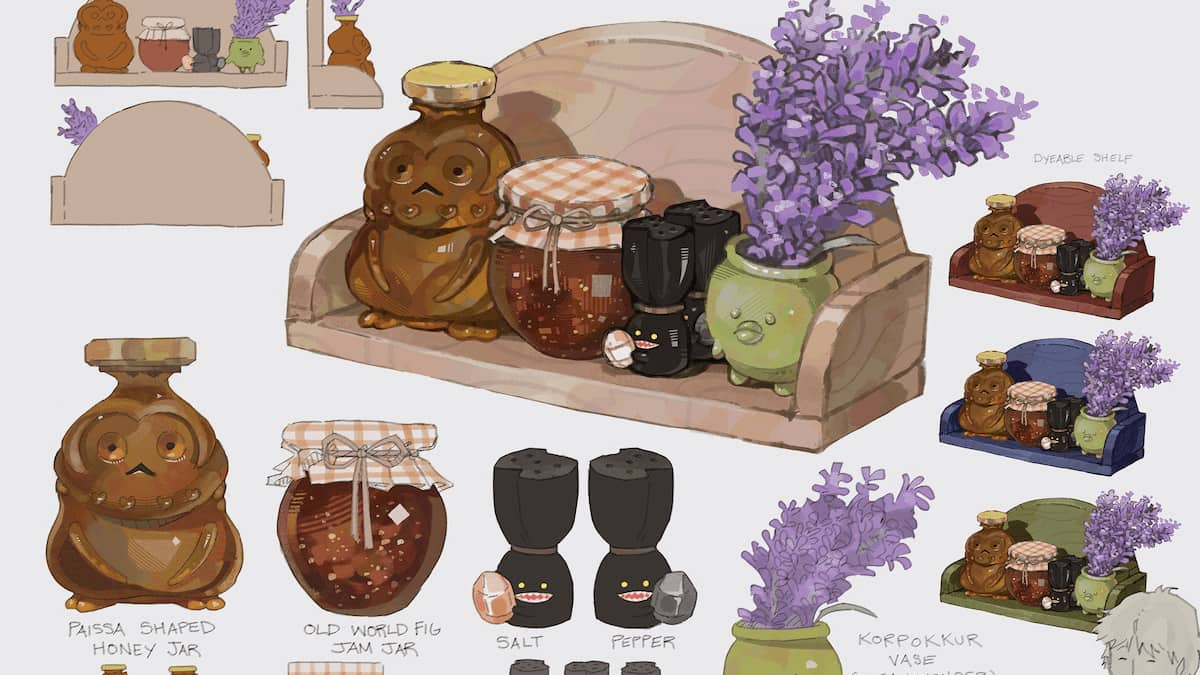 The simple stylings on this Alpine Kitchen Shelf make it ideal for many of Eorzea's kitchens. The existing Alpine Kitchen set of furnishings is sadly under-utilized, and an addition to the half dozen or so pieces would be very welcome. Also, we really want to try the Paissa Honey...
Related: Final Fantasy XIV Patch 6.38 – Biggest changes, and things you might have missed
Slobs Chair by tokuni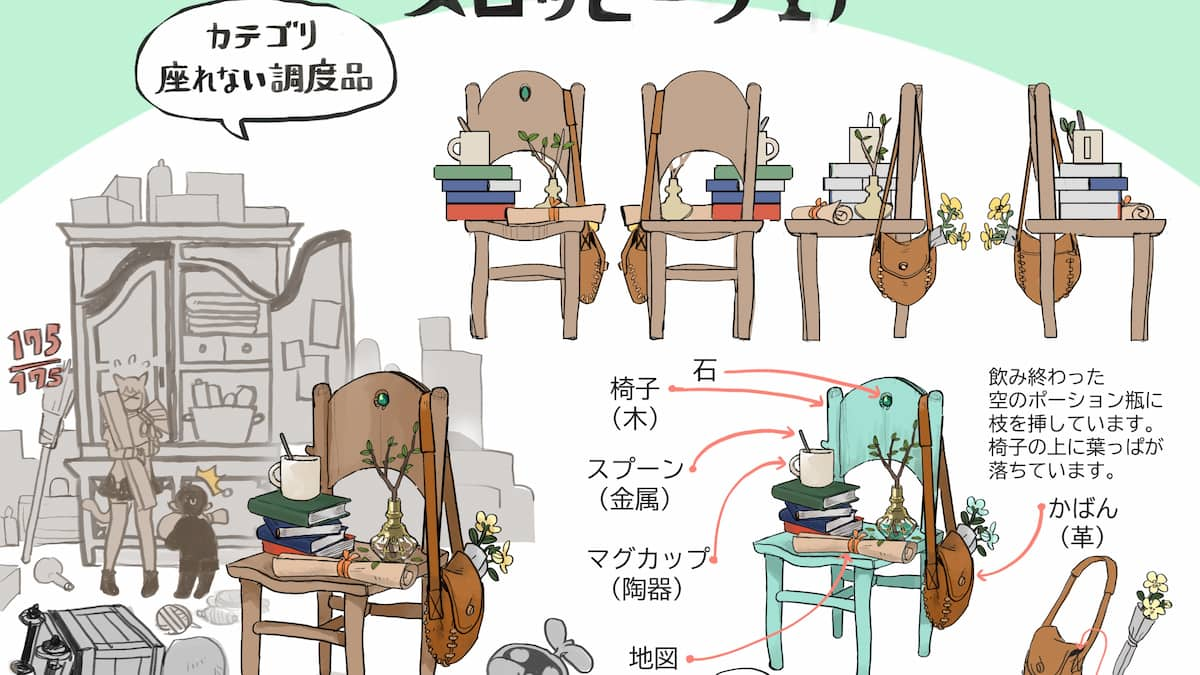 Ever have an item appeal to you on a cerebral level? This is what every chair in our house that we're not currently sitting on ends up looking like, and being able to have our Warrior of Light blighted by the same levels of clutter feels right.
Water Fountain Bed by Chi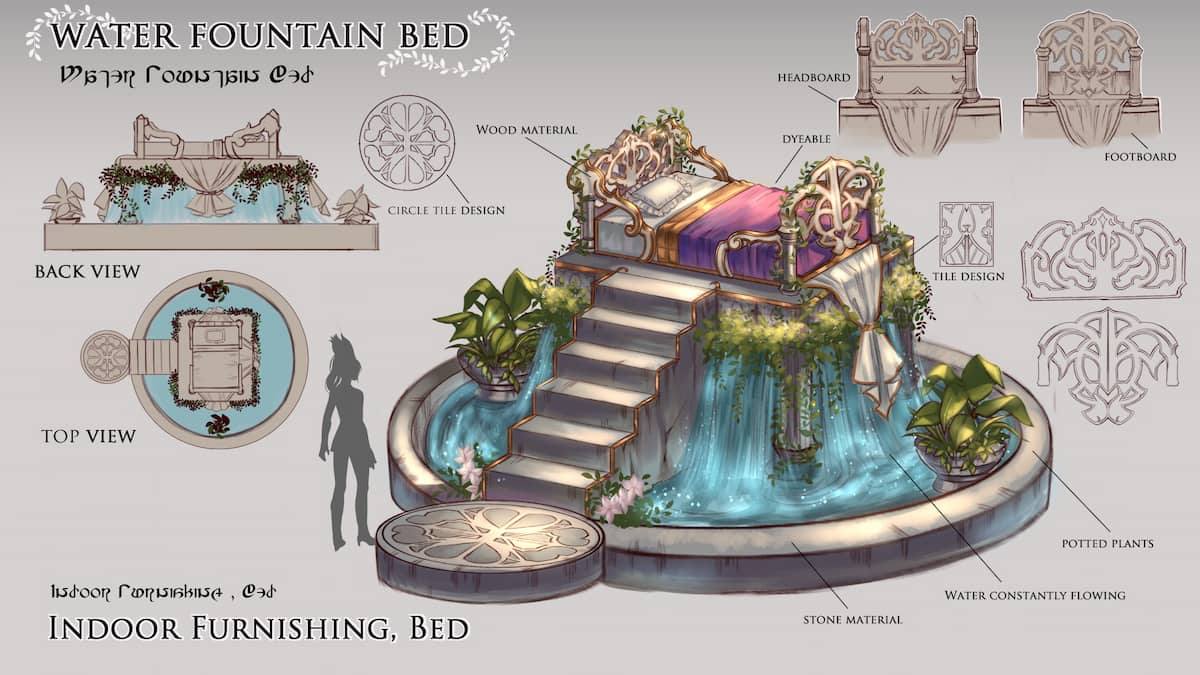 Sometimes your Warrior of Light deserves luxury. Not all the time, but sometimes. And this incredible Water Fountain Bed would look perfect in the private room of a Free Company Mansion, or just in the center of your Apartment, taking over all the space!
Four Sacred Beast Door by じゅむ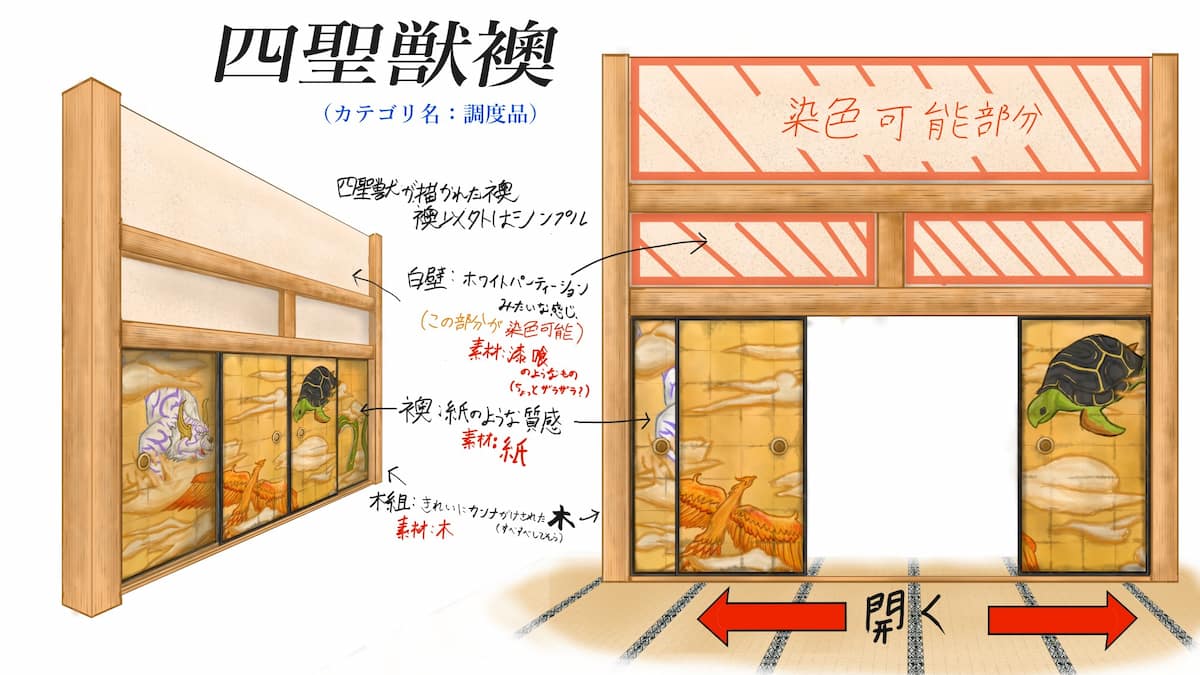 There are quite frankly not enough partition doors in FFXIV's housing, and this piece would be absolutely ideal for any Kugane-themed house. The motif of the Four Sacred Beasts, coupled with the sliding door aesthetic is incredible. We want it in the game yesterday!
Nanakko Bear by おばけ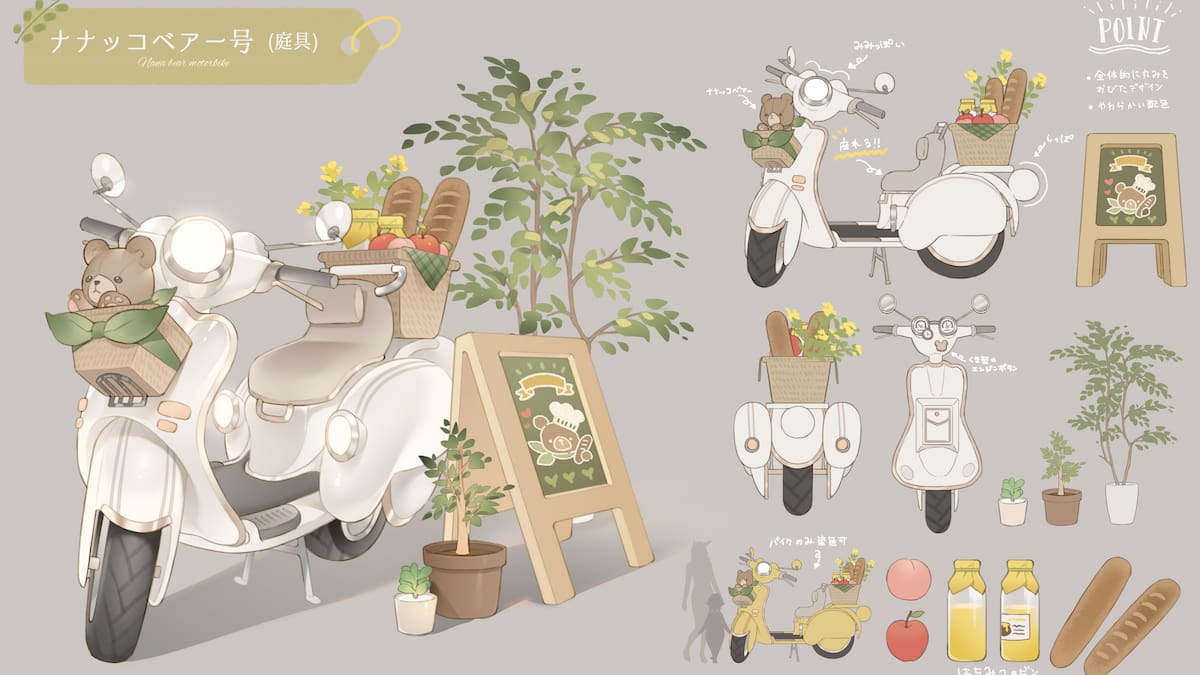 We're not sure mopeds and scooters are canon in FFXIV (although cars were made canon in Garlemald in Endwalker), but frankly we don't care so long as this piece gets included into the game. In fact, forget the housing item, give us this Vespa-style scooter as a mount in-game!
Related: FFXIV Lapis Manalis dungeon guide
Ironworks Vending Machine by madishartte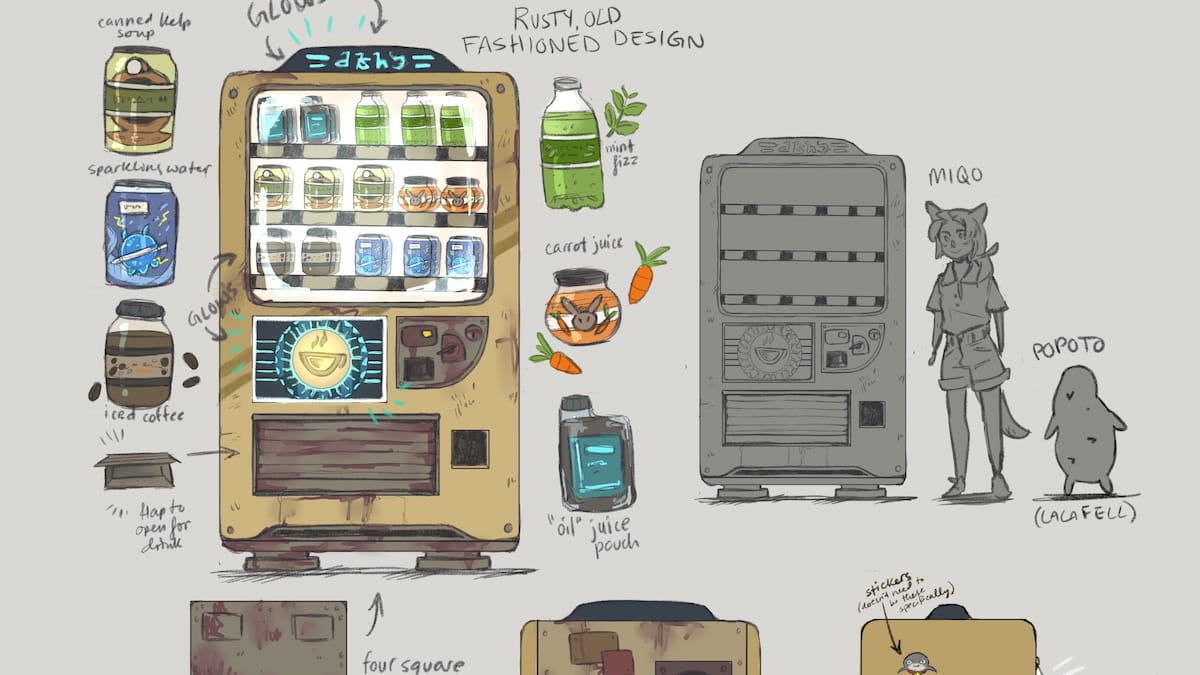 Did anyone else buy all the vending machines in Animal Crossing, and build a little snack stop outside of Nook's Corner? Only us? Nevermind. Anyway, this vending machine would both matches the rustic aesthetic of some of the Ironworks materials, and FFXIV's high-technology and high-fantasy combination.
Large Frozen Pond by Artae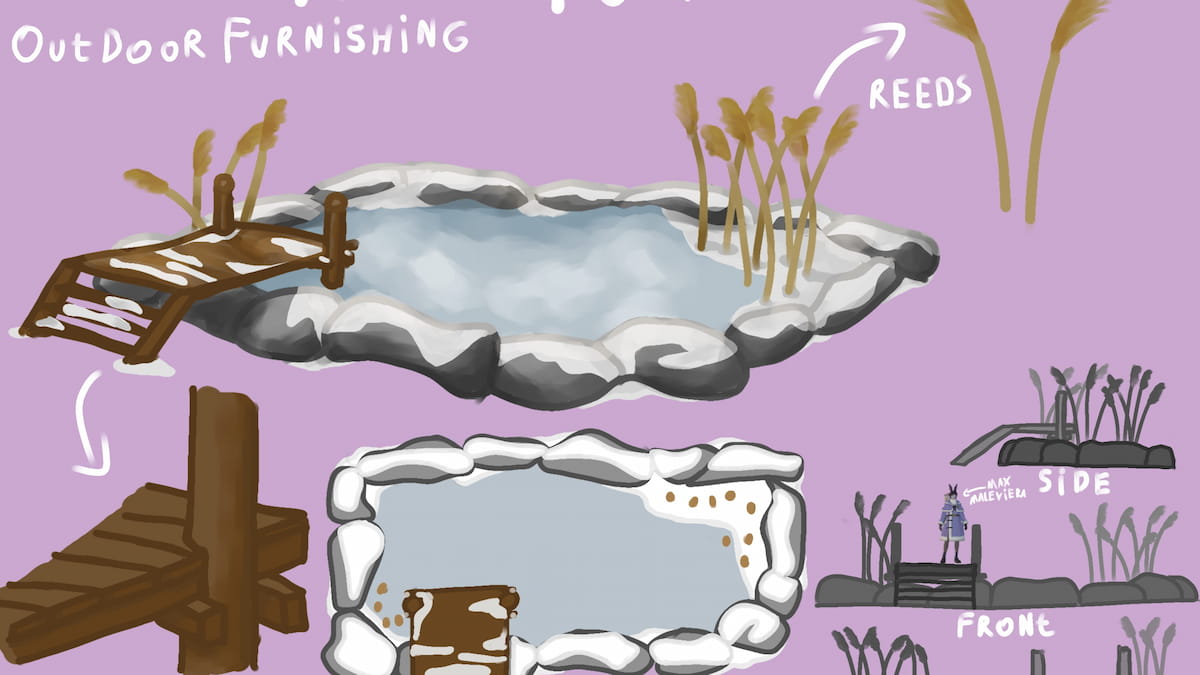 Rokutenza Rug by 黒須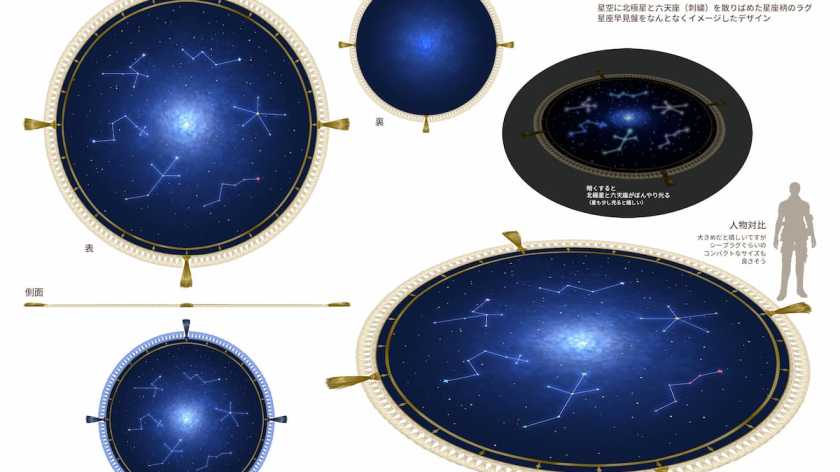 Want to go stargazing without the chance of inclement weather? This incredible rug gives you the chance to see some of the iconic constellations as seen in the skies of Eorzea (and as used by Astrologians). We love the the way this would look in our in-game library!
If it fits, it sits (Sizable Cardpaper Box) by Demi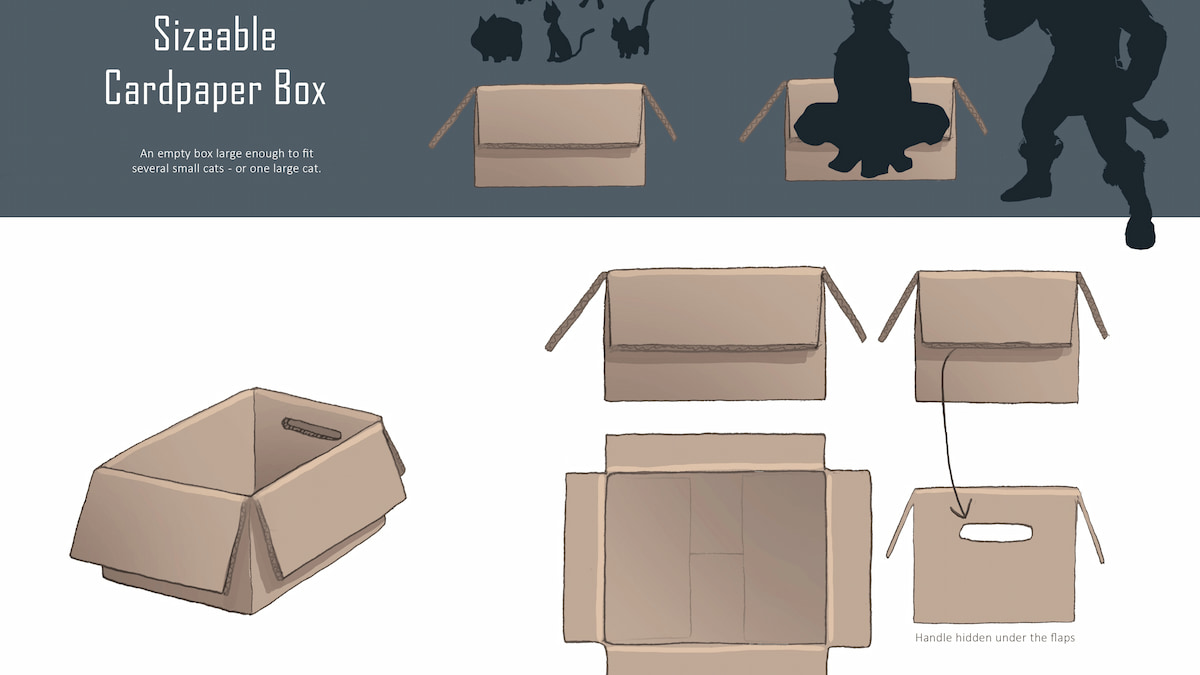 Well, the Lalafels got their high chair, right? This box is perfect for Miqo'te, minions, or anyone really. Honestly, we more see ourselves using this to show how cluttered our WoL's living space is, but the use as a seat is cute!
Will there be a FFXIV Furnishing Design Contest 2023?
The Furnishing Design Contest has become an annual event, with only a few interruptions since its inception. The last Furnishing Design Contest started in December, 2022. We can assume, that a similar timescale exists for the next contest!
For more Final Fantasy XIV news, guides, and information, check out How to get the Tonberry Knife in FFXIV on Pro Game Guides.