Now that you have likely gotten your Wolverine outfit, the challenges are going to be a little less exciting in future weeks. This batch of them has us heading over to Catty Corner to collect chests, get eliminations at Craggy Cliffs, discover what is in the vault at Doom's Domain, do some cobweb destroy at The Authority, locate Tony Stark's hidden laboratory, drive a car across the map without getting out of it, and dishing out quite a bit of damage with one of Storm's superpowers!
We are at week 7 for Fortnite Chapter 2: Season 4, which means we are three weeks away from completing all of the challenges if previous seasons hold true. This is supposed to be a longer season, so it's possible they throw some additional events at us, especially with Halloween coming around and Fortnitemares starting to become closer and closer. Unfortunately, not much has been confirmed, so it looks like we're going to have to wait at least another week before we get any information on future additions to the game.
All Fortnite Week 7 Challenges
Here's a look at the list of challenges for week 7 of the season:
Search 7 Chests at Catty Corner
Get 3 Eliminations at Craggy Cliffs
Enter the Vault in Doom's Domain
Destroy 3 Cobwebs at The Authority
Discover Tony Stark's hidden Lake House laboratory
Drive a car from Sweaty Sands to Misty Meadows in less than 4 minutes without getting out
Deal 1,000 damage after knocking an opponent with Storm's Whirlwind Blast (Group Challenge)
Cheat Sheet
Here's a cheat sheet with where you will need to go to complete the challenges. Credit to squatingdog for the image.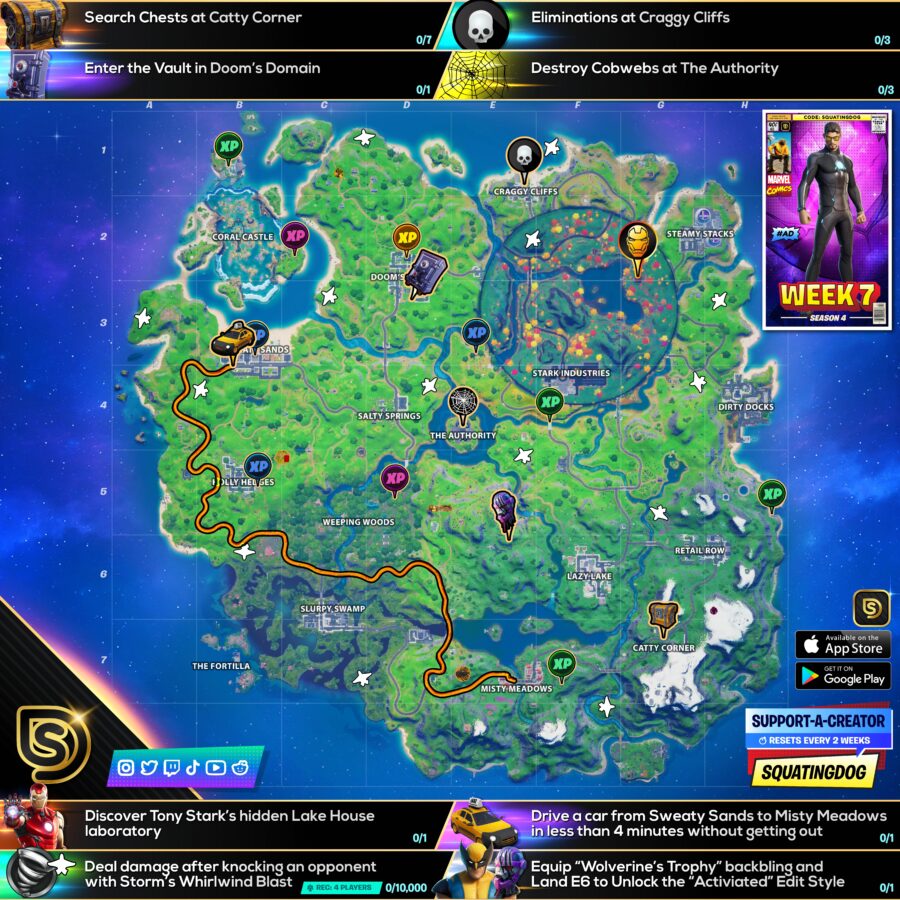 Challenges Guide
Catty Corner is in the southwestern portion of the map, and has quite a few chests in the northern portion of it. The gas station to the south should also count towards the challenge if you run into people there, or some of the other chests don't spawn. As always, I would recommend going into Team Rumble for chest collection challenges! Credit to Fortnite.gg for the map.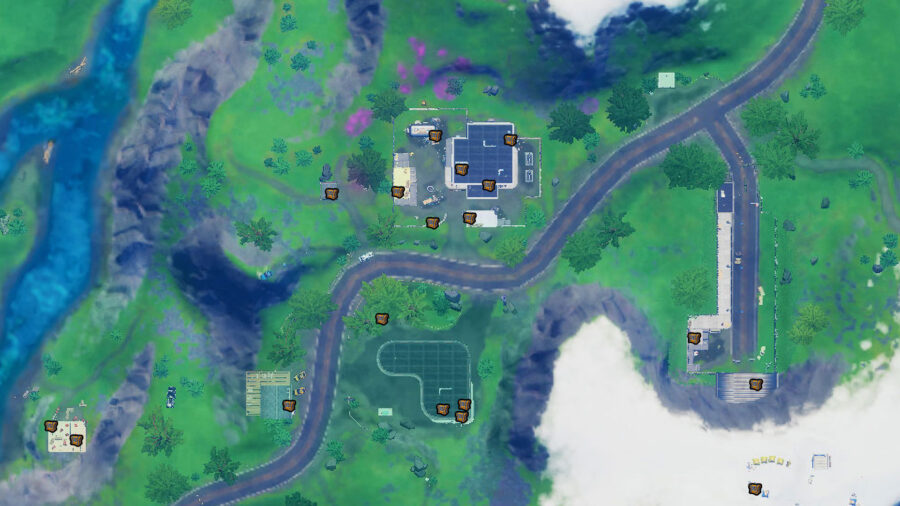 The vault in Doom's Domain can be found in the gaping hole area of the soccer field that is in the middle of the location. Unfortunately, you are going to have to take out Doctor Doom himself to get access to it, because you need the vault key. He usually resides in the northern most spooky looking house, but he can also wander around the area. If you want to find him more easily, I recommend knocking down one of his henchmen and shaking them down for the information. Doctor Doom will be labeled with a red crown that shows the boss of the area.
Alternatively, you can wait for someone else to open the vault and then visit it afterwards. This should count towards completing the challenge according to people in the comments!
This challenge is likely going to be pretty popular, so you might struggle with other players. If you are able to, you can complete this challenge by using a Bot Lobby.
Cobwebs are pretty easily found, you just need to head to The Authority and search around the building. They will usually be in the top corners of rooms, and you'll just need to smack them with your pickaxe to destroy one.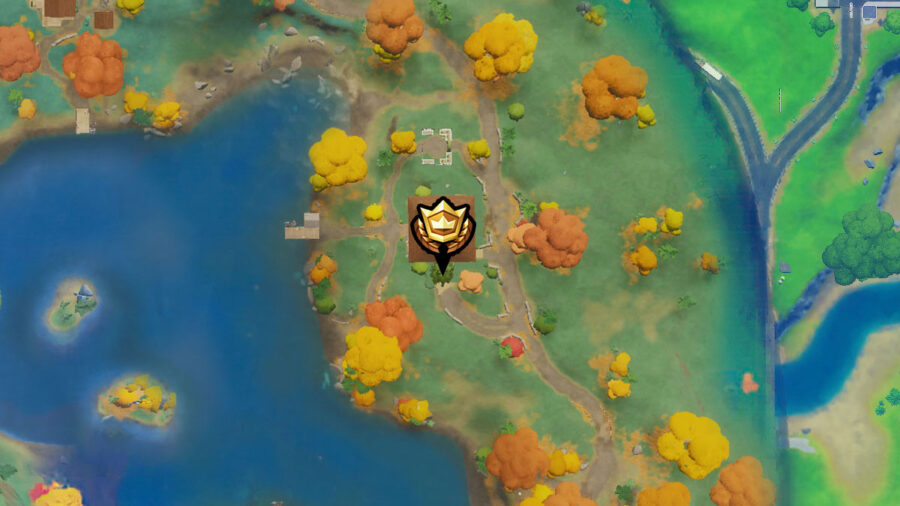 Tony Stark's hidden laboratory is not so hidden, because there's numerous ways you can find it, and there's a road that leads right to it. Head to the east of the large lake that is north of Stark Industries and near Upstate New York. The Stark Lake House is the large house that is pretty visible on the map. You can either break down the bush that's to the south of the house and walk right into the laboratory, or you can go into the house and break through the floor and find yourself inside of it. Like I said, this is not a very big secret.
If you're looking for a quick route to get from Sweaty Sands to Misty Meadows then here's a good video demonstrating it:
Finally, you are going to need to use Storm's Whirlwind Blast and get quite a bit of damage with it. The best way to get access to it is to head into Marvel Takeover and look for the tornado icon superpower that will randomly show up in the game. Grab that and dish out the damage with it. Your alternative method would be to go to Quinjet locations and shootdown the Stark Drones that are at these areas. You will need to hope to get the Storm superpower, which is going to be pretty rare. I highly suggest doing this challenge in Marvel Takeover.
Now that you're done with the challenges, make sure to scoop up the XP coins for the week!