Fortnite has changed the way Legendary Quests work for Chapter 2 Season 7. Instead of the accolades we saw in previous seasons, Legendary Quests for Season 7 are more like advanced Epic Quests. In this guide, we are covering the basic instructions to complete these quests as easily as possible.
Cheat Sheet Map
The map below provides the locations of all the spawns for this week's Legendary Quests with specific locations. Follow the instructions below the map if you need more detail.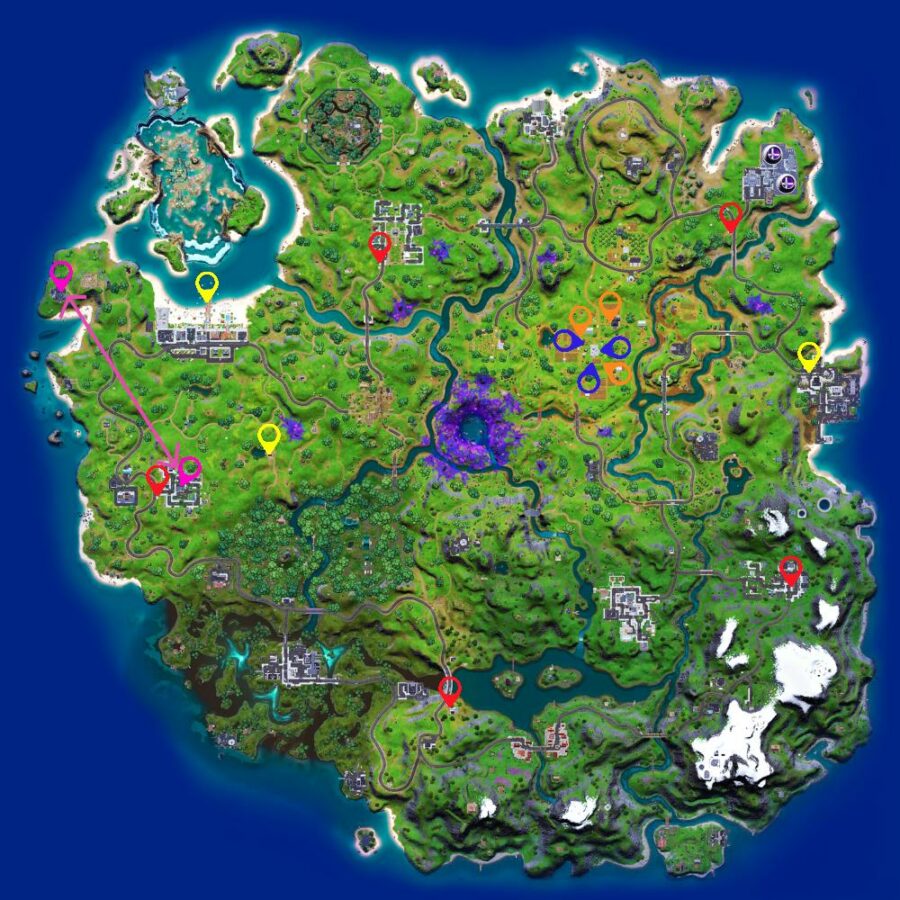 Related: Fortnite Chapter 2: Season 7 Guide - Challenges & Information - Pro Game Guides
Guides & General Tips
Open mission kit, then place a jammer outside the IO base in one match. [2]

The orange markers in the map above show you where you can place the jammer outside the IO base.

Leave secret documents at a bus stop. [1]

You can find bus stop locations where you can place secret documents at the red markers on the map above. You only need to place one of these. However, you can't go to just any bus stop. It must specifically be one of the bus stops shown on the map. For further instructions, use the guide above.

Talk with Joey, Sunny, or Dreamflower [1]

The yellow markers above show you where each of these characters is located. You will find Joey patrolling the northwestern corner of Dirty Docks, Dreamflower at Flopper Pond, and Sunny walking along the boardwalk at Believer Beach. For further detail, use the guide above.

Leave an IO Car at an alien settlement. [1]

The easiest way to complete this quest is to get an IO Car from Destiny Dish on the western edge of the map and drive it to Holly Hatchery. The pink markers and pink line on the map above show you where you can pick up the car and where to drop it off. There are other alien settlements and IO cars, of course, but this is a good way to complete the quest without being confronted by opponents. For further information, use the guide above.

Deploy pallets with Cat Food around the IO base [2]

The blue markers on the map above show you where you deploy the pallets with cat food. They are all close to the red barn in the center of Corny Complex. One of them is to the northwest, one directly to the south, and one next to the shed on the eastern wall. For further detail, use the guide listed above.
That's all the Legendary Quests for Week 3 of Chapter 2 Season 7! Be sure to check our Fortnite Homepage for the latest news, content, and guides for Fortnite!
Don't forget to check out our full Fortnite Chapter 2 Season 7 Guide, which covers all updates, mechanics, and features to Season 7!