If you are looking for Fortnite's best guns then our list features the best weapons for you to run on your way to victory! These guns are the best choice for when you have multiple options at your disposal. This list has been updated for Season 7 of the battle pass!
I'm taking multiple things into account when I consider the best guns in Fortnite. Damage is a big factor, but not the only one. You also need to consider firing rate, which is particularly important for spray heavy weapons like SMGs. Accuracy is also very important because the damage won't matter if you can't hit anything! This is largely why the burst assault rifle is left off of the list.
The Best Guns and Weapons for Fortnite Battle Royale
This list isn't ranked in any particular way, each of these guns is really good at what it does. No gun is great in every situation, explosive weapons are better in fort battles, sniper rifles are better in a long distance fight, assault rifles are better in mid-range fights and in general situations, and shotguns are the best for close range battles.
Hand Cannon (Desert Eagle)


The Hand Cannon makes a return to the best weapons list due to it being buffed in the 6.20 patch. The buffs were very helpful, they increased the damage for hits on long-ranged targets. Headshots can now one shot an opponent that doesn't have a shield at long-range. The other big buff, and one that a lot of really good players are taking advantage of is how much damage it does to structures. It now does 150 - 157 damage to a structure depending on the rarity. This will one shot a wood wall, which can lead you to a quick switch to a shotgun for a kill. You combine these two factors, and you have a great weapon for a lot of different situations.
The Hand Cannon comes in Epic (purple) and Legendary (gold) versions.
SCAR (Assault Rifle)/Suppressed SCAR

An accurate, mid-range, fast-firing assault rifle that does a good amount of damage. The only real negative about the SCAR is that it can be difficult to get your hands on if you aren't opening supply drops or getting lucky with chests or floor loot. The newer Suppressed SCAR falls pretty much right along the lines of the original. It is more accurate when you are tapping, but the spray is a bit wider and random. It largely depends on which style you prefer, are you a slow firer or are you prone to spraying?
The SCAR and Suppressed version come in Epic (purple) and Legendary (gold) versions.
Heavy Assault Rifle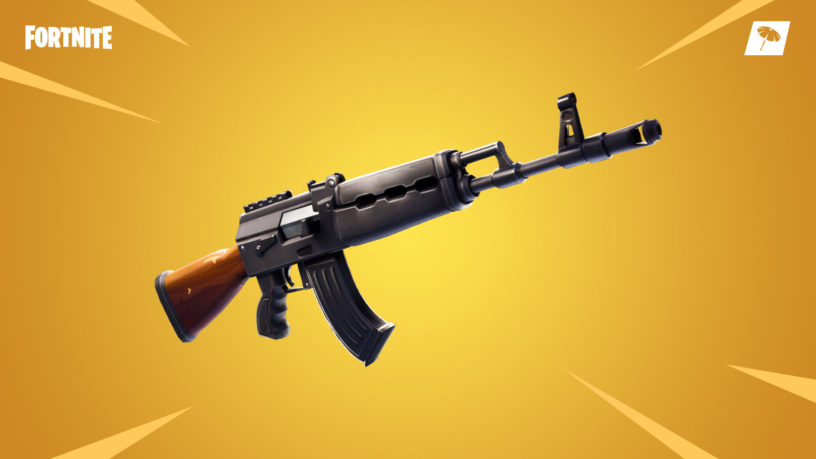 The Heavy Assault Rifle is a relatively new addition to the game, but it has made quite a name for itself. While it does fire slowly, it does a lot of damage when you land the shots. This rewards a more patient player who isn't prone to spamming. This is better than the Assault Rifle and the Burst Rifle, but once you start comparing it to the other versions of the SCAR is when it comes down to personal preference.
The Heavy Assault Rifle comes in Rare (blue), Epic (purple), and Legendary (gold) versions.
Heavy Sniper Rifle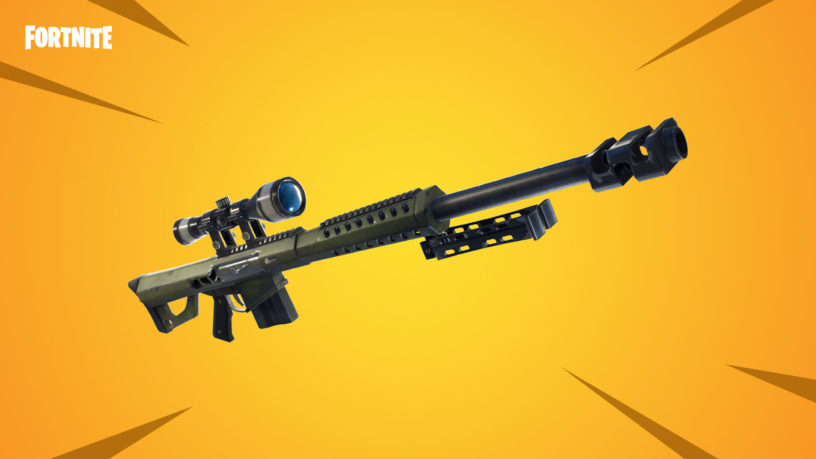 The Bolt-Action Sniper used to reside in this spot, but now due to the power of the Heavy Sniper it has been usurped. The Heavy Sniper is just a super powerful weapon that does enough damage to finish someone in one shot to the body the majority of the time. If you think about it, most players are at around 150 hp (small shields or they might be at 75 shield and 75 hp). This gun does 150 to the body for an Epic and 157 with the Legendary. This means in most cases, you don't even have to aim for the head. This gun also one shots any structural wall, ramp, floor, or roof. Even if it's a fully constructed metal piece, you can still blow it away in one shot. If you are in duos or squads, you can easily time a shot with your friend to knock out a wall and then they can hit the kill shot. You can also surprise people with this in solos, and follow it up with another sniper or any weapon to deal damage or finish them off.
The Heavy Sniper Rifle comes in Epic (purple) and Legendary (gold) versions.
Rocket Launcher

The rocket launcher is one of your best options if you can get close to an opponent for a quick kill without too much struggle.
As a bit of a tip, try to shoot INTO a base rather than just shooting at the base. If you can land the rocket over the top of a wall you can destroy more of the fort and potentially kill your opponent. If you just shoot into a wall it can quickly be replaced and it doesn't do any damage. Another thing you can do is shoot a rocket towards a wall and then immediately shoot it out with another gun so the rocket has a chance to land on the interior of the base.
The Rocket Launcher comes in Rare (blue), Epic (purple), and Legendary (gold) versions.
Epic & Legendary Pump Shotgun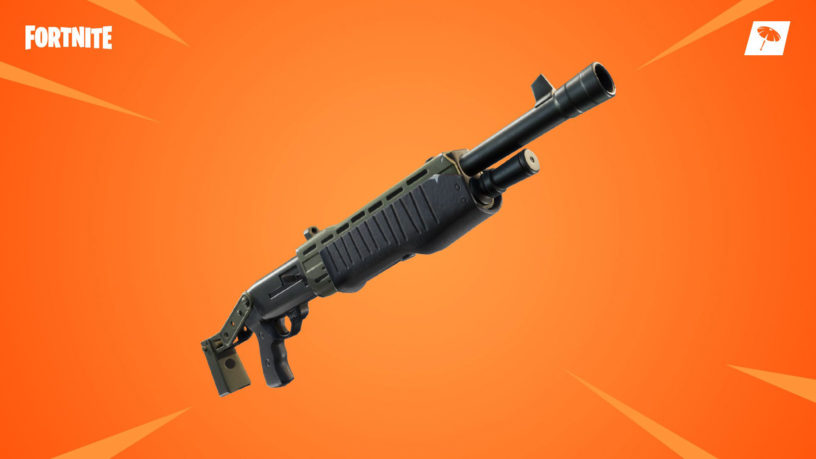 I normally don't call out rarities, but the Epic and Legendary Pump Shotguns are basically a different weapon from the Uncommon or Rare version of the gun. There's not a ton of difference between the versions, but this thing does a ton of damage and has a relatively tight spread. If the stars align and you hit every pellet on your opponent's face with it at really close range, you can indeed 1-pump someone again! While this is pretty difficult to do, these new versions of the Pump are the best Shotgun options in the game currently.
Compact SMG (P90)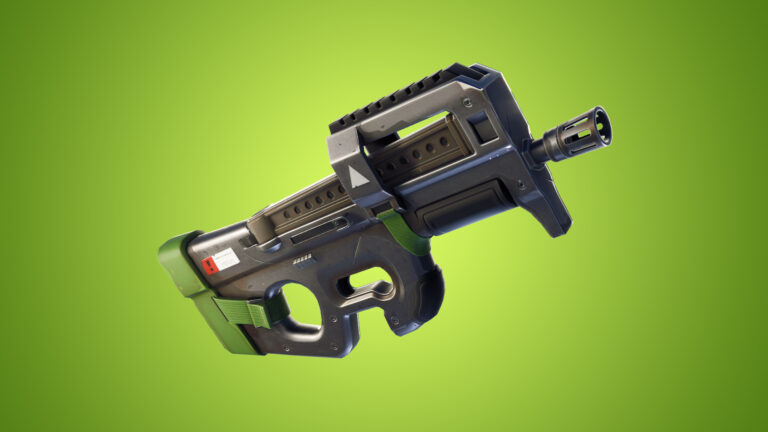 The Compact SMG took a bit of a nerf, but it's still a strong secondary option to your Shotgun. It can tear up walls and as an extremely fast fire-rate that will overwhelm anyone standing in front of you.
The Compact SMG comes in Epic (Purple) and Legendary (Gold) versions.