The heavy shotgun has made its way to Fortnite: Battle Royale! Check out all you need to know on this potentially powerful new addition to the game.
Heavy Shotgun Release Date: Likely March 22nd, 2018
Epic has been pretty careful with how they implement new weapons into the game and they haven't really done anything overpowered. This being epic/legendary makes it pretty balanced even though it is relatively powerful. The fact that you can dual-wield them might lead to some issue in the late-game portions of matches. These will be readily available to players at that point, so it remains to be seen if this is too problematic.

Heavy Shotgun Ammo Type
The heavy shotgun surprisingly uses... Shotgun ammo! I know this is a shock to you, so try not to faint. The magazine size is 7, so you'll be able to pop off powerful shots quite a bit before needing to reload.
Heavy Shotgun Stats/Damage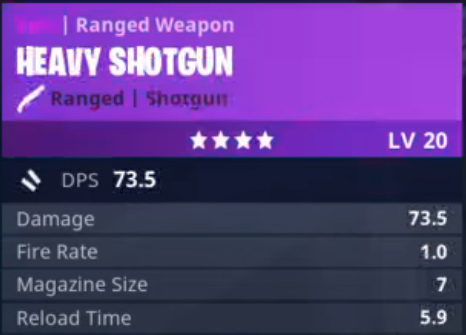 The epic heavy shotgun does a maximum of 73.5 damage to the body with the legendary version doing 76 damage with a slight increase in reload time. Headshots are 2.5x so you are looking at 183 damage to the head for the epic/purple and 192 damage to the head via the orange/legendary version.
Heavy Shotgun Colors/Rarities & Where to Find it
They heavy shotgun can be found in purple (epic) and orange (legendary) rarity. It is likely to only be found in chests and supply boxes (maybe supply llamas).
Heavy Shotgun Tips/Tricks
It does not have a scope, but the zoom is comparable to the hunting rifle.
It is pretty accurate when aiming down the sights. The crosshairs come very close together.
The heavy shotgun appears to fire a very concentrated spread of buckshot, but it's hard to tell if it's a slug or not.
If you miss the double pump, you can run two of these bad boys and fire off a lot of shots back to back!
Heavy Shotgun Gameplay