Fortnite Season 6 is out now, and we've gathered all of the information about it! We've got a full list of all of the Fortnite Season 6 Skins, as well as information on all of the Fortnite Season 6 Challenges for each week of the battle pass.
The beginning of Season 6 revolves around the almighty CUBE. It tumbled around the map for weeks, and in some places it left large Runes. These purple Runes that have burnt into the environment caused a large circular low gravity field around them. Once the Cube found itself dropping into Loot Lake and turning it bouncey and purple, we were left to wonder what had become of it. Well, it turns out that the Cube isn't going away, because it has caused a vortex with a floating island over the lake! The runes have now corrupted the land around them and brought along shadow stones that turn players into ghostly figures that can become invisible by staying still.
Along with many changes to the map we've gotten a bunch of interesting new skins to go with the Fortnite Season 6 Battle Pass! From cowgirls to llamas, and all the way down the line to scary skins like vampires and werewolves!
Season 6 Guide Quick Navigation
Fortnite Season 6 Release Date
Fortnite Season 5 is ending on September 26th! This looks to have been delayed a bit, but if you haven't finished up your challenges or all of the tiers in your battle pass, you will be getting a 400% XP event from September 21st to September 24 at 8 AM ET (1200 GMT). If you are trying to complete all of your challenges as quickly as possible, be sure to check out all of our Season 5 Guides!
This all leads to September 27th which will be the release date of Season 6 of the Battle Pass!
Fortnite Season 6 Battle Pass Challenges
Like with just about every season of the battle pass there is a free and paid version. The paid version costs around $9.99 USD, but will include many skins you can earn. This is always going to be your best bang for your buck when it comes to cosmetics in Fortnite. If you've been saving your V-Bucks from the Season 5 Battle Pass, you can always just use those to purchase it.
Season 6 Battle Pass Challenge Guides
Here's where we will be posting guides to each week of the Season 6 Battle Pass!
Fortnite Season 6 Skins
We got a bunch of interesting skins that seem to have an apparent Halloween theme to go along with them. DJ Yonder our first DJing Llama has made an appearnace. Calamity is the highly customizable Cowgirl that has multiple different outfits. Giddy-Up gives you the no-skin look but with the inflatable llama. Fable is pulled right out of the pages of Red Riding Hood. Dusk is your female Vampire skin with evil eyes and purple skin, it kind of reminds me of Widowmaker from Overwatch. Nightshade is a cross between Fate and the Tomatohead skin. Dire is the final skin you can earn and it has multiple unlockable styles ending with a full Werewolf look!
Here are all of the skins available in the Season 6 Battle Pass!
Outfits
Click to enlarge and learn more about the skins and see all of the unlockable styles! Check out all of the outfits in the game with our Fortnite Skins List!
Dances/Emotes
We've got all of the dances and emotes from the game on our Fortnite Dances & Emotes List!
Gliders
You can check out all of the gliders in the game on our Fortnite Gliders List!
Pickaxes
You can see all of the Pickaxes in the game with our Fortnite Pickaxe List!
Back Bling
If you're curious about all of the back blings in the game check out our Fortnite Back Bling List.
Contrails
All of the contrails can be found on our Fortnite Contrails List.
Pets
Click on the images below to learn more about the pet and see their unlockable styles! Learn more about the pets in our Fortnite Pets Cosmetics List Guide!
Loading Screens
See all of the loading screen cosmetics on our Fortnite Loading Screens Cosmetics List!
Sprays
If you want to see all of the sprays in the game check out our Fortnite Sprays List.
Emojis
All of the Emojis from Fortnite can be found on our Fortnite Emojis List page!
Toys
Toys were introduced in Season 5, but they've only added a couple more for this season. If you want to check them all out, head to our Fortnite Toys List!
Fortnite Season 6 Patch
Epic made a number of improvements in the Season 6 patch, I'm going to list some of the bigger changes. If you want to read the whole list, check it out on the official Fortnite site.
Shadow Stones

Consumable typically found around corrupted areas of the map.
Using a Shadow Stone will apply 'Shadow Form' for a brief period.
While in Shadow Form:

Unable to use weapons.
Become invisible to enemies when stationary.

You become more visible and leave behind a Shadow Trail when moving.

Gain increased movement speed, jump height and fall damage immunity.
Gain a new ability, Phase, can be activated by pressing the Primary Fire button.

Phase: Propels you in the direction you are facing, and allows you to pass through objects.

The effect lasts 45 seconds but can be exited early by holding down Alt Fire button (aim down sights).

Vaulted Impulse Grenade, Suppressed Submachine Gun, Light Machine Gun, Bouncer, and Remote Explosives.

All of the weapons/items added to the Vault in patch v6.0 will currently remain available in Playgrounds.

New Locations

Floating Island
Corrupted Areas
Corn Fields
Haunted Castle
Drop in and find the rest in-game!

Custom Controller Bindings

Choosing your configuration has changed to a selector on the left side of the menu.

After selecting Custom, the right side of the menu becomes buttons that are selectable. When a button is clicked, it opens a list of actions that can be assigned to that button.
Mode selection (Combat, Build) has changed to selectable by triggers. When in either Combat or Build mode, the actions for that mode and the actions that span between modes will appear in the "actions list" to select from.

Console - Input-Based Matchmaking

Players using a keyboard and mouse on PS4 will now be put into the PC matchmaking pool.
Start matchmaking with your preferred input device. You will be queued with the input type you press the "Play" or "Ready" button with.

If you start matchmaking with a keyboard and mouse, then you'll be queued in the PC matchmaking pool. However, you'll be able to switch to a controller mid-match if you'd like.
If you start matchmaking with a controller, then you'll remain in your platforms normal queue. However, you'll be unable to switch to a keyboard and mouse mid-match.

PC players are unaffected by this change. If you use a controller on PC then you'll remain in the PC matchmaking queue.

Storm Circle Changes

Safe Zone 4

Wait time reduced from 90 seconds to 80 seconds
Shrink time increased from 60 seconds to 70 seconds

Safe Zone 5

Wait time reduced from 90 seconds to 70 seconds
Shrink time increased from 40 seconds to 60 seconds

Safe Zone 6

Wait time reduced from 60 seconds to 30 seconds
Shrink time increased from 30 seconds to 60

Safe Zone 7

Wait time reduced from 45 seconds to 20 seconds
Shrink time increased from 25 seconds to 50 seconds
Radius increased from 1250 to 1650

Safe Zone 8

Wait time reduced from 30 seconds to 15 seconds
Shrink time increased from 25 seconds to 40 seconds
Radius increased from 625 to 1090

Safe Zone 9

Wait time reduced from 30 seconds to 15 seconds
Shrink time increased from 25 seconds to 40 seconds

Moving Safe Zone circles in the late game now move 50% further from the previous safe zone.

Moved the ATK horn to down on the D-pad to allow for autorun.
Traps can no longer be placed on wire fences.
You can now build through Shopping Carts.

Changed the processing of footsteps to add more contrast between above/below. Below steps now sound more "echoey" like they're coming from the basement.

Footsteps will decrease in pitch the farther they are below you, and increase in pitch the higher they are above you.
The volume of footsteps blocked by terrain, buildings, or player built structures has been increased slightly.
Find more information on footstep audio updates here.

Increased the distance that you can hear open/close Glider sounds.
Increased the audio range for players skydiving to match that of players gliding.
Added a doppler pitch effect to the gliding audio.

This creates that "car pass by" effect as players fly overhead.
The CUBE
What's been going on with this Cube?! It originally came into the game when lightning was striking cactus in the new desert biome. Once it destroyed all of the cactus that were conveniently laid out in a circle, the Cube was formed! A large purple Cube is a bit of an oddity in itself, but then the thing started moving. It also was defending itself, whenever a player would shoot at the thing, it would lash back at any player unfortunate enough to be near it.
So, what is the Cube doing? Well, apparently based on the runes it has been burning into the ground, it's drawing an abstract version of itself. If you link together where each rune has been placed you will get an interesting looking cube: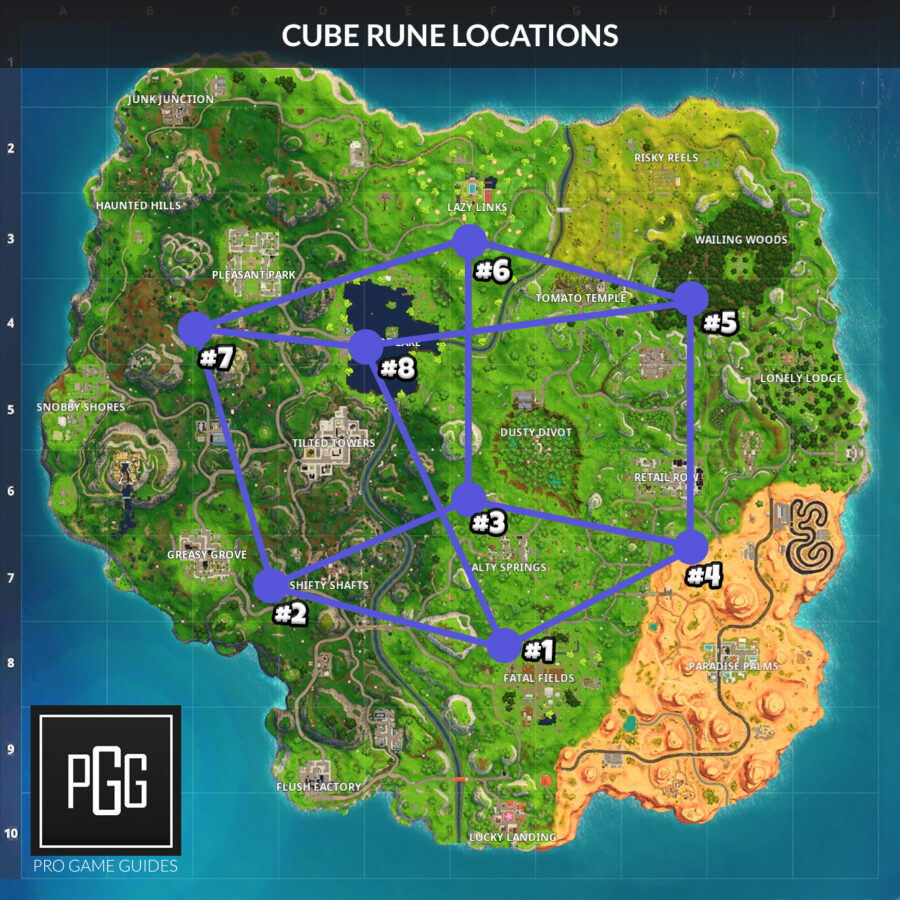 The Cube has finally reached Loot Lake and submerged into the water. The entire lake has the look of the cube with a purple hue and the runes. You can now bounce on the water like you were able to with the Cube. You can throw grenades on it and they will bounce across like you are skipping stones! It remains to be seen what will happen with Loot Lake!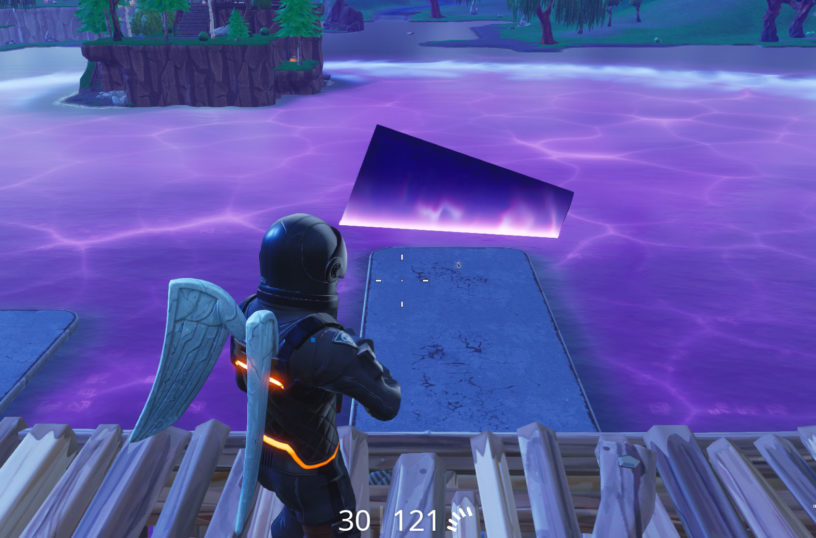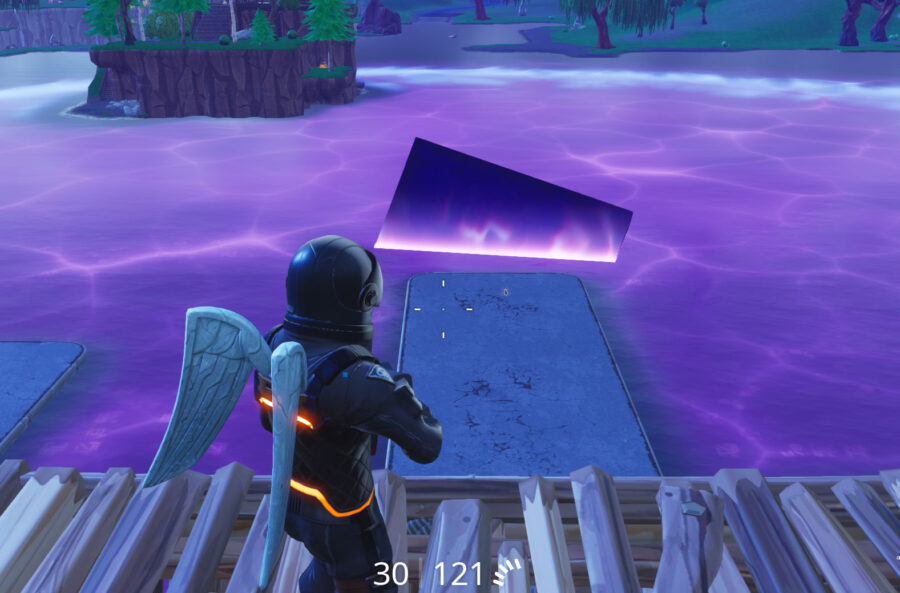 There is likely more to come, and it will likely lead into whatever Season 6 will end up being!
Fortnite Season 6 Teasers
We're getting closer to the reveal of Season 6 of the Battle Pass, so Epic has started posting teasers leading up to the event!
Teaser #3 (Final)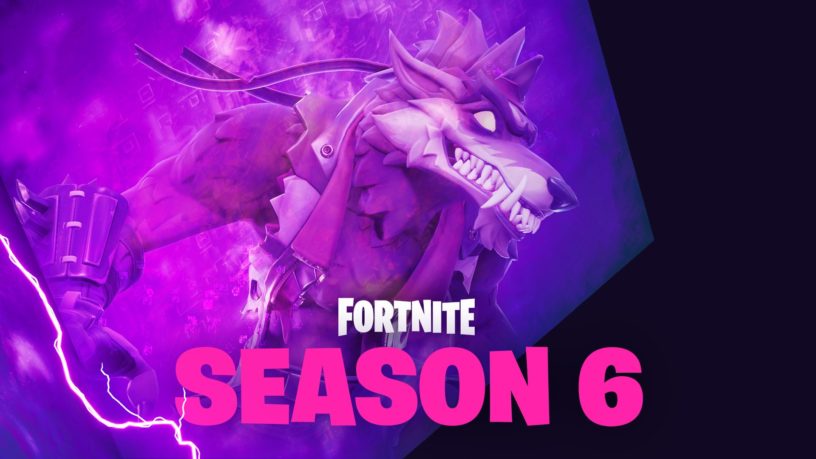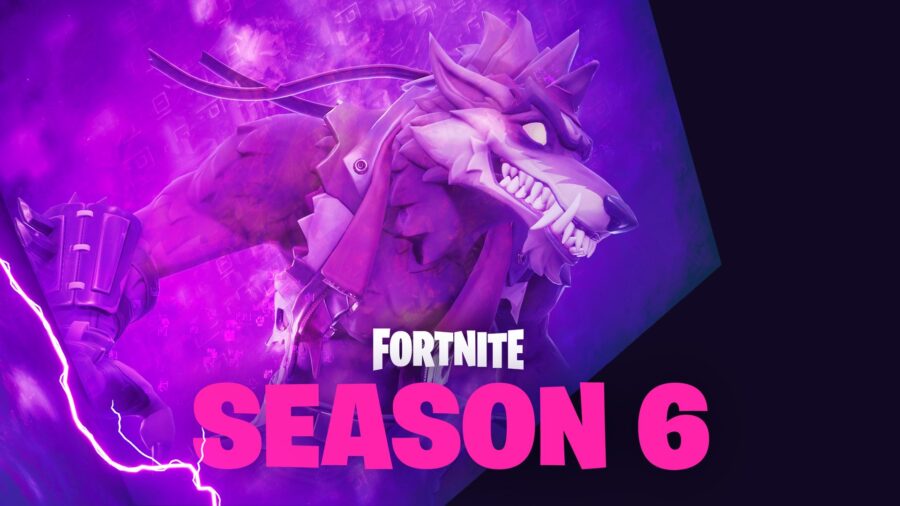 Here's the final Season 6 teaser and this time we've got what appears to be a werewolf skin. Looks like we're leading towards a bunch of Halloween skins, but overall it's hard to tell what the exact overall theme is but we'll be finding out soon anyway! The caption just read "Season 6... tomorrow."
Teaser #2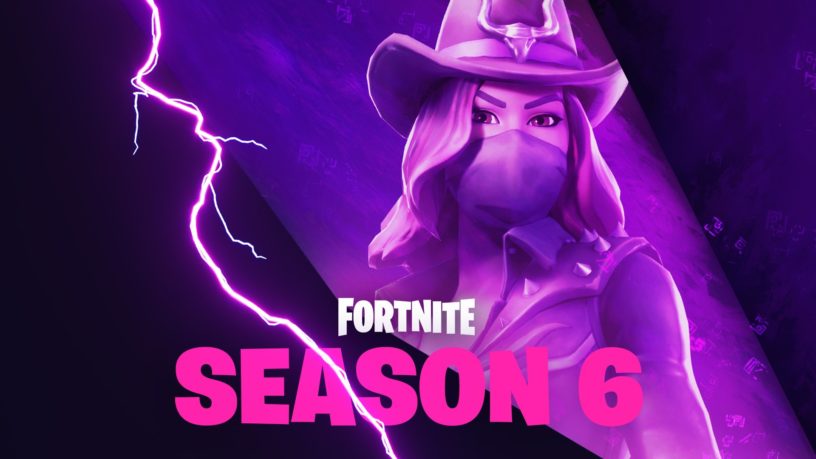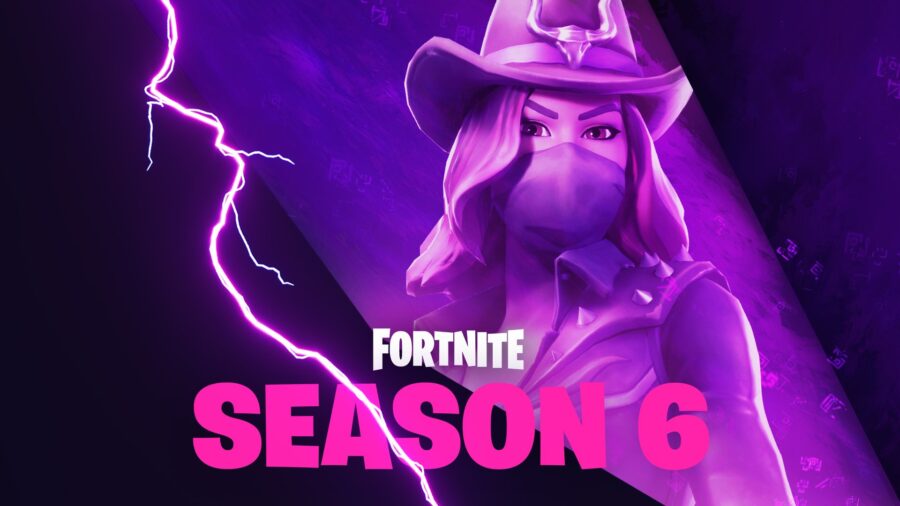 The second teaser has been released and it displays a woman dressed up in cowgirl attire. We do have Fatal Fields still around on the map, so something could change with that to relate better with this skin. Do keep in mind that the cube is appearing in all of the teasers so far, so we aren't done with old Kevin just yet. The text that was included with the reveal was "Saddle up!"
Teaser #1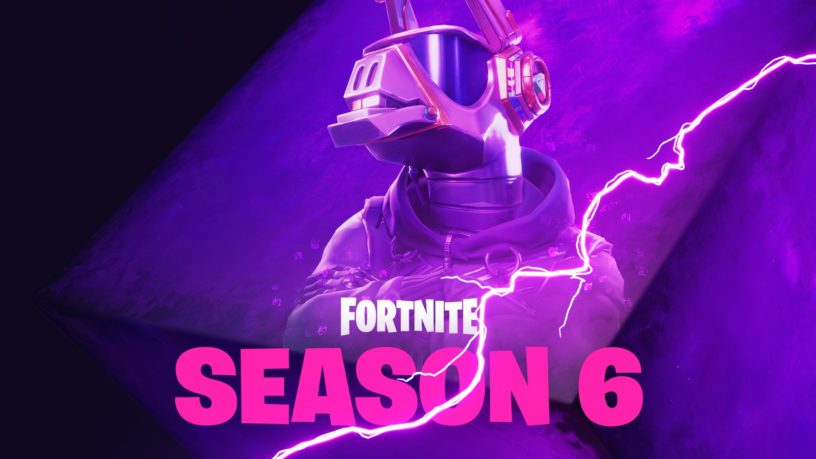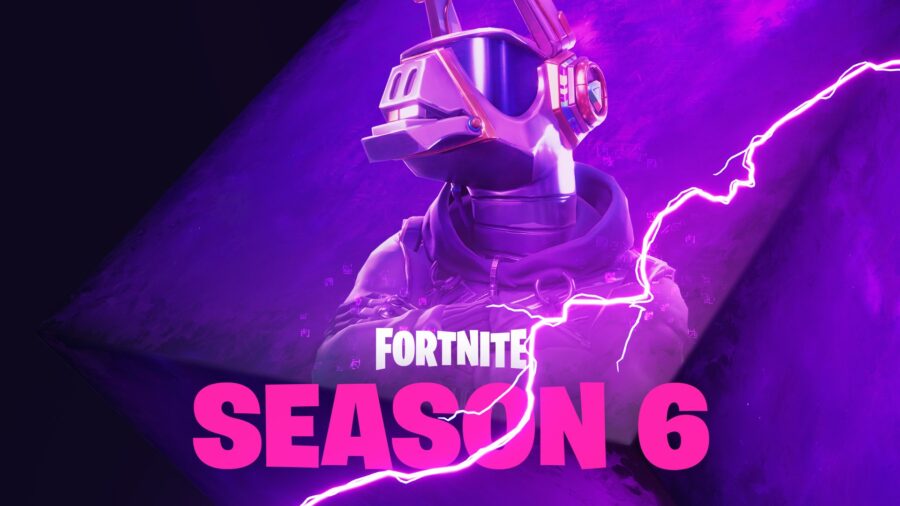 The first teaser appears to be a robotic DJ Llama skin. The tweet from Epic included the following text: "All great parties need a DJ." We could be in for a party themed Season? We've seen balloon items in some of the data-mines and we just got Clown skins. We'll see what the next teaser reveals!
Fortnite Season 6 Leaks
Don't read any further if you want to be surprised! While none of this is for sure yet, the information was taken from in-game files.
Early PlayStation Store Leak
It looks like pets are going to be a real thing. Here's a look at the real color of the DJ Llama and Cowgirl skins. You can also see the little doggy on the DJ Llama skin which will likely be one of the pets you can collect. There's also the inflatable Llama that might be a glider, but who knows it could just be a toy. The Cowgirl skin looks really good, so we're looking forward to the new season! Credit to @FortniteINTEL for the leak.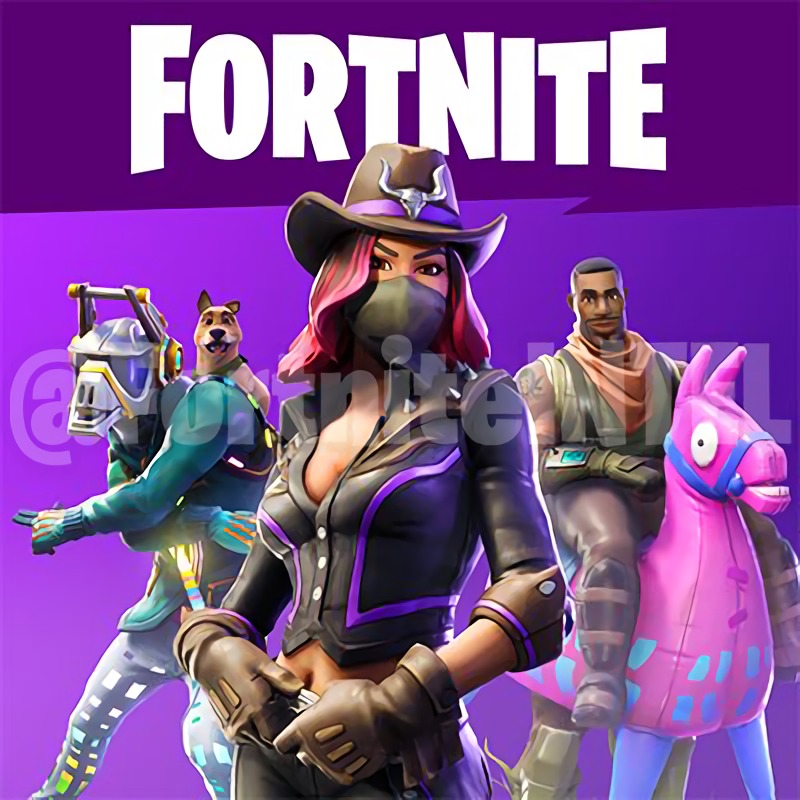 Original Leak Information
With some deep data-mining by Reddit detectives, it looks like there's a possibility that Loot Lake will become a... VOLCANO! In the textures for Fortnite Battle Royale, there's something called a Loot Lake Mask. If you look closely, you'll see the shape of a Volcano within the middle of Loot Lake. To follow this up, there's also new sounds from the Cube that have the distinct sound of Lava and Water. This might be pointing to the Cube's final resting place and the inevitable launch of a Volcano in the middle of Loot Lake. To further this as "proof", there's a couple of game files labeled "VolcanicPit" and "LavaBlobs."
Also found in the Battle Royale files were a few new cosmetic features: Music Packs, Pets, and Weapon Skins. Pretty much every Season of Fortnite has come with a new Cosmetic type. In Season 4 we got Sprays, and Season 5 we got the new Toys. Season 6 could easily have Pets as the big new cosmetic item. Music Packs could be an interesting addition, a lot of people want the original Fortnite music back into their game, so this could be one way to give players the option to use it. Finally, there's always room for Weapon Skins. I could see these being a little less popular than most due to the game being 3rd person only and the weapons appearing fairly small on screen. Games like CS:GO can get away with these better due to them being in 1st person and the gun being the main thing on your screen. However, there's always room for more cosmetics, so naturally skins will be coming for weapons.