Our Fortnite Season 7 Week 1 Challenges List and Cheat Sheet brings you all of the solutions and answers for the challenges you need to complete for the week. We have maps to treasure and item locations, as well as tips for completing all of them as quickly as possible!
This week you'll be picking up items of different rarities, dancing in forbidden locations, playing matches with at least one elimination, dancing on various areas, dealing headshot damage to opponents, searching ammo boxes, and eliminating enemies in different named locations.
Fortnite Season 7: Week 1 Cheat Sheet
If you want to check at where to find all the challenges, here's a cheat sheet for you! Check below for more detailed information on these challenges. Credit to SquatingDog.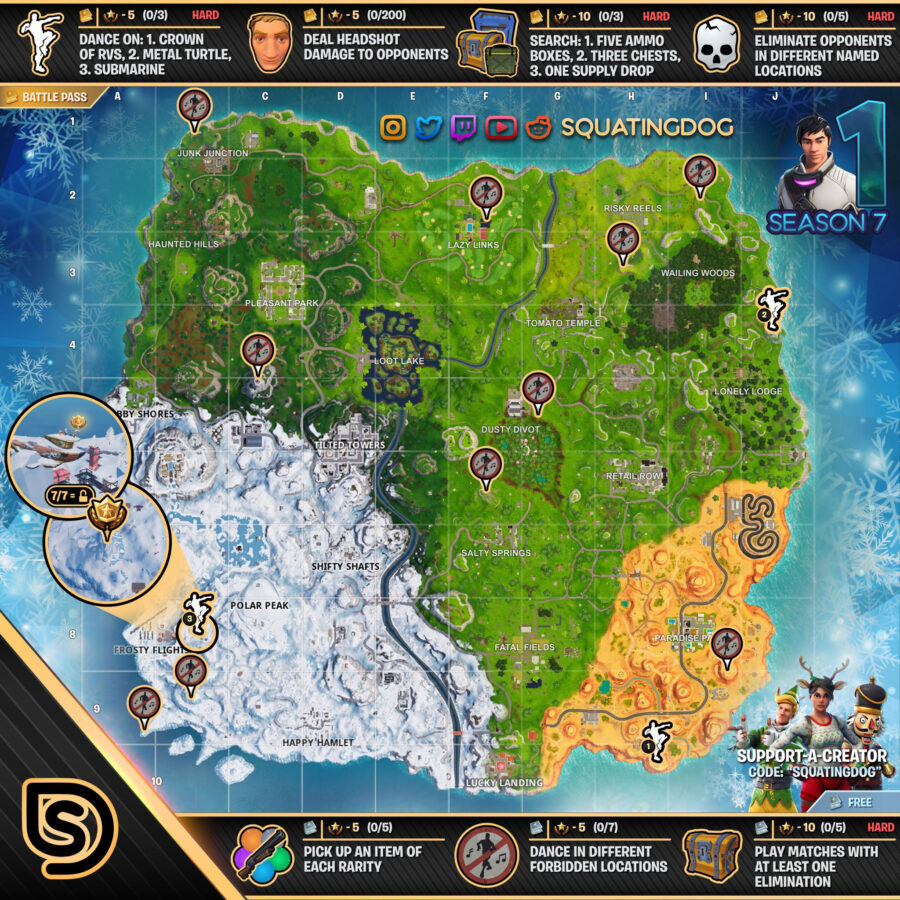 Week 1 Challenges List for Season 7
Free Battle Pass Challenges List
Paid Battle Pass Challenges List
Hidden Battle Star Week 1
Check out our Fortnite Season 7 Guide for guides on every week of challenges, and you'll find all of the hidden stars on our Season 7 Secret Battle Star Locations Guide!
Pick up an item of each rarity (5)
We're starting off Season 7 with a really easy challenge. Just play the game and pick up an item of Common, Uncommon, Rare, Epic, and Legendary rarity at some point. You can do it all in one game or spread it out across many. It might take you a brief bit to find a Legendary item, but that's just RNG for you.
Dance in different forbidden locations (7)
We're back to dancing in forbidden locations?! This was one of the earliest challenges I recall doing. Check out the cheat sheet above for the locations to the spot, there's nine in total, but you only have to dance in front of seven.
Play matches with at least one elimination (5) (HARD)
This one shouldn't be too hard, but could take a while if you play all of the matches out to the end. To make this really quick, just head to a super populated area and fight it out. You will hopefully be able to get an elimination and then probably get eliminated yourself. The new snow part of the map would be a good spot to land, there's going to be a lot of people heading in that direction for a while.
Stage 1: Dance on top of a crown of RV's (1)
This is a three stage challenge, and you'll want to refer to the cheat sheet for the exact locations. You will first be dancing on a crown of RV's. You can find this in the desert area to the south of Paradise Palms. The second part of the challenge is dancing on a Metal Turtle. The turtle is north of Lonely Lodge on the very east side of the map. The final thing you'll need to dance on is a Submarine. This can be found in the snow area to the east of Frosty Flights. You'll want to remember this area, because once you're done with the challenges, you'll need to head back here to get the hidden battle star!
Deal Headshot Damage to opponents (500)
Another pretty easy one that you should just complete passively while you are playing. If you really want to go for style points, try to get a couple of sniper headshots to complete the challenge like a boss.
Stage 1: Search Ammo Boxes in a single match (5) (HARD)
This one can be a bit annoying, but you'll have an easier time finding ammo boxes if you head to low population areas that are far off the bus route. The second part of the challenge is opening three chests, and you can do the same as mentioned for ammo boxes. Finally, you'll need one supply drop. This one might end up being a bit difficult, but if you head to one of the LTMs, you might be able to knock it out quicker.
Eliminate opponents in different Named Locations (5) (HARD)
For your final challenge of the week, you just need to get a single elimination, five different times in named locations. You can do this at any named landmark on the map. You'll want to either travel around a lot hitting named locations and eliminating people, or you can just vary up your landing spot to get eliminations in different areas.
Hidden Battle Star
Once you've completed all the challenges for the week you will be given the following loading screen. This screen is showing off the new Zenith skin with his pal Remus. Over his knee on the left you can see what looks like an airplane, but is actually a submarine. Over that is the hidden battle star you are looking to grab!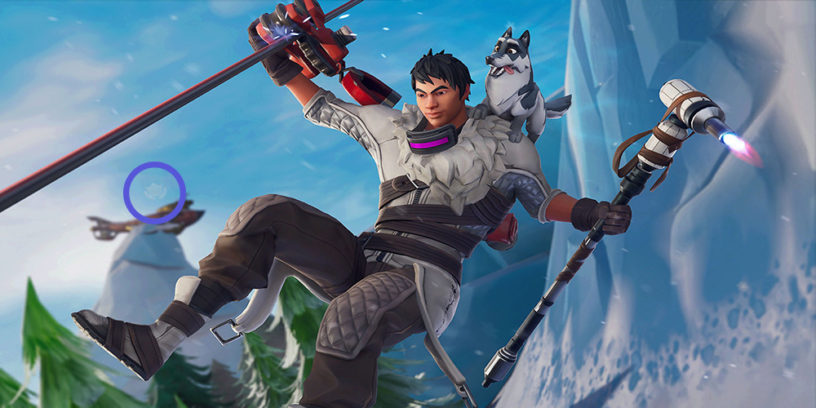 Head over to near Frosty Flights, you can find the star to the east of this area. Make sure you've finished all your challenges or it won't appear!