Our Fortnite Season 7 Week 2 Challenges List and Cheat Sheet brings you all of the solutions and answers for the challenges you need to complete for the week. We have maps to treasure and item locations, as well as tips for completing all of them as quickly as possible!
This week we're searching chests in different named locations, damaging opponents with different weapon types, eliminating opponents in Snobby Shores or Fatal Fields, visiting named areas, playing sheet music on pianos, competing in a dance off at an abandoned mansion, and eliminating opponent at a distance!
Fortnite Season 7: Week 2 Cheat Sheet
If you want to check at where to find all the challenges, here's a cheat sheet for you! Check below for more detailed information on these challenges. Credit to SquatingDog.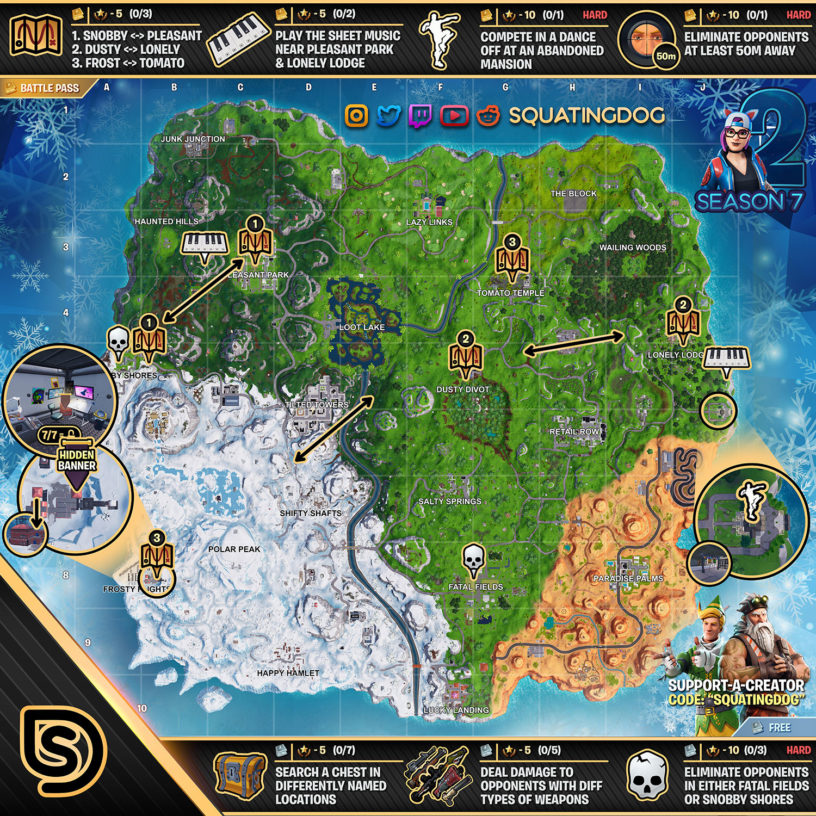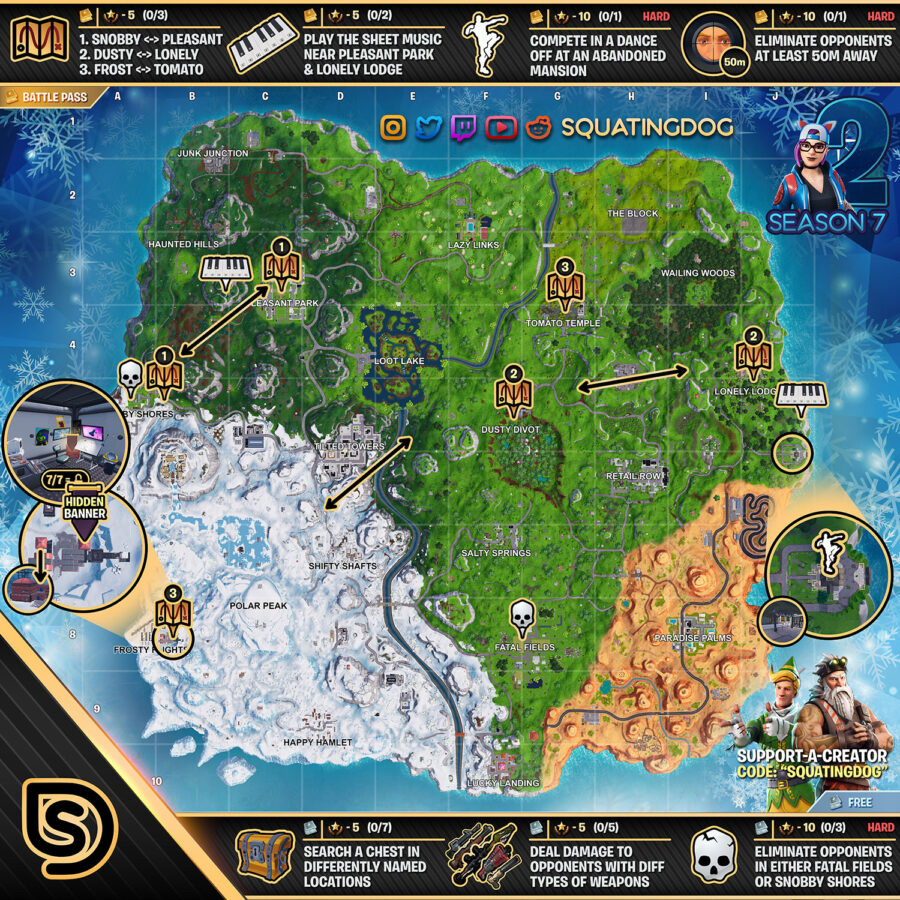 Week 2 Challenges List for Season 7
Free Battle Pass Challenges List
Paid Battle Pass Challenges List
Hidden Banner Week 2
Check out our Fortnite Season 7 Guide for guides on every week of challenges, and you'll find all of the hidden stars on our Season 7 Secret Battle Star Locations Guide!
Search a Chest in different Named Locations (7)
This is going to be an easy one, it just might take some time. This is one of those challenges that is best completed passively while you play the game. What I mean by that, is that you shouldn't set out to only complete this challenge. You will complete it while you attempt to complete the others and while you are playing the game normally.
Damage opponents with different types of weapons (5)
You have to damage enemies with five different types of weapon. This likely means pistols, smgs, shotguns, assault rifles, and snipers. It also probably includes grenades and traps, but we can't verify that just yet.
Eliminate opponents in Snobby Shores or Fatal Fields (3) (HARD)
Snobby Shores is probably getting a fair amount of people landing at it due to it being apart of the snow biome. Fatal Fields, on the other hand, is probably pretty low population right now. If you want to complete this fast, I would recommend Snobby Shores. If you want to actually play out the games, then Fatal Fields is going to be the safer option.
Stage 1: Visit Snobby Shores and Pleasant Park in a single match (2)
Well, here's incentive to do that previous challenge at Snobby Shores. After those two, you'll need to do Dusty Divot to Lonely Lodge, and Frosty Flight to Tomato Temple.
Play the Sheet Music on the pianos near Pleasant Park and Lonely Lodge (2)
We've had a challenge very similar to this previously. This time it appears you won't actually have to find the sheet music, it's right there with the piano. There's two locations, and once you get to them you'll have to play the notes listed on the sheet.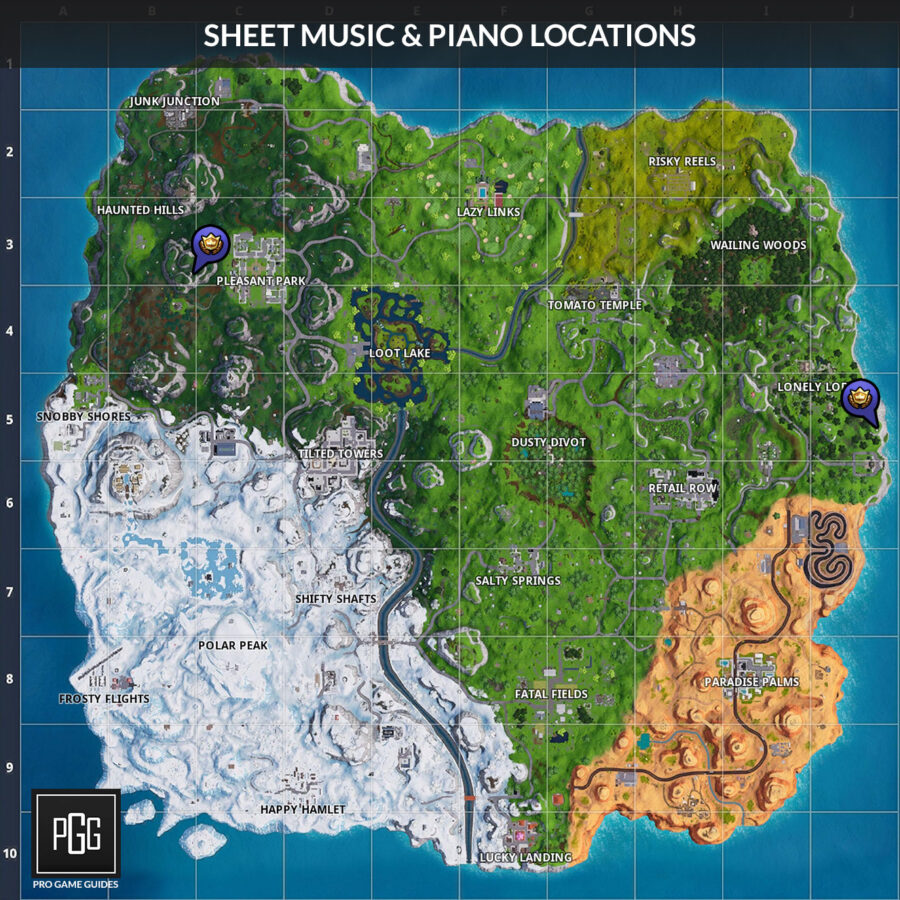 The Pleasant Park one is way easier than the Lonely Lodge version. To complete the challenge, you need to jump on each note as listed on the sheet. You have to be careful not to hit any of the other notes. Once you've completed it correctly, the piano will continue to play the song on its own.
Pleasant Park Sheet Music: E-G-C-D-E
Lonely Lodge Sheet Music: C-C-C-F-F-F-E-F-G-A-A#-G-A
For the Lonely Lodge version, you will need to start at the MIDDLE C and work the notes to the right only. The ones on the left aren't used at all in the song. The A with the # denotes a sharp note, you will jump on the black key for that one. That will be the hardest part of the song, you will need to jump from the A# back to the G and not hit the A accidentally.
Here's a full video if you want to see how to play the pianos:
Compete in a Dance Off at an abandoned mansion (1) (HARD)
It is unclear exactly how you will need to complete this challenge. Do you have to dance against an enemy? Or do you just need to dance against a duo partner or squad member? We'll know more when the challenges are released. However, we do know the likely location. There's a mansion on the very east side of the map. This used to be the location of the superheroes, but is now abandoned and has dance floors and a scoreboard.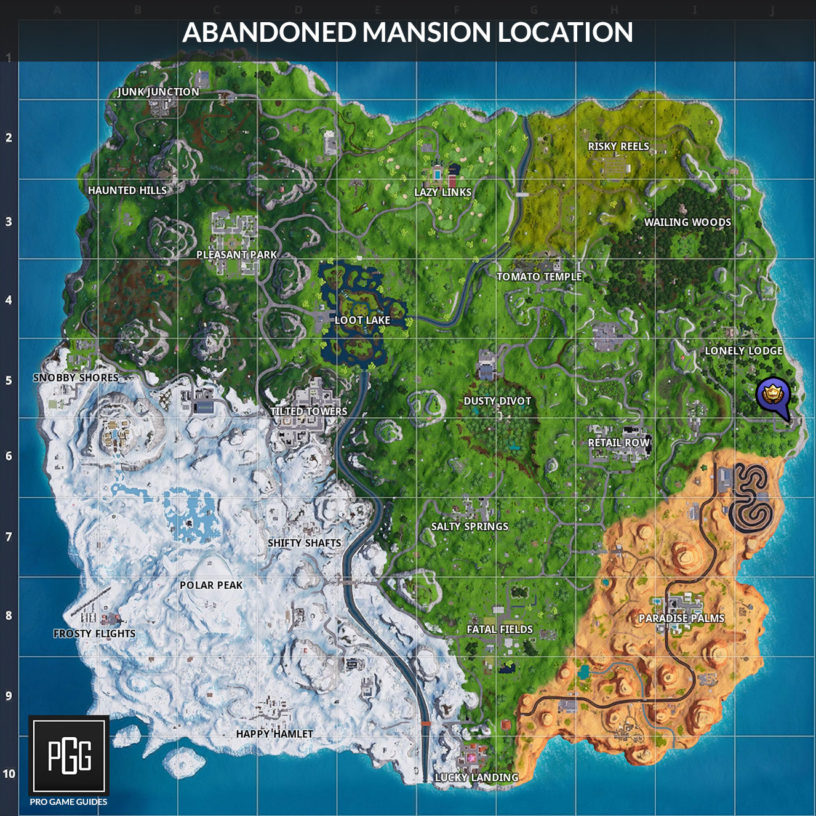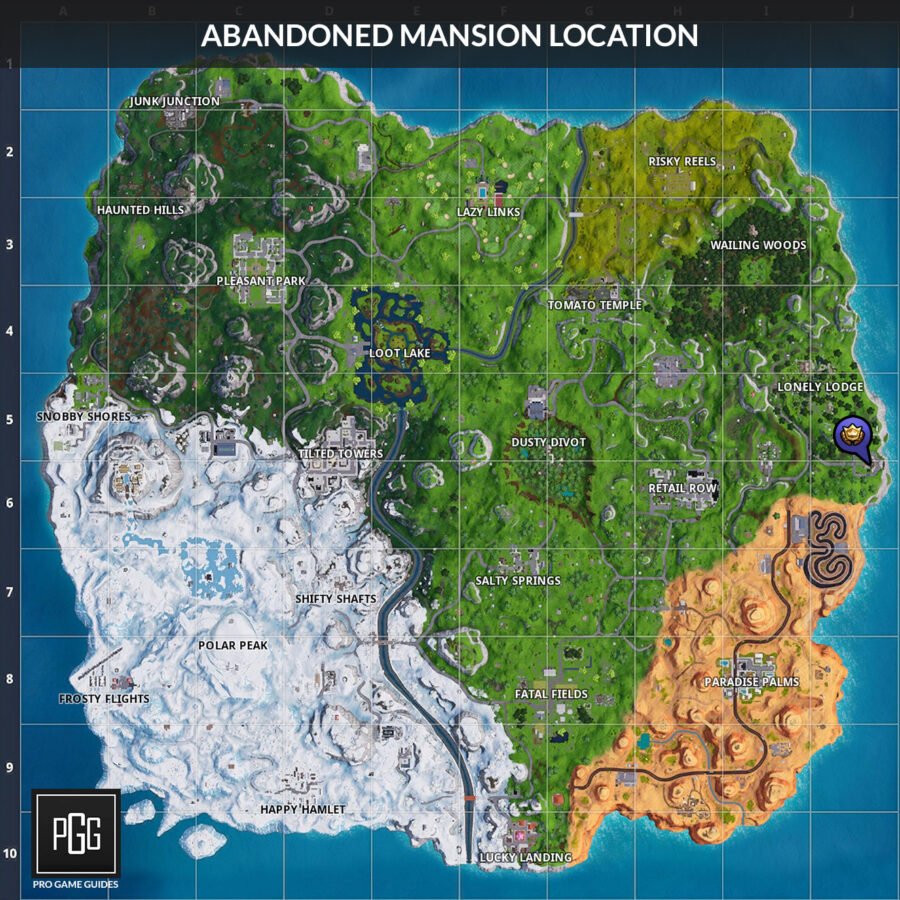 Eliminate an opponent from at least 50m away (1) (HARD)
This one shouldn't be too difficult. If you are good at sniping this is easy, and you can also just tap someone with an assault rifle.
Hidden Banner
Once you've completed all the challenges for the week you will be given the following loading screen. The screen is showing the new Lynx skin in her graphic designer office.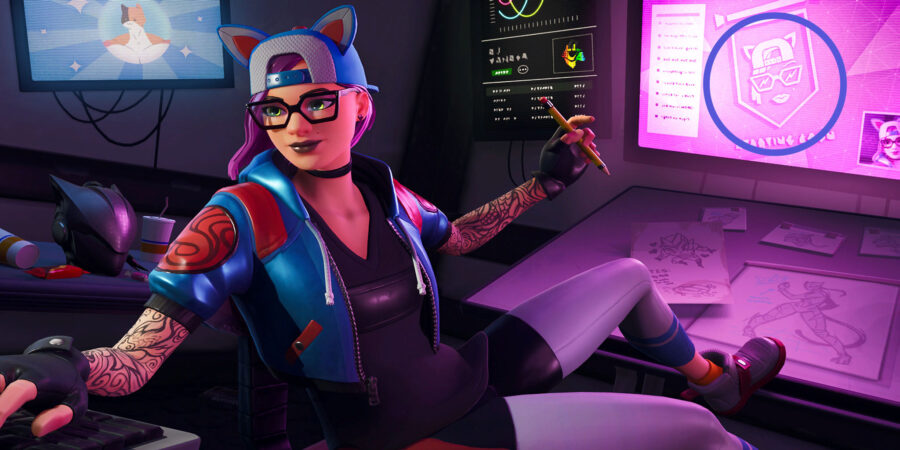 Head over to Frosty Flights, and to the very east side of the buildings. You'll need to go to the second floor, and you'll find her office with the banner in it.