Collaborations are a major part of Fortnite, and in Chapter 3 Season 3 players will experience a major crossover with Destiny 2. Various iconic character skins, Various iconic Destiny 2 characters are arriving in Fortnite, and players will get to own the Destiny-themed outfits and cosmetics. Apart from that, the popular Guardian Zone Control: Javelin-4 Destiny map was added as a Creative Island in Fortnite. So, if you're looking to get the Destiny cosmetics to win victory royales as a guardian, we have you covered. Here's everything players need to know about the Destiny 2 cosmetics in Fortnite.
How to get The Exo Stranger, Commander Zavala, and Ikora Rey Destiny 2 Outfits in Fortnite
Three popular characters from Destiny 2 are coming to Fortnite with their unique outfits and cosmetics. Commander Zavala, Ikora Rey, and the Exo Stranger will be available in the Item Shop from August 23, 2022, at 8 PM ET. You can purchase and stock up on V-Bucks before the Destiny skins release to get them right away. All the cosmetics arriving with these Destiny-themed cosmetics are listed below:
Commander Zavala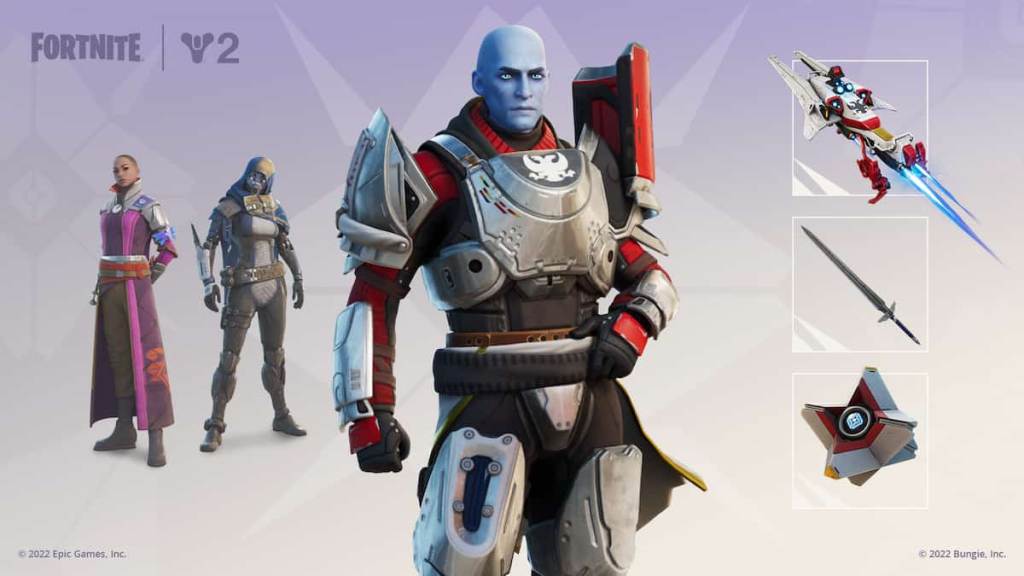 Sparrow Glider: Comes with the Zavala Shader Style
Targe Back Bling: Commander Zavala's Ghost included with the outfit
Crown-Splitter Pickaxe
Ikora Rey
Sparrow Glider: Comes with the Ikora Shader Style
Ophiuchus Back Bling: Ikora Ray's Ghost included with the outfit
Black Talon Pickaxe
Related: How to complete Dragon Ball Recovery Quests in Fortnite
Exo Stranger
Sparrow Glider: Comes with the Exo Stranger Shader Style
Pouka Back Bling: Exo Stranger's companion is included with the outfit
The Lament Pickaxe
The Investigate Emote will also arrive in the Item Shop. The Ghost that guides the Guardians in Destiny 2 is a part of this Emote in Fortnite. Fans can purchase these cosmetics when they arrive in the game. In the meantime, check out the Javelin-4 Destiny-themed map in Fortnite's Creative mode. The code for Guardian Zone Control: Javelin-4 is 0642-9767-7225. Players will find this Creative Island on the Discover tab, or they can enter the code to find it manually.
Wondering which Dragon Ball characters fans want to see next in Fortnite? Check out 10 Dragon Ball characters that fans want to see in Fortnite on Pro Game Guides.