Epic appears to be really accelerating the amount of crossovers they are doing in Fortnite. It is becoming a place for various different well-known media entities to promote their brands to a younger audience. We've recently gotten a whole season of Marvel, as well as a bunch of Ghostbuster skins that entered the game. There was DC outfits available at various times, which gives you the ability to have your own DC vs. Marvel battles. There was also a very credible leak that points to Kratos from the God of War franchise being added to the game. Now, with all that said, it looks like Epic will now possibly be partnering with Microsoft to bring Halo into Fortnite.
Based on a leak shared by HYPEX, it looks like there will be at least four different items added to the game as part of the Halo crossover with Fortnite. You will of course get the Master Chief skin, who is the main protagonist in the Halo series. There's also the UNSC Pelican glider, Lil' Warthog emote, and the Gravity Hammer harvesting tool. Whether this will be in a bundle or not remains to be seen.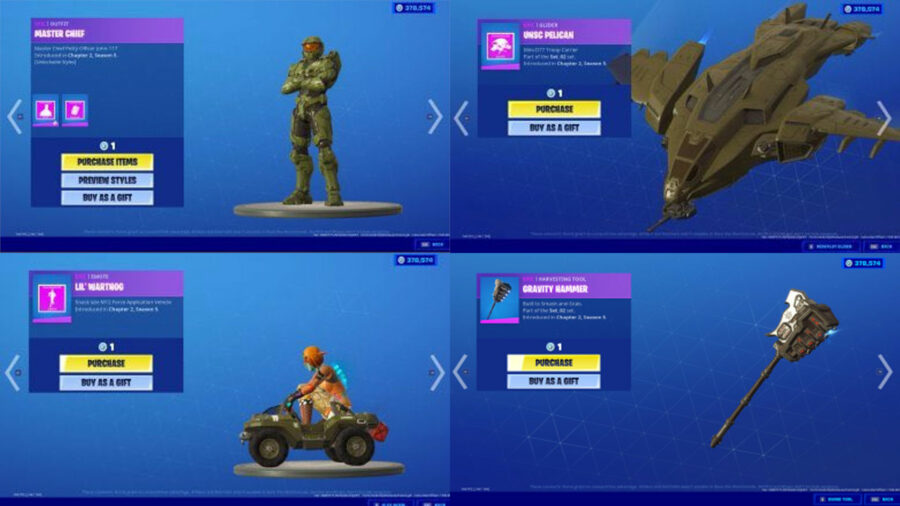 Now, while we do have images of some of the items that will be part of a collaboration, it isn't as confirmed of a leak as Kratos. That's because the God of War leak was found via an advertisement through the PlayStation that was clearly released a bit too early. So, there is a possibility that some of this stuff is fake, but it seems very likely that the crossover will happen and Halo will be represented in Fortnite at some point in the future!