Gnomes are everywhere across the Fortnite map! Periodically, there will be a daily mission to search for three gnomes, specifically in Sweaty Sands. They aren't exactly hidden, but if you're not looking for them, you likely won't bump into them! Because of this, people can often look for help finding their locations. We're here to help!
Where to Find Gnomes in Sweaty Sands
Sweaty Sands is a named location on the Northwest corner of the island. While it has certainly decreased in popularity as a drop-point since the beginning of Chapter 2, you should definitely keep an eye out for other players while you're looking for these gnomes!
As always, thanks to Fortnite GG for the use of their map drawing function.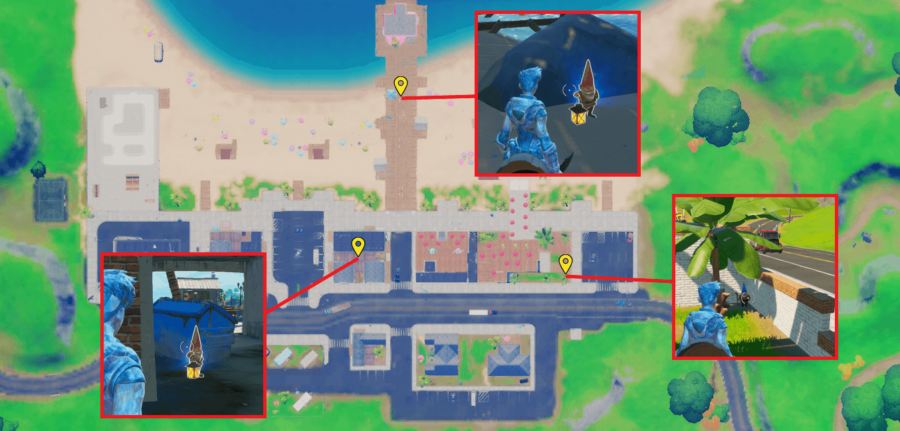 Related: Where to Destroy Inflatable Tubemen Llamas at Gas Stations | Fortnite | Week 12 Epic Quests - Pro Game Guides
In the image above, you'll see the locations and views of all three gnomes in Sweaty Sands. The list below also provides a brief description of their locations.
Gnome #1:

This Gnome is on the eastern side of town, against the corner of a brick wall that touches the parking lot and the road. It is on the side of the wall facing the town.

Gnome #2:

This Gnome is in the center of town, underneath the apartment buildings, but still above ground. If you walk along the outside, you will see an alley with a dumpster. The Gnome is nestled behind the dumpster.

Gnome #3:

This Gnome is on the sand under the main dock that sticks out of the town's northern edge.
Following the guide and descriptions above, you should be able to find these gnomes without any issues.
Have you found all the XP Coin locations for Season 5? Check out our guide with the Full List!