Our Fortnite Season 9 Week 8 Challenges List and Cheat Sheet brings you all of the solutions and answers for the challenges you need to complete for the week. We have maps to treasure and item locations, as well as tips for completing all of them as quickly as possible!
This week we're applying shields, visiting different clocks, eliminating opponents in Snobby Shores or Mega Mall, damaging opponents with Assault Rifles, landing at various named locations, using a volcano vent, air vent, and zipline in a single match, and get eliminations outside of named locations!
Fortnite Season 9: Week 8 Cheat Sheet
Here's a full cheat sheet for week 8! Credit to ItsEnergie. A more detailed look at the challenges is below.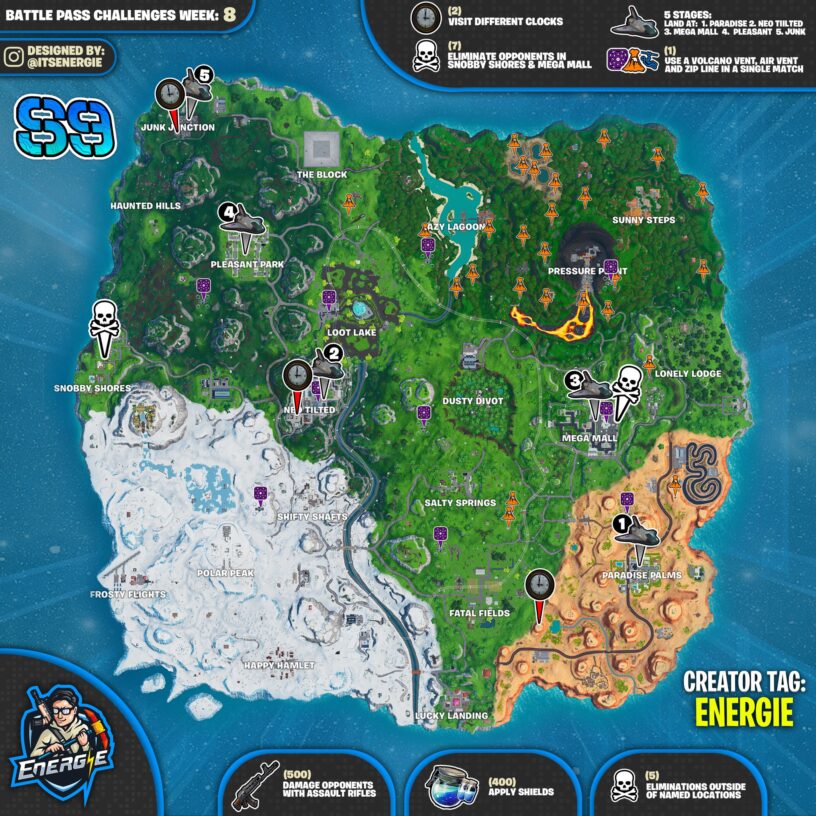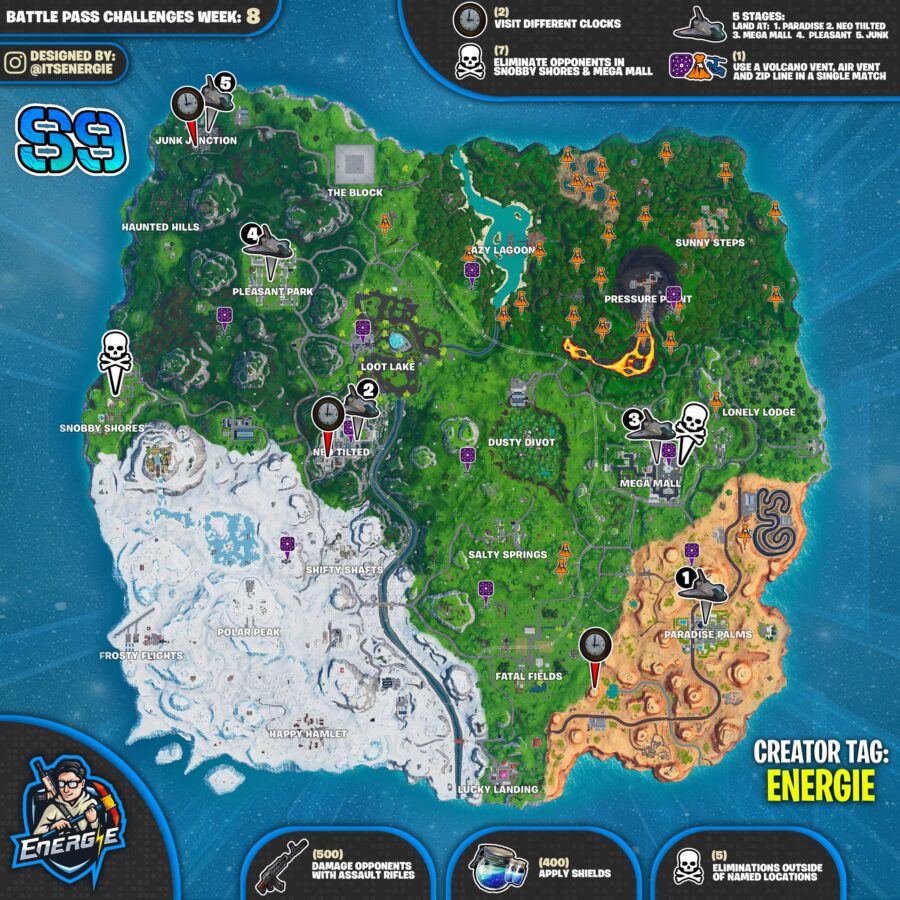 Week 8 Challenges List for Season 9
Free Battle Pass Challenges List
Paid Battle Pass Challenges List
Hidden Item
Check out our Fortnite Season 9 Guide for guides on every week of challenges! We've also got all of the hidden items in our Season 9 Hidden Battle Stars Locations post.
Apply shields (400)
Well, this shouldn't be too difficult! You need to find yourself some of the various shielding items around like: Small Shields, Big Shield, Chug Jug, Slurp Juice, and the new Chug Splash should all work nicely. I would imagine even the coconuts could work as a way to work towards this challenge. These can be found around Lazy Lagoon and Paradise Palms. Let me know in the comments if you can confirm this!
Visit different clocks (3)
You need to visit three clocks on the map, and two of them you might remember, but one is in kind of a weird spot. There's the big clock tower in Neo Tilted, there's a clock over in the Paradise Palms area, and finally there's a busted clock face to be found in the garbage at Junk Junction! If you aren't finding the clocks, check out this more detailed guide for more information.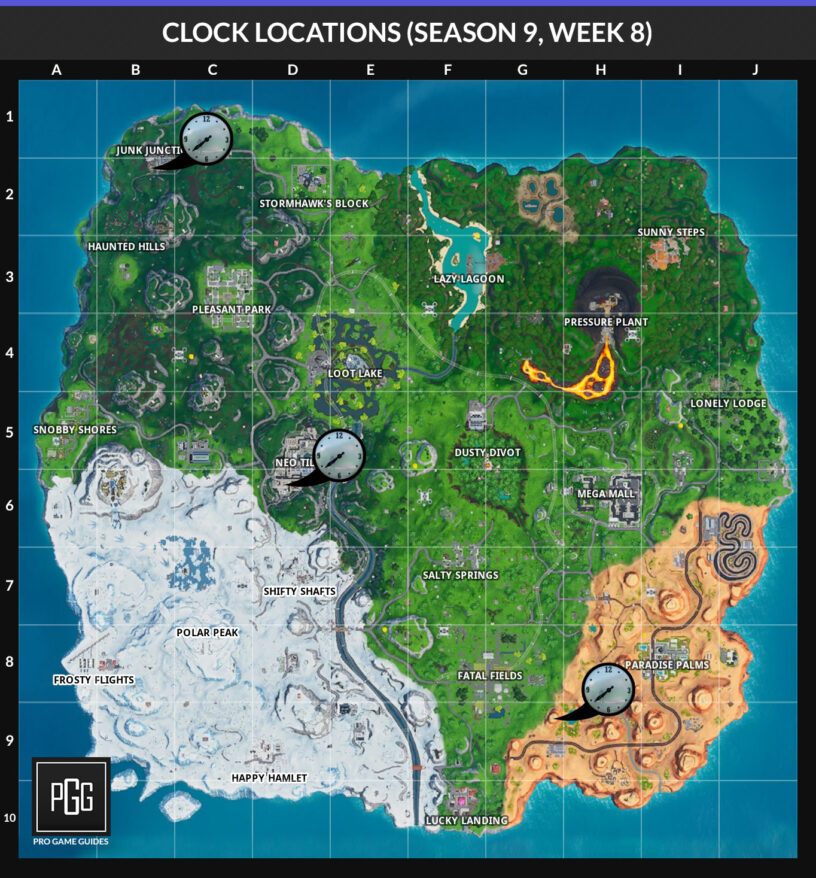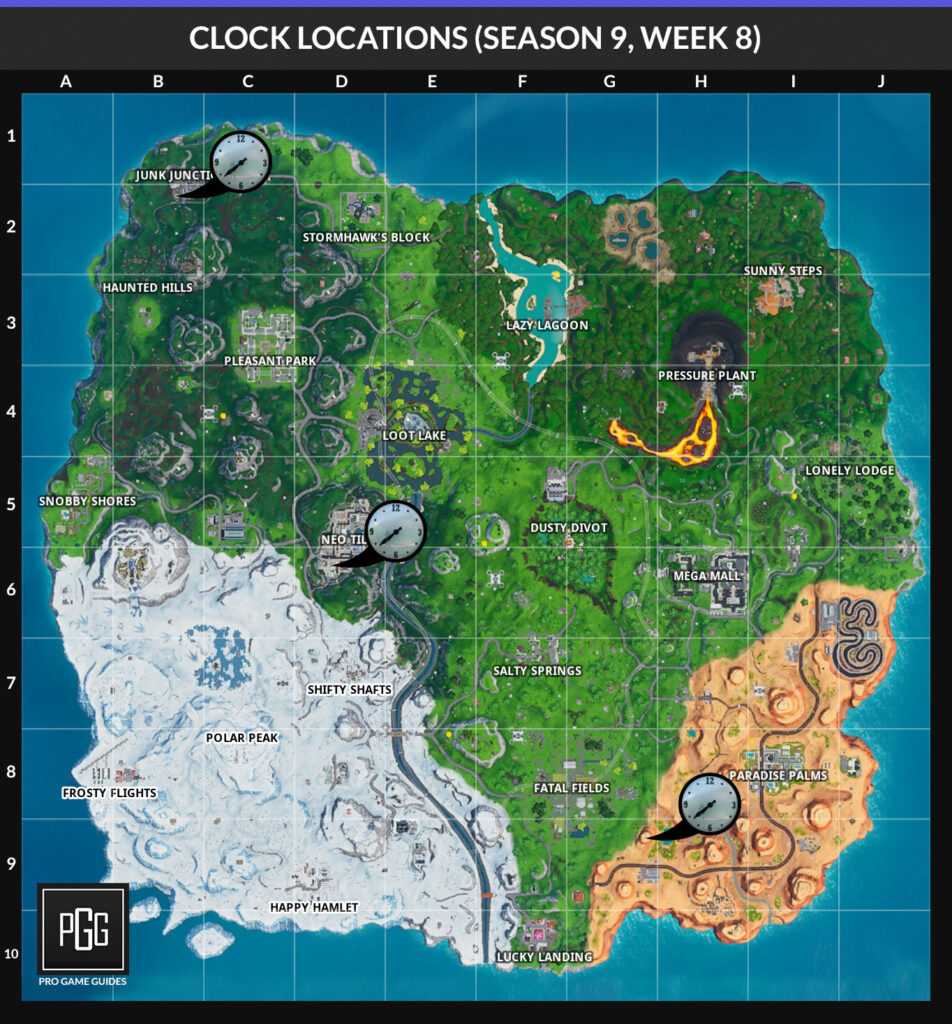 Eliminate opponents in Snobby Shores or Mega Mall (7)
Mega Mall is going to be your most popular destination, so if you want a lot of chances for eliminations then head there. Snobby Shores will be a less contested place to land, so go there if you want a bit more time to loot up before looking to eliminate foes. I generally like these ones in Team Rumble, and Mega Mall is a place that can sometimes have the circle, so maybe try to get your eliminations in that LTM when it's available.
Damage opponents with Assault Rifles (500)
You should likely end up finishing this challenge while trying to get your eliminations done in the Snobby Shores or Mega Mall challenge. There's quite a few assault rifle options in the game right now, so take your pick and deal some damage!
Stage 1 of 5: Land at Paradise Palms (1)
These land at X locations are always a bit tedious. You can only do one per game, and they force you to land in a spot you might not like. If you forget to get your landing in a specific location of a particular game, you can always use a redeploy glider to float over to the location and get credit!
Stage 2 of 5: Land at Neo Tilted (1)
Stage 3 of 5: Land at Mega Mall (1)
Stage 4 of 5: Land at Pleasant Park (1)
Stage 5 of 5: Land at Junk Junction (1)
Use a volcano vent, air vent, and a zipline in a single match (1)
So, I think the best place to do this challenge is right near Pressure Plant. There's a Sky Platform right next to it to the east, and these all have air vents on top of them. So, go to the zipline first that's right beneath the Sky Platform, use it to get over to the hill area that's below the platform. Go up the platform and bounce off the air vent. Go through one of the air areas to get your glider, then head over to the volcano vent that's in the middle of the lava area! That will quickly complete the challenge for you.
Here's what an air vent looks like in-case you were confused: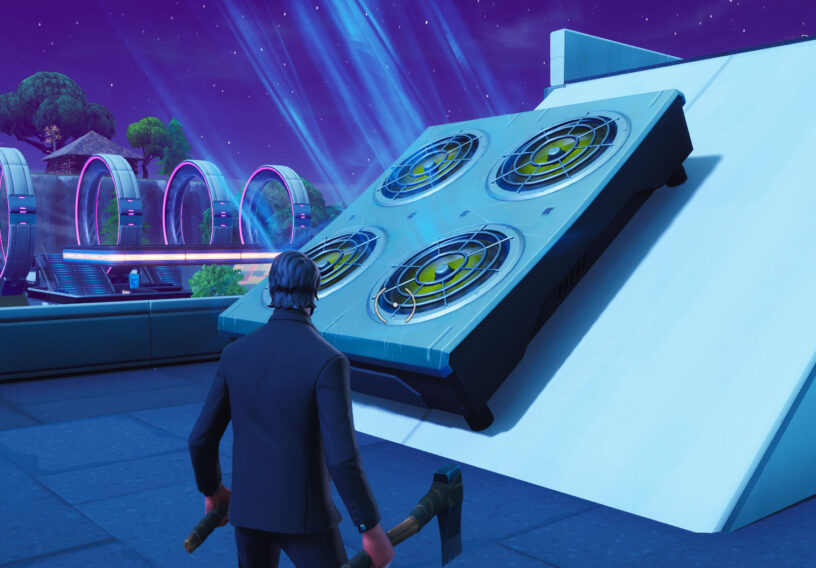 Here's a map to the area around Pressure Plant. Map from LootLake.info.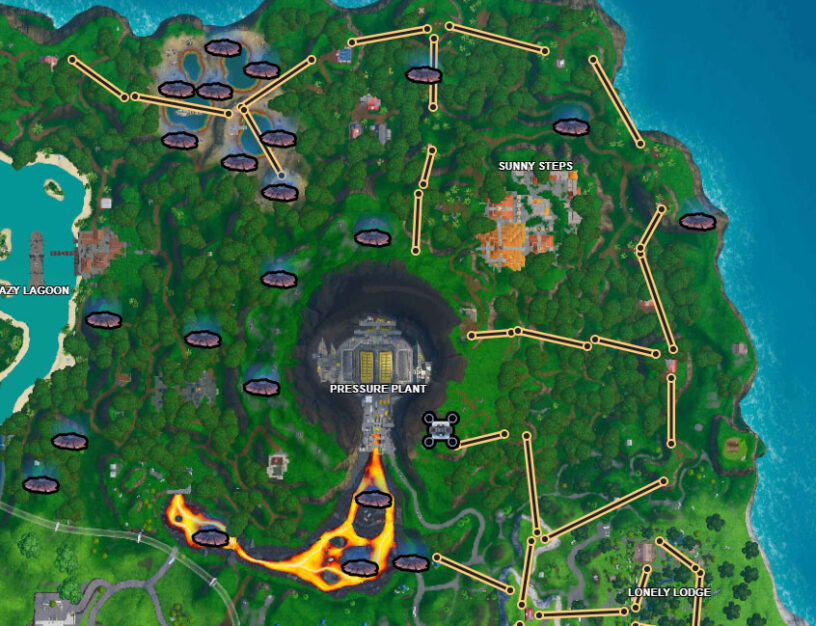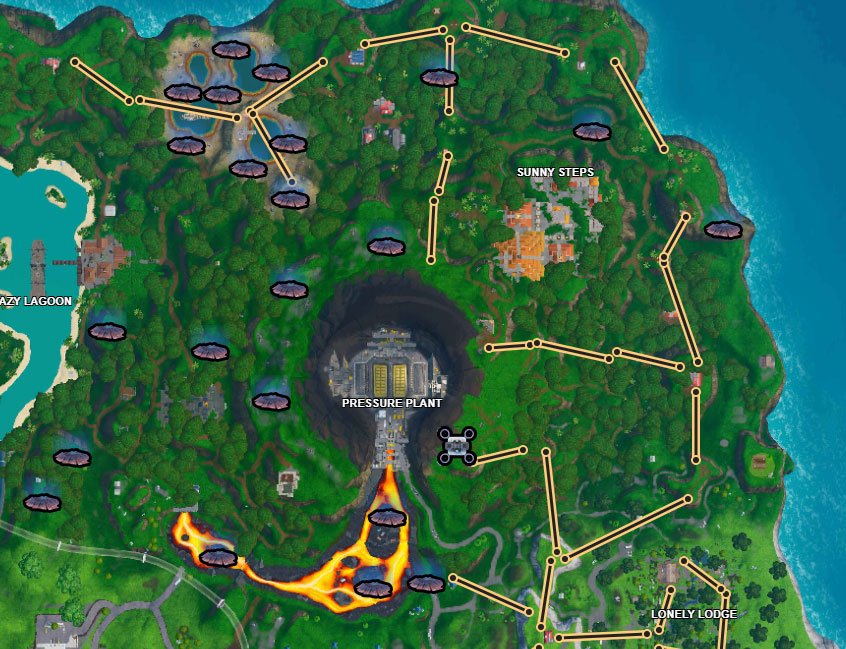 Eliminations outside of named locations (5)
Well, this is certainly different! We usually have to get eliminations at named locations, but this time we need them outside of them! This is a really easy one for Team Rumble, you are pretty consistently outside of named locations, so head into the LTM and get some elims.
Hidden Item
This week's hidden item is a Fortbyte! This doesn't release when you unlock the loading screen, it seems to be added to the game on the Sunday after the challenges are released. The good news is that you don't need to earn the loading screen to go get the Fortbyte! The loading screen is called "High Score" and the description is: "Peely and Jonesy first met at Bao Bros and instantly knew they would be friends forever." Bao Bros is the restaurant over in Lucky Landing!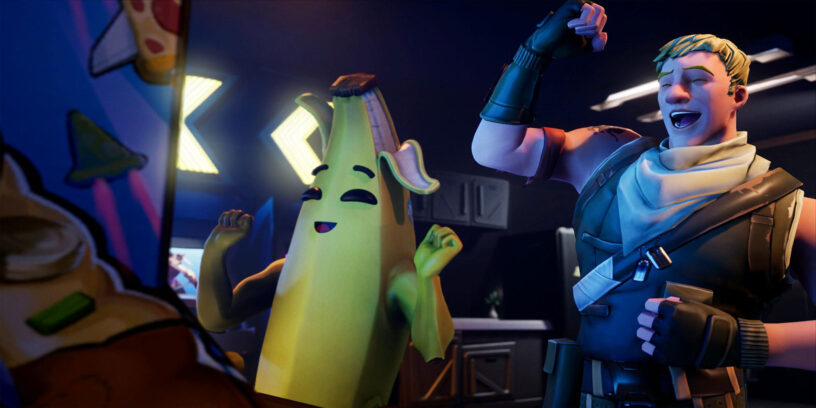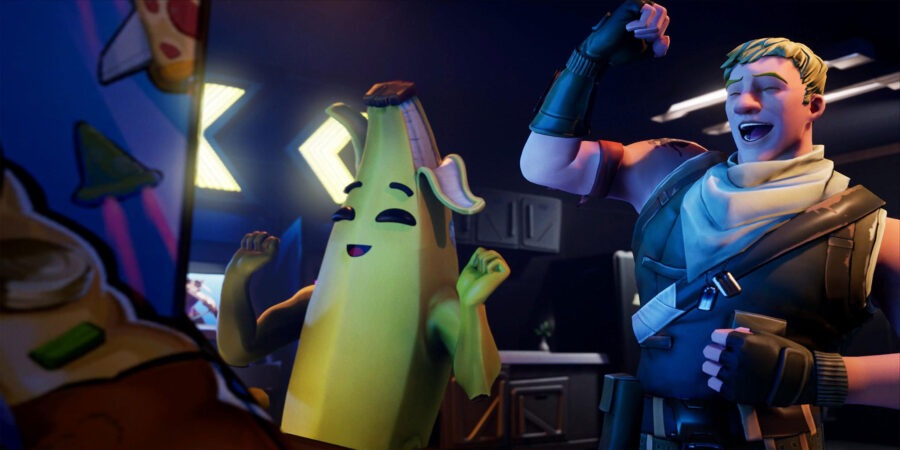 The Bao Bros restaurant is the northernmost building in Lucky Landing.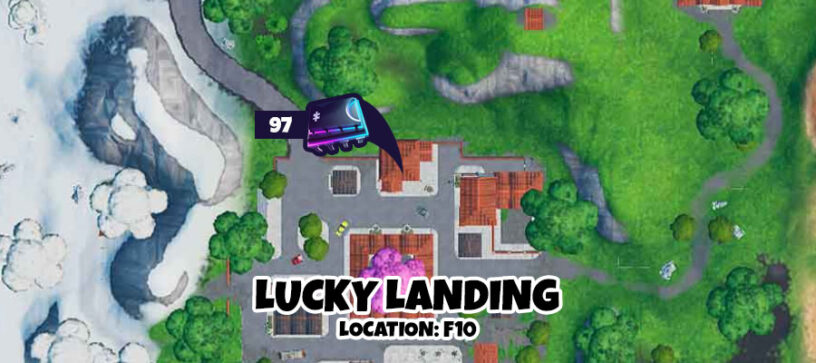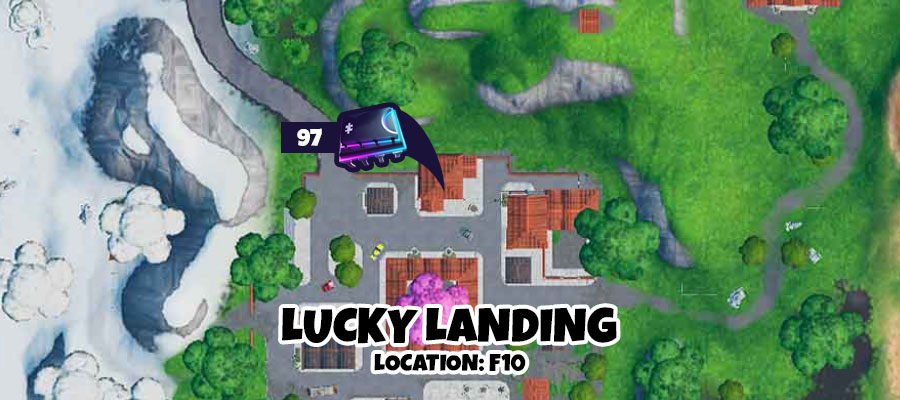 Go the second floor of the building, and near the weight bench you will find the Fortbyte!