Tycoon is a relatively new game type that is gaining popularity. It's pretty interesting because it's different from many of the other games. We're looking at the best creative Tycoon map codes that currently exist in Fortnite!
Do you have a Fortnite Tycoon Map Course you love? Send it to us at [email protected] with a description of why, and we'll add it to the list while giving you credit!
Tycoon Maps
Here's our list of the best Fortnite's Tycoon Codes:
We will go into more detail below on each of these maps and including some videos that should explain more about the course when necessary! You can also find a lot more great codes in our Fortnite Creative Maps post!
Whack-A-Zombie: Tycoon!
Whack-A-Zombie is exactly what it sounds like: a tycoon game where you earn XP and level up by whacking zombies that pop out of the ground. This is a fun, new take on the Tycoon game mechanic that adds an entirely unique mechanic for fans to explore. Players can stay off in their own little zombie-whacking world, or compete to see who can rise to the top the fastest!
Bee Tycoon (With Pets)
Bee Tycoon has been updated to include pets! In this Tycoon, you play as a beekeeper that must produce flowers and honey to grow your bee farm. This is a competitive tycoon game, so players must be sure to watch out for other pesky beekeepers that are set on sabotaging their work. However, you can also sneak into other players farms to sabotage theirs! If you like cute and casual tycoons, this one is for you!
Social Media Tycoon
In Social Media Tycoon, you get to test your savvy as an Influencer and compete to get the most likes, views, and follows on all platforms! It's a tough competition in social media, however. You'll have to watch out for other players looking to take you down just to boost their own view count. We have to pay the bills somehow!
Millionaire Tycoon
You might have seen this for a short period on the LTM list, but we've got it here in case you feel it was removed too soon! This is a well-designed Tycoon game in which you must hire workers, purchase upgrades, and find collectables while you build your empire. Your goal is simple: be the richest person in the match or get hunted trying!
Minenite
Start at the bottom (no, really, you're underground) and work your way to the top in Minenite. On this Fortnite map, you'll be playing against several other players to be free of your ogre overlords and become ruler of the rocky underworld. You can also play the game as the leader of this sub-terranean prison and have control over all the player minions.
World Cup Simulator
This Tycoon is centered around building your empire manage a world cup championship series! Upgrade from lowly beginnings to top-class living in this single-player tycoon mode. Collect coins, eliminate targets, and establish your throne on the top of the world!
Holiday Tycoon
Don't give up on the holidays, yet! This exciting and fresh tycoon game is themed like Santa's Workshop. Face off against the other Fortnite Santas by building the best and most productive toy shop you can. Don your Christmas apparel and design the coolest and freshest toys for the girls and boys in this fun tycoon!
Skyscraper Tycoon
Skyscraper Tycoon is all about leverage. Your goal is to have influence over the city's resources and dominate the black market to build the tallest skyscraper! Fight your way around the map, collect enough resources, and reach for the sky in this popular new tycoon. Be sure to keep your skyscraper standing, though! Your opponents will be looking to smash it down.
Fright Wars: Summer Island
Build up a raft and try to protect it from your opponent's or they will hack down your bed and eliminate you from the game! Go to the main island to slay zombies and gather up coins to purchase upgrades. Make sure to pickup resources at your raft, so you can build and protect yourself from your fellow players! This is overall a fun summer map, with a pretty cool theme and play loop!
Bedwars Tycoon
This is a combination of two different game types! It's a Tycoon based game, which has you earning gold by upgrading portions of your base. However, instead of just trying to upgrade your base to the fullest, you are looking to destroy your opponent's bed, because once you do they will no longer be able to respawn when they are eliminated! To protect your bed, you need to build up your base with defensive capabilities!
How-to Use a Creative Code
Once you load up the game you will be given the three options on what you want to play (Save the World, Battle Royale, and Creative). Click the creative option and then click PLAY and then CREATE (don't start a server if you want to play solo).
Once it has loaded, you will see an Orange Rift that will take you to islands where you can create custom maps. We don't want this right now, so look around for the featured portals. Fortnite now puts you in a custom portal area, so you might need to seek it out a bit. Find the portals with the console in front of them and interact with one.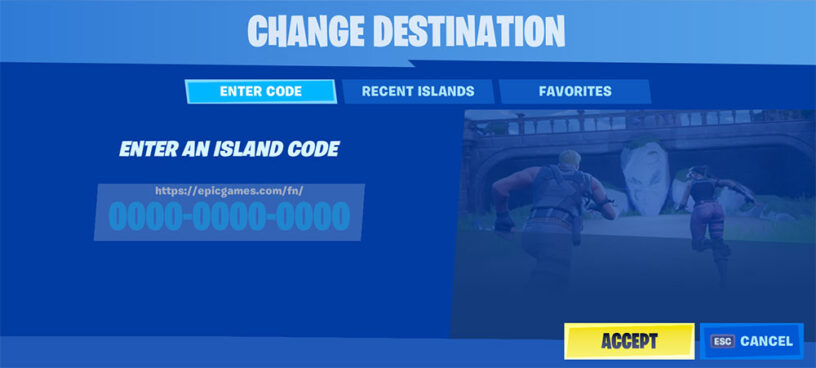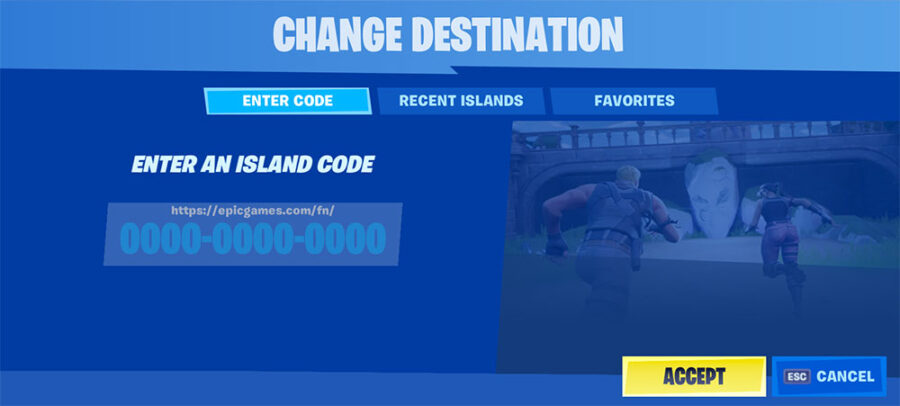 From here you can either select one of the codes you've added to your favorites, or you can paste a code you have at the end of the URL. Click "Accept" and it will load up the island of your choice. You can then run into the rift and it will transport you to it!