Fortnite players were in for shock when they started Chapter 2 Season 8 of Fortnite. One of the biggest changes they found was how daily quests, NPCs, and punchcards were changed. One of these changes involves a brand new NPC named Torin, who instructs us to complete a Sideways Encounter as the final tier quest of her Questline. However, the question we all fast at first is: What is a Sideways Encounter?
Put simply, a Sideways Encounter is where you seek out an event rift on the map, enter it, then fend off hordes of Cube Monsters as they attack you. It can be quite a challenge if you don't know what to expect, so we explain how to complete it in the guide below.
Step One: Find an Encounter
If you don't know what to look for, this can be the most frustrating part of the challenge. When you first start a match, you can look at your map to see where you will find the encounters throughout the match. They seem to be randomly placed, and the placement changes with every match.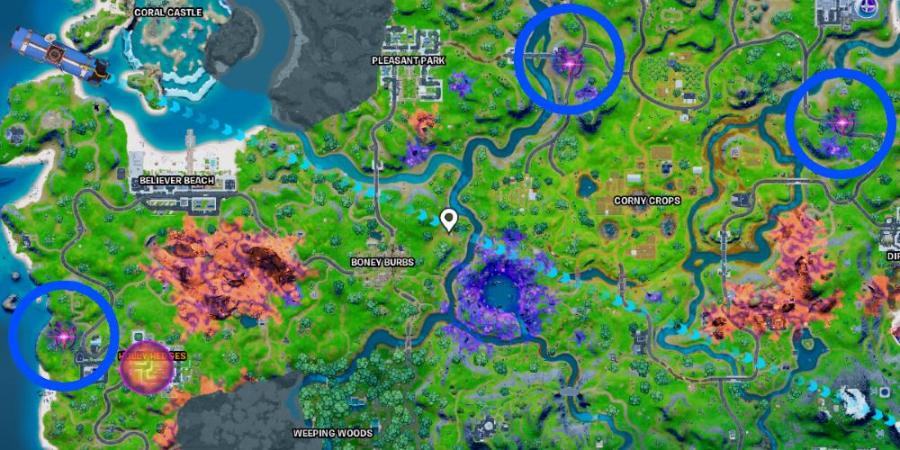 In the image above, you will see the locations of the Sideways encounters outlined in blue. The encounter icon looks like a purple version of a Rift. These locations can be approached by anyone that wants to complete it, so it might be a good idea to land near one at the beginning of the match. However, before you begin, you want to find a weapon. As soon as you approach the rift, you'll need one.
Step Two: Enter the Encounter
To enter the encounter, you simply need to approach the rift on the map. There is no requirement before doing this and you don't need any special objects to enable it. As soon as you're a few meters from the rift, it will suddenly warp the surrounding environment into a small Sideways area and you'll see Cube Monsters spawn all around you.
Step Three: Fight!
The ultimate goal to completing a Sideways Encounter is to just mow down mobs until you have defeated the third wave. As you progress through each wave, the enemies increase in number. The Cube Monster boss appears during the second wave with a Mythic Boss Sideways Minigun, which does enough damage to mow you down in a couple of seconds if you aren't careful.
The best way to survive the encounter is to take it slow, herd the mobs back and forth, and keep moving. If you stand still for too long, you won't survive. Once you have destroyed enough mobs to get through the third wave, the Sideways Anomaly clears up, the mobs disappear, and you are left with a plethora of decent weapons to choose!
Don't forget to check out our full Fortnite Chapter 2 Season 8 Guide, which covers all updates, mechanics, and features of Season 8!